Related sessions
This song has been recorded during the following studio sessions
---
Spread the love! If you like what you are seeing, share it on social networks and let others know about The Paul McCartney Project.
Song facts
"C'mon Down C'mon Baby" is a short acoustic demo recorded in February 1997 during the filming of the TV documentary "In The World Tonight". It features a few notes of "Calico Skies" towards the end.
It had never surfaced on bootlegs, and was officially released on the 2020 Flaming Pie Archive Collection.
Last updated on August 29, 2020
Officially appears on
---
Flaming Pie - Archive Collection
Official album • Released in 2020
1:23 • Studio version • A
Acoustic guitar, Percussion, Vocal
Mastering
Session

Recording:
Studio :

Hog Hill Studio, Rye, UK
Videos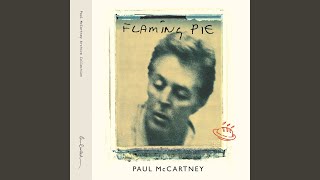 Album • Flaming Pie - Archive Collection
Live performances
Paul McCartney has never played this song in concert.