Spread the love! If you like what you are seeing, share it on social networks and let others know about The Paul McCartney Project.
Song facts
From Wikipedia:
"London Town" is the title and opener track from Wings' 1978 album London Town.

Writing, recording and release

The song was written by Paul McCartney and Denny Laine in Perth, Australia during the Wings Over the World tour and features a lead vocal by Paul McCartney and backing vocals by Linda McCartney and Laine. A top 40 hit in the United States (number 39 on the Billboard Hot 100), the single topped out at number 43 in Canada and number 60 in the UK. Author Chris Ingham praised the song as one of the best on the album, stating it was "full of the most sensitive pop synthesizer touches." McCartney biographer Peter A. Carlin called the song "a pleasantly spaced-out perspective on city life." Tom Waseleski of the Beaver County Times regarded "London Town" as having "more substance" than other of McCartney's soft rock tracks. Author Tim Riley calls it "willfully sulky." Beatles' biographers Roy Carr and Tony Tyler regard "London Town" as an "anachronism," with several Beatle-esque touches, including opening chords that sound like "Blackbird" and a chord progression similar to that in "The Fool on the Hill."
From Lost Love In Country Music:
[…] In "London Town" McCartney uses imagery a lot to help the people actually see what he is singing. Paul sings about "silver rain" and a "purple afternoon" so we can visualize what he is saying. When rain falls, it is slick, wet, cold, and clear, this is why McCartney refers to it as silver because when we think of the color silver slick and cold are naturally some words that come to mind. When he speaks of a "purple afternoon" we visualize a deep purple sunset over the horizon bursting with color. McCartney uses few words to describe, but we easily envision so much more due to the strength of his word choice. Paul uses humor in the song by poking fun of the "ordinary people" and their lives. He talks about the actor trying to entertain his wife about his boring life. This line is an example of irony because actors are supposed to be exciting and interesting, but this actor is boring and has to try to exaggerate his struggles (why would you want struggles?). He also says that he was "arrested by a rozzer wearing a pink balloon about his foot"; how does that make any sense? It doesn't, it's supposed to be comedic. Not only does he poke fun at specific people, byt he also calls everyone ordinary and implies that no one can hold a complete conversation. McCartney also uses alliteration is his song. He says "Someone Somewhere has to know" and "With the same old storiesof his ordinary life". Paul even throws a sophisticated rhyme scheme into the song. The last word in every line in each verse rhymes. For example "afternoon" and "tune", "down" and "town", "street", "meet" and "incomplete", "wife", "life" and "strife". Basically the whole song is a motif of all the "ordinary" people of London (local color).

In conclusion, this whole song is pretty much loaded with poetic devices. McCartney uses sophiscated rhyme scheme and satire to overexaggerate the predictible lives of people and their ordinary lives. I think when he is saying "Well, I don't know oh, where are there places to go someone somewhere has to know" he means that he doesn't know much out of London and how different people in different places act. Even though there is obviously a lot of meaning behind the song, McCartney lightens it through imagery some humor.
Last updated on October 1, 2016
The book "The Lyrics: 1956 to the Present", published in 2021, covers Paul McCartney's early Liverpool days, the Beatles, Wings, and solo careers, by pairing the lyrics of 154 of his songs with first-person commentaries of the circumstances in which they were written, the people and places that inspired them, and what he thinks of them now.
"London Town" is one of the 154 songs covered.
Lyrics
Walking down the sidewalk on a purple afternoon
I was accosted by a barker playing a simple tune
Upon his flute - toot toot toot toot

Silver rain was falling down
Upon the dirty ground of London Town

People pass me by on my imaginary street
Ordinary people it's impossible to meet
Holding conversations that are always incomplete
Well, I don't know

Oh where are there places to go
Someone somewhere has to know
I don't know

Out of work again the actor entertains his wife
With the same old stories of his ordinary life
Maybe he exaggerates the trouble and the strife
Well, I don't know

Oh, where are there places to go
Someone somewhere has to know

Crawling down the pavement on a Sunday afternoon
I was arrested by a rozzer wearing a pink balloon
About his foot - toot toot toot toot

Silver rain was falling down
Upon the dirty ground of London Town

Someone somewhere has to know
Silver rain was falling down
Upon the dirty ground of London Town
Films
---
1978 • For Wings • Directed by Michael Lindsay-Hogg
Videos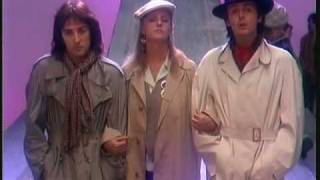 Album • London Town (1993)
Live performances
Paul McCartney has never played this song in concert.
Going further
---
Paul McCartney: Music Is Ideas. The Stories Behind the Songs (Vol. 1) 1970-1989
With 25 albums of pop music, 5 of classical – a total of around 500 songs – released over the course of more than half a century, Paul McCartney's career, on his own and with Wings, boasts an incredible catalogue that's always striving to free itself from the shadow of The Beatles. The stories behind the songs, demos and studio recordings, unreleased tracks, recording dates, musicians, live performances and tours, covers, events: Music Is Ideas Volume 1 traces McCartney's post-Beatles output from 1970 to 1989 in the form of 346 song sheets, filled with details of the recordings and stories behind the sessions. Accompanied by photos, and drawing on interviews and contemporary reviews, this reference book draws the portrait of a musical craftsman who has elevated popular song to an art-form.
---