Spread the love! If you like what you are seeing, share it on social networks and let others know about The Paul McCartney Project.
Song facts
From Wikipedia:
"With a Little Luck" is a single by the band Wings from their 1978 album London Town.

Written in Scotland, "With a Little Luck" would become Wings' follow-up single to the then best-selling UK Single of all time, "Mull of Kintyre" and was one of the first synthpop records to appear on radio and in the charts and the beginning of McCartney's period of involvement and experimentation with synthesisers.[original research?]

Recorded in 1977 aboard the boat Fair Carol in the Virgin Islands for the proposed album, working title Water Wings,[citation needed] which was released as the band's seventh album London Town. During these recordings, Wings' lead guitarist Jimmy McCulloch and drummer Joe English had left, returning the band to the three piece line up which had recorded Band on the Run in 1973. McCartney played electric piano, bass and synthesizer in the song: probably English was on drums, while Laine and Linda McCartney helped with some keyboards.

Released in March 1978, the first single from the album, "With a Little Luck" hit No.1 in the United States and No.5 in the UK. While it was at the top of the charts in the USA, McCartney announced the new Wings line up featuring lead guitarist Laurence Juber and drummer Steve Holly.

The single features an edit of the much longer version on its parent album and its b-side consists of the segue of two short tracks, "Backward Traveller"/"Cuff Link", also on the album, the first of which is a song and the second an instrumental that features a heavily synthesized guitar theme.

Author Chris Ingham praised the song as one of the best on the album, stating it was "full of the most sensitive pop synthesizer touches."

The song's music video, directed by Michael Lindsay Hogg, aired in the UK on 9 May 1978, as part of Granada Television's Paul TV show.

"With a Little Luck" was also released on Wings Greatest (1978), All the Best! (1987), and the two-disc compilation, Wingspan (2001). There were two versions of the song: the full version on London Town which runs 5:45, and a single version which only runs 3:13 (as it cuts out the entire instrumental interlude). The album version was included on the first two compilations, while the single version appears on Wingspan and in the American version of All the Best!.

It was featured in the closing credits of the 1979 film Sunburn starring Farrah Fawcett, Charles Grodin and Art Carney.
Last updated on February 22, 2014
Lyrics
With a little luck we can help it out
We can make this whole damn thing work out
With a little love we can lay it down
Can't you feel the town exploding?

Chorus

There is no end to what we can do together
There is no end
The willow turns his back on inclement weather
And if he can do it, we can do it, just me and you

And a little luck, we can clear it up
We can bring it in for a landing
With a little luck we can turn it on
There can be no misunderstanding

Chorus

With a little push, we could set it off
We can send it rocketing skywards
With a little love we could shake it up
Don't you feel the comet exploding?

With a little luck, with a little luck, with a little luck, etc

Repeat verse one

With a little love, we can set it off
We can send it rocketing skywards
With a little luck, we could shake it up
Oh yeah

Repeat verse one

Repeat verse three
Films
---
1978 • For Wings • Directed by Michael Lindsay-Hogg
Videos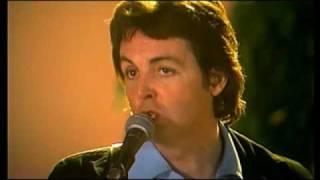 Album • London Town
Live performances
Paul McCartney has never played this song in concert.
Going further
---
Paul McCartney: Music Is Ideas. The Stories Behind the Songs (Vol. 1) 1970-1989
With 25 albums of pop music, 5 of classical – a total of around 500 songs – released over the course of more than half a century, Paul McCartney's career, on his own and with Wings, boasts an incredible catalogue that's always striving to free itself from the shadow of The Beatles. The stories behind the songs, demos and studio recordings, unreleased tracks, recording dates, musicians, live performances and tours, covers, events: Music Is Ideas Volume 1 traces McCartney's post-Beatles output from 1970 to 1989 in the form of 346 song sheets, filled with details of the recordings and stories behind the sessions. Accompanied by photos, and drawing on interviews and contemporary reviews, this reference book draws the portrait of a musical craftsman who has elevated popular song to an art-form.