Spread the love! If you like what you are seeing, share it on social networks and let others know about The Paul McCartney Project.
Song facts
From Wikipedia:
"Mull of Kintyre" is a song by the British-American rock band Wings written by Paul McCartney and Denny Laine. The song was written in tribute to the picturesque Kintyre peninsula in Scotland and its headland, the Mull of Kintyre, where McCartney has owned High Park Farm since 1966. The song was Wings' biggest hit in Britain where it became the 1977 Christmas number one, and was the first single to sell over two million copies nationwide.

History

The lyrics of the first verse, also used as the repeating chorus, are an ode to the area's natural beauty and sense of home:

Mull of Kintyre
Oh mist rolling in from the sea,
My desire
Is always to be here
Oh Mull of Kintyre

McCartney explained how the song came into being:

I certainly loved Scotland enough, so I came up with a song about where we were living: an area called Mull of Kintyre. It was a love song really, about how I enjoyed being there and imagining I was travelling away and wanting to get back there.

"Mull of Kintyre" was recorded on 9 August 1977 at Spirit of Ranachan Studio at High Park Farm in Scotland, during a break in recording the London Town album caused by Linda McCartney's advanced pregnancy. The song featured bagpipes played by the Campbeltown Pipe Band from nearby Campbeltown. Paul's vocals and acoustic guitar were recorded outdoors. "Mull of Kintyre" and "Girls' School" (a rocker that had been previously recorded for London Town) were released as a double A-sided single on 11 November 1977, independently of the album. It was included on the Wings compilation Wings Greatest in 1978, the UK/Canada version of McCartney's 1987 compilation album All the Best!, the 2001 compilation Wingspan: Hits and History and the 2016 compilation Pure McCartney.

Reception

The song's broad appeal was maximised by its pre-Christmas release and it became a Christmas number one single in the UK, spending nine weeks at the top of the charts. It also became an international hit, charting high in Australia and many other countries over the holiday period. It went on to become the first single to sell over two million copies in the UK and became the UK's best-selling single of all-time (eclipsing The Beatles' own "She Loves You") until overtaken by Band Aid's "Do They Know It's Christmas?" in 1984 (which also featured McCartney on the B-side). The song remains the UK's best-selling completely non-charity single, having sold 2.08 million copies. (Queen's "Bohemian Rhapsody" has sold more in its two releases, but the profits of the 1991 release went to charity.)

The millionth copy of the disc sold in the UK included a special certificate. It was sold to David Ackroyd, who was presented with a gold disc of the single by Laine.

Despite its international appeal, the song was not a major hit in North America, where the flipside "Girls' School" received more airplay and reached #33 on the Billboard Hot 100 and #34 on the Canadian RPM charts. "Mull of Kintyre" was not a pop hit at all in the US, but did manage to reach #45 on the Easy Listening chart.

Meanwhile, in Canada, "Girls' School"/"Mull of Kintyre" was initially tracked as a double A-side, and reached #44 on the pop charts before "Mull of Kintyre" was dropped from the chart listings as of 21 January 1978. "Girls' School" continued its chart climb for a few more weeks, reaching #34 in Canada. After the single fell out of the top 40, it was once again tracked as a double A-side (with "Mull of Kintyre" getting first billing) for one week in April, but it did not better its previous #44 chart peak. "Mull of Kintyre" alone (without "Girls' School") did reach #30 on Canada's Adult Contemporary chart.

Live performances

McCartney has played "Mull of Kintyre" only occasionally in concert since Wings' 1979 British tour. Performances include 23 June 1990 in Glasgow, Scotland. He played it in Australia and New Zealand and also Canada in 1993, 2002, 2005, 2010, 2012, 2013 and 2015. He began playing the song again in Halifax, Nova Scotia, Canada. On 11 July 2009, at a concert at the Halifax Common, he played the song accompanied by the 78th Highlanders (Halifax Citadel) Pipe Band. He played the song at the O2 Arena in London on 22 December 2009, accompanied by the 18-piece Balmoral Highlanders Pipe Band.

The following year, on 20 June 2010 McCartney performed "Mull of Kintyre" at Hampden Park in Glasgow accompanied by the Pipes and Drums of Loretto School. He played the song at the Air Canada Centre in Toronto, Ontario, on the 8 and 9 August 2010 with the Paris Port Dover Pipe Band. On 20 December 2011, Loretto School played with him again in the final concert of his On The Run tour at the Echo Arena in Liverpool. On 25 November 2012 performed "Mull of Kintyre" at the On The Run Tour in Vancouver, British Columbia with the Delta Police Pipe Band, and in Edmonton, Alberta with the Edmonton Police Service Pipes and Drums on 28–29 November. On 7 July 2013, McCartney performed "Mull of Kintyre" on his "Out There" tour to a sell-out crowd at the Canadian Tire Centre in Ottawa, Canada accompanied by the Ottawa Police Service Pipe Band. On 19 and 20 April 2016, performed "Mull of Kintyre" during the One on One tour in the Rogers Arena in Vancouver, British Columbia, again, with the Delta Police Pipe Band. […]
---
While I was on my farm in Scotland I thought that most Scottish songs you hear nowadays are old tunes that people re-do or comedy songs like 'Up Your Kilt'. Denny and I decided to get a new tune together and make it sound as trad – Scottish as possible although adding a modern sound to it. Then we called in the local Campbeltown Pipe Band and wrote the tune to their own scale because with bagpipes they can play only certain keys.

Paul McCartney – From interview with Record Mirror, November 1977
DID YOU THINK WHEN YOU DID 'MULL OF KINTYRE THAT IT WOULD BE…

That huge? No. No way. I didn't even think it would be a hit. We did it in Scotland in our barn, and pipers who played on it, all had their cans of McEwans, getting tanked up, and they all said 'Oh this is a hit. From 16-year-olds up to 50-year-olds, they all agreed it was a hit. But we put it out at a time when there was a lot of new wave, punk stuff starting, and I thought that it was just going to get left out. It's funny – there's me in the height of punk putting out a Scottish waltz. But it was one of those records that just appealed to people – you can't tell what it was, but it just did.

Paul McCartney – interview with Jamming!, March 1983
My love of Scotland, I got off John Lennon. John had relatives in Scotland and when he was a kid he'd gone to a croft. I'd never done the likes of this: the furthest we got was Butlin's. So I'd heard him talk about it and got involved with the swirrl of the mist… I'd eventually got a farm up there, and being up there I'd heard some bagpipe music. I thought, the problem with this is it's very nice, but it's all old: there's no music being written for bagpipe or Scottish singers. I couldn't relate to it and I thought it'd be nice if there was a newer Scottish song.

So I thought, I'll try and write one. I had to find out what key the bagpipes play in – got my guitar out and asked Tony Wilson, the leader of the Campbeltown Pipe Band at the time. So we went out into the garden and I said, 'Basically you seem to be in A or D', and I found out what notes he could do and set about writing it. The funny thing is, the two modern Scottish hits – 'Amazing Grace' by the Royal Scots Dragoon Guards and 'Mull Of Kintyre' – were both written by Sassenachs.

It was great fun doing it. We converted this barn just for the night, with a mobile studio brought in – moved the barley out. So we had a couple of McEwans and off we went. It was great

Paul McCartney, from Club Sandwich N°47/48, Spring 1988
I realised at some point that I do certain things because they're a bit of an exercise for me. Like writing the Bond thing ["Live And Let Die"]. As a writer, you think, "OK, that'll be interesting." I'm not concerned with the genre or the style of the thing. I've got very wide tastes. In 1977, I fancied doing a Scottish bagpipe song, so I wrote "Mull Of Kintyre". The people who hated it were pissed off with me. And even some of the people who bought it were pissed off with me because they'd bought it. Of course, it didn't help that it came out at the height of punk rock. But what should I have done at that time?! Stuck a safety pin through my nose and done some bonkers, punk song? I'll admit that something like "Mull Of Kintyre" contributes to my patchwork quilt reputation. What that probably means is that I'm never one-dimensional enough for some people. I've developed a hard skin for that sort of attitude. It's only a skin but my attitude is really, "Sod you. You think Mull Of Kintyre' is crap-you try writing something like that." I do get annoyed at having to justify myself. Since school, I've never liked having to do that. I never liked anyone telling me what to do. I never liked that bullying tendency. I have a "fuck you" feeling about all of that.

Paul McCartney – From interview with UNCUT, July 2004
He had an idea for a song. I went around to have breakfast with them up in Scotland. … I heard the chorus and I said that's a potentially hit song. So the next day we went and finished it off. We sat down and wrote the lyrics and put it together. Then we brought in the Campbeltown Pipe Band and they were all excited. It was the first time they'd ever been in a studio and it was fun. We recorded the pipes and drums outside so we got the echoes off the mountains. It came out at Christmas and it was a big hit (in England). It was a B-side over here.

Denny Laine, Interview with Tallahassee Democrat, 2017
"Mull of Kintyre" came about [when] we were in Scotland. I went round to Paul's one day and he had the chorus. That's the song, I think. The chorus. We were inspired by Scotland, so I helped with the lyrics. The Campbeltown Pipe Band made it the song it is. Billy Connolly liked it, a nice endorsement, otherwise he would have slagged us off onstage. [Laughs] We would never have wanted a Scottish song that they didn't like. And a lot of that is from the pipe band [which] transposed keys [and] added to the arrangement… The pipe band was recorded outdoors with the echo. Magical. Where we were, you could see where Scotland ends and Ireland begins.

Denny Laine – Interview with CultureSonar, December 24, 2018
Linda and I spent quite a bit of time [in Scotland] when the kids were young. The Beatles had just broken up, over business problems, and that had been pretty upsetting. I was at a bit of a loose end. We lived in a farmer's croft on the Mull of Kintyre that I had bought before I met Linda, but it was quite run down and I had never visited it much. We were retreating from the world; it was really comforting to be there. We just headed north and escaped. It was glorious. In the evenings, you could walk outside and there would be this endless sky. In some ways, it was at the end of the world. It wasn't that easy to get to us, which we liked, as we had been so accessible before that. I fell in love with Scotland again and wrote a song based on my love of the area, with the local pipe band. The song was so successful it got on some people's nerves. But I loved it.

Paul McCartney, from a 2019 FT.com article
---
---
Last updated on September 3, 2023
The book "The Lyrics: 1956 to the Present", published in 2021, covers Paul McCartney's early Liverpool days, the Beatles, Wings, and solo careers, by pairing the lyrics of 154 of his songs with first-person commentaries of the circumstances in which they were written, the people and places that inspired them, and what he thinks of them now.
"Mull Of Kintyre" is one of the 154 songs covered.
Lyrics
Mull of Kintyre?
Oh mist rolling in from the sea?
My desire is always to be here?
Oh Mull of Kintyre?

Far have I travelled and much have I seen?
Dark distant mountains with valleys of green
Past painted deserts the sunset's on fire?
As he carries me home to the Mull of Kintyre

REPEAT CHORUS

Sweep through the heather like deer in the glen?
Carry me back to the days I knew then
Nights when we sang like a heavenly choir?
Of the life and the times of the Mull of Kintyre??

REPEAT CHORUS

Smiles in the sunshine?and tears in the rain?
Still take me back where my memories remain?
Flickering embers grow higher and higher?
As they carry me back to the Mull of Kintyre??

REPEAT CHORUS TWICE
Films
---
1977 • For Wings • Directed by Michael Lindsay-Hogg
---
1977 • For Wings • Directed by Nicholas Ferguson
---
Videos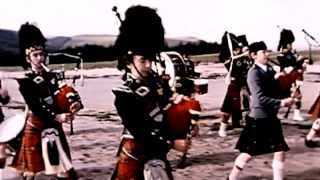 Album • Mull Of Kintyre / Girls' School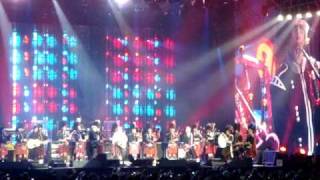 Concert • Dec 22, 2009 in London