Spread the love! If you like what you are seeing, share it on social networks and let others know about The Paul McCartney Project.
Song facts
"Grow Old with Me" is a song written by John Lennon, and recorded by him as demo while in Bermuda in 1980. It was released on the posthumous album, Milk and Honey, in 1984. From Wikipedia:
In 1994, Yoko gave Paul McCartney some cassettes containing demo recordings of four of John Lennon's unfinished songs: "Grow Old with Me", "Free as a Bird", "Real Love" and "Now and Then" with "for Paul" written on them in John's handwriting. The three remaining Beatles (Paul McCartney, George Harrison and Ringo Starr) never attempted to work on "Grow Old with Me" in a similar way that they had with the other Beatles "reunion" songs. "Free as a Bird" and "Real Love" were the only ones completed. They did work on Now and Then but decided to abandon it because Lennon's original demo required too much work to bring it up to the standard needed for an official release. […]
In 2019, Ringo Starr released a cover of "Grow Old with Me", with Paul McCartney on bass, on his album What's My Name . From the press release, September 13, 2019:
[…] the emotional centerpiece of What's My Name is Starr's deeply felt version of "Grow Old With Me" by his late great friend John Lennon. This is a performance for the ages, one made all the more powerful and moving when we realize that Ringo is blessed to be still living the dream of growing older with the one he loves in a way that his beloved friend John was imagining with Yoko when he wrote this song in the years before his tragic death. As Starr rightly notes with a warm smile, "I'm still living that dream."

For Ringo, the inspiration to record "Grow Old With Me" now came when he ran into noted record producer Jack Douglas who had produced John Lennon and Yoko Ono's Double Fantasy album, among other classic recordings.

"Jack asked if I ever heard The Bermuda Tapes, John's demos from that time," Ringo recalls. "And I had never heard all this. The idea that John was talking about me in that time before he died, well, I'm an emotional person. And I just loved this song. I sang it the best that I could. I do well up when I think of John this deeply. And I've done my best. We've done our best. The other good thing is that I really wanted Paul to play on it, and he said yes. Paul came over and he played bass and sings a little bit on this with me. So John's on it in a way. I'm on it and Paul's on it. It's not a publicity stunt. This is just what I wanted. And the strings that Jack arranged for this track, if you really listen, they do one line from "Here Comes The Sun." So in a way, it's the four of us."
The other good thing is that I really wanted Paul to play on it, and he said yes. Paul came over and he played bass and sings a little bit on this with me. So John's on it in a way. I'm on it and Paul's on it. […] And the strings […], if you really listen, they do one line from "Here Comes The Sun." So in a way, it's the four of us."

Ringo Starr
From an interview of Ringo Starr, with GQ, October 16, 2019:
There's a close to a Beatles reunion as we're ever going to get on What's My Name with Paul McCartney playing bass on a song called "Grow Old With Me," which John Lennon wrote with you in mind. I understand you didn't even know of Lennon's demo until recently?

I didn't find it till this year. I never heard about it, never knew about it. I was really emotional when Jack Douglas, the producer who produced John, mentioned it to me. He said, "Have you heard what they call The Bermuda Tapes?" I said, "No, I don't have a copy."

At the beginning (of the demo, you can hear John say), "Oh, this would be good for Richard Starkey… this would be great for you, Ring!" When I first heard that, I did get a little emotional to hear his voice mentioning my name, because I'm an emotional guy. Anyway, he recorded all the other tracks, but this track he hadn't recorded. He'd done a demo, that's all and I had never heard of the song, and had no awareness of it at all. But I thought that it was a beautiful song. I decided I was going to do it and thought it was really important.

How did Paul get involved?

I did the vocals first and then I wanted real friends to come and play with me. I thought the only guy who could really play bass on this for me was Paul . And Paul happened to be coming into town. I said, "I've done this song I just found and I'd love for you to play bass." He said, "Sure, okay." And that's how I got Paul: I asked him and he said yes. He is the most melodic player, I love playing with him. He played beautiful and then he sang with me, that was nice too. (But) he's been on five or six on my albums, so it's not like the only time he's ever played with me.

Ringo Starr
From Lennonology, October 15, 2019:
With the release of Ringo's cover of John's 'Grow Old With Me', there has been a lot of speculation about the song's history, based on faded memories.

No one except for John could ever say for certain who he intended to give a song to, and to date, the only place John went on record about a recent song he intended to gift to Ringo was the late June 1980 "Bermuda Tape", a compilation of his recently completed compositions.

On the many different configurations of this cassette, it is only prior to 'Nobody Told Me' that John remarks, "This one's gotta be for Ringo." Now it is quite possible that (out of the range of an open microphone) John expressed his wishes to Yoko or Jack Douglas or to Ringo himself.

However, for what it's worth, in 1992, journalist Ken Sharp asked Ringo about the tracks that John had "given" him. Here's how their conversation went:

(KS) John apparently made demos of four songs that he gave to you shortly before he died that he thought would be good for you.

(RS) "Yeah, they gave me some of John's songs after he died. But I couldn't do them. I was not interested then. I mean, if he had given them to me it would be a different situation. But he did not give them to me. They were given to me later and I couldn't deal with it at that time. They said, "John felt these would be good for you."

(KS) You can hear John say, "This is for Ringo" on the demos…

(RS) Sure. But it was too late for me to do them.
Last updated on October 31, 2019
Officially appears on
---
Official album • Released in 2019
3:18 • Studio version
Background vocals, Bass
Drums, Producer, Vocals
Mixing engineer, Pro tools editing, Recording engineer
Guitar
Jim Cox :

Piano
Accordion
Violin
Violin
Viola
Cello
String arrangement
String arrangement
Assistant engineer
Session

Recording:
Studio :

Ringo Starr's home studio, Los Angeles, USA - United Recording Studios, Hollywood, USA
Videos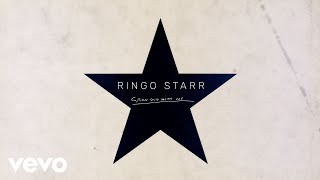 Album • What's My Name
Live performances
Paul McCartney has never played this song in concert.