Spread the love! If you like what you are seeing, share it on social networks and let others know about The Paul McCartney Project.
Song facts
From Wikipedia:
"Let 'Em In" is a song by Wings from their 1976 album Wings at the Speed of Sound. It was written and sung by Paul McCartney and reached the top 3 in the United Kingdom, the United States and Canada. It was a #2 hit in the UK, and in the US it was a number 3 pop hit and number 1 easy listening hit. In Canada, the song was #3 for three weeks on the pop chart and #1 for three weeks on the MOR chart of RPM magazine. The single was certified Gold by the Recording Industry Association of America for sales of over one million copies. […] The song is noted for the sound of a doorbell, chiming the first eight notes from the Big Ben tune, before the rhythm begins. Phil and Don Everly, both brothers from the Everly Brothers, are named on the group of seven people who are to be admitted into the house. ("PHIL AND DON") Martin Luther is also mentioned as well. The others include Sister Susie, Brother John, Brother Michael, Uncle Ernie, and Auntie Gin. The song is noted for the false fade out, which, however, becomes loud for the last two notes of the song as it ends. The song makes use of the piano, drums, brass, including a trombone solo, and wind instruments, featuring flutes, plus backup vocals from Linda and the other members of the group Wings.

The song was released worldwide as a 7″ single, except in France where it was released as 12″ single (the first ever McCartney 12″) with both sides labeled "Special Disco Mix". In fact these were just normal album versions of the songs.
Paul McCartney "shouted out" to several of his relatives and friends in this song: his aunt ("Auntie Gin") and brother ("Brother Michael"), the Everly Brothers ("Phil and Don"), Keith Moon ("Uncle Ernie") and Linda's brother ("Brother John"). His reference to "Sister Suzie" was a reference to Linda, who once recorded a song under the name "Suzie And The Red Stripes."
It sort of said: let's have a party, why keep 'em outside? So in listing the kind of people who might be outside the door, I just naturally went to… Auntie Gin, brother Michael – they all exist – Phil and Don being the Everlys. I just wanted a parade of people that we could imagine outside the door, so I drew on all the people I knew.

Paul McCartney, from Club Sandwich N°47/48, Spring 1988
Last updated on March 26, 2020
Lyrics
Someone knocking at the door
Somebody ringing the bell
Someone's knocking at the door
Somebody's ringing the bell
Do me a favour
Open the door
And let 'em in

Oh yeah

Someone's knocking at the door
Somebody's ringing the bell
Someone's knocking at the door
Somebody's ringing the bell
Do me a favour
Open the door
And let 'em in
Let 'em in

Sister Suzy, Brother John
Martin Luther, Phil and Don
Brother Michael, Auntie Gin
Open the door and let 'em in

Oh yeah

Sister Suzy, Brother John
Martin Luther, Phil and Don
Uncle Ernie, Auntie Gin
Open the door and let 'em in

Yeah, yeah

Someone's knocking at the door
Somebody's ringing the bell
Someone's knocking at the door
Somebody's ringing the bell
Do me a favour
Open the door
And let 'em in

Oh yeah, yeah, let 'em in now

Sister Suzy, Brother John
Martin Luther, Phil and Don
Uncle Ernie, Uncle Ian
Open the door and let 'em in

Yeah, yeah

Someone's knocking at the door
Somebody's ringing the bell
Someone's knocking at the door
Somebody's ringing the bell
Do me a favour
Open the door
And let 'em in
Yeah yeah yeah yeah yeah
Films
---
1979 • • Directed by Jack Prestty
Videos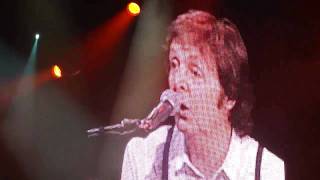 Concert • Jul 28, 2010 in Charlotte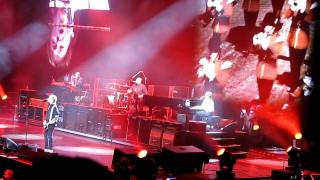 Concert • Aug 19, 2010 in Pittsburgh