Spread the love! If you like what you are seeing, share it on social networks and let others know about The Paul McCartney Project.
Song facts
I've done some recording with Phil Ramone recently and this was something that came out of those sessions that we liked. The sentiment is 'times remembered': once upon a long ago…things were so much simpler then…It's got some nice bits in it, I think it's quite a haunting thing. I feel quite good about it.

Paul McCartney, from Club Sandwich N°47/48, Spring 1988
From Wikipedia:
"Once Upon a Long Ago" is a Paul McCartney song, released as his fortieth single on 16 November 1987, as part of his compilation All the Best!, released two weeks before the single. The track was produced by Phil Ramone and mixed by George Martin, and features violin by Nigel Kennedy.

It was reported in a 2011 biography that the origin of this song is with the film The Princess Bride. McCartney was approached by Director Rob Reiner to compose a couple of songs and the incidental music for the film. Reiner rejected as "too sentimental" the two songs Paul submitted: "Once Upon a Long Ago" and "Beautiful Night" and contracted with Mark Knopfler to complete the soundtrack.

Recording

Originally it was intended that this song would be a Duet between McCartney and Freddie Mercury. The two had become friends following Live Aid and McCartney wrote the song with Mercury in mind. Mercury however was inundated with work, both Solo and with Queen and was also in the advanced stages of AIDS and McCartney very understandably allowed Mercury to depart from the project .The track was recorded at Hog Hill Studio on March 11 and 12, 1987 with overdubs added in Abbey Road in July. During this session, a full orchestra was overdubbed as well as instrumental contributions by Stan Sulzmann (sax), Nigel Kennedy (violin), and Adrian Brett (flute).

Release and charts

The song was released in four versions. Two different 12″ singles feature "long" and "extended" versions (mixed by George Martin and Peter Henderson, respectively); the 7″ single and the CD single (McCartney's first) features an edit of the long version and a b-side from each the two 12″ singles, as well as "Back on My Feet", a b-side for all four iterations; and the album version featured on All the Best! contains an alternate ending. "Back on My Feet" was also the first released song from the songwriting collaboration between McCartney and Elvis Costello. Both 12″ and CD singles also featured songs from yet to be released McCartney's cover album Choba B CCCP.

"Once Upon a Long Ago" reached number ten in the United Kingdom Singles Chart, McCartney's last Top 10 in his homeland until the release of "FourFiveSeconds" in 2015. The single was not released in the United States nor included on the US version of All the Best!, although it did appear on the longer UK/Canada version. The song has remained unavailable on any US released album, although it is a bonus track on the 1993 UK remastered version of Press to Play – the 1993 remastered Paul McCartney Collection has never been released in the US.

Once Upon A Video

Along with the single and the All the Best!-album there was also released an 18-minute VHS for sale called Once Upon A Video, consisting of four music videoes:

Once Upon A Long Ago
Stranglehold
Pretty Little Head
We All Stand Together – the music video was an edit of the songpart from the movie Rupert and the Frog Song

We All Stand Together was included on the UK/Canada-release of All the Best! along with Once Upon A Long Ago.
Paul had heard me on a record I made playing Duke Ellington and Bartok. Apparently he asked George Martin if I was available …It was great fun to do. Paul's contribution to music has been phenomenal, but he's still got the appetite… It's just art for art's sake.

Nigel Kennedy, about his contribution to "Once Upon Along Ago", from Club Sandwich N°46, Winter 1987
It was quite a laugh. We recorded at Abbey Road and I'd just been in there the day before doing some concerto with Andre Previn… With Previn, we already knew what we were going to do when we went in there. But with McCartney he just said 'Play' and it was up to me to lock into his personality and what he was saying

Nigel Kennedy, about the session for "Once Upon Along Ago", from Club Sandwich N°46, Winter 1987
Last updated on March 22, 2020
The book "The Lyrics: 1956 to the Present", published in 2021, covers Paul McCartney's early Liverpool days, the Beatles, Wings, and solo careers, by pairing the lyrics of 154 of his songs with first-person commentaries of the circumstances in which they were written, the people and places that inspired them, and what he thinks of them now.
"Once Upon A Long Ago" is one of the 154 songs covered.
Lyrics
Picking up scales and broken chords
Puppy dog tails in the House of Lords
Tell me darling, what can it mean?

Making up moons in a minor key
What have those tunes got to do with me?
Tell me darling, where have you been?

Once upon a long ago
Children searched for treasure
Nature's plan went hand in hand with pleasure.
Such pleasure.

Blowing balloons on a windy day
Desolate dunes with a lot to say
Tell me darling, what have you seen?

Once upon a long ago
Children searched for treasure
Nature's plan went hand in hand with pleasure.
My pleasure.

Playing guitars on an empty stage
Counting the bars of an iron cage
Tell me darling, what can it mean?

Once upon a long ago....
Films
---
1987 • For Paul McCartney • Directed by Mike Ross
Videos
Concert • Dec 03, 1987 in London
Concert • Dec 04, 1987 in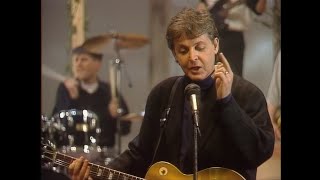 Concert • Dec 20, 1987 in Ludwigshafen
Live performances
"Once Upon A Long Ago" has been played in 8 concerts.
Latest concerts where Once Upon A Long Ago has been played
---
---
---
---
---
---
Going further
---
Paul McCartney: Music Is Ideas. The Stories Behind the Songs (Vol. 1) 1970-1989
With 25 albums of pop music, 5 of classical – a total of around 500 songs – released over the course of more than half a century, Paul McCartney's career, on his own and with Wings, boasts an incredible catalogue that's always striving to free itself from the shadow of The Beatles. The stories behind the songs, demos and studio recordings, unreleased tracks, recording dates, musicians, live performances and tours, covers, events: Music Is Ideas Volume 1 traces McCartney's post-Beatles output from 1970 to 1989 in the form of 346 song sheets, filled with details of the recordings and stories behind the sessions. Accompanied by photos, and drawing on interviews and contemporary reviews, this reference book draws the portrait of a musical craftsman who has elevated popular song to an art-form.