Spread the love! If you like what you are seeing, share it on social networks and let others know about The Paul McCartney Project.
Hide track details
Track list
Disc 1
---
---
---
---
---
---
---
---
---
Written by Paul McCartney, Dave Grohl, Krist Novoselic, Pat Smear
4:38 • Studio version • A
Cigar box guitar, Vocals
Backing vocals, Drums
Bass guitar
Guitar
Engineer
Engineer
Producer
Engineer
Session

Recording:
Studio :

Studio 606 West, Northridge, Los Angeles, USA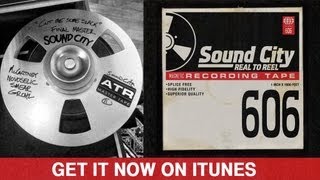 ---
---
About
From Wikipedia:
Sound City: Real to Reel is the official soundtrack of the documentary Sound City. It was officially released on March 12, 2013. The songs "Cut Me Some Slack", "From Can to Can't", "You Can't Fix This", and "Mantra" were made available on Sound City‍ '​s official YouTube channel on December 14, 2012, January 15, 2013, February 15, 2013, and March 8, 2013, respectively. Dave Grohl founded the supergroup Sound City Players with many of the musicians who appear in this movie and who he played with live for the soundtrack.

The soundtrack received two Grammy Awards: Best Compilation Soundtrack for Visual Media and Best Rock Song (for "Cut Me Some Slack").
Last updated on November 11, 2020