Spread the love! If you like what you are seeing, share it on social networks and let others know about The Paul McCartney Project.
Song facts
From NME, January 17th 2013:
Foo Fighters' Dave Grohl has revealed that his collaboration with Paul McCartney, 'Cut Me Some Slack', was written and recorded in just three hours.

You can hear the collaboration, which was unveiled at the New York Hurricane Sandy 12-12-12 benefit gig on December 12 (2012) and also featured former Nirvana members Krist Novoselic and Pat Smear, below.

[…]

"We walked in; we jammed the song. It just came out of nowhere. The best songs happen that way," said Grohl. "We recorded it live and put a vocal over it and that was it. It was three hours and it was perfect."

Eight months later, Grohl asked McCartney if he would play the track at the 12-12-12 gig. "You have to understand, one of the great things about playing with Paul McCartney or playing with Neil Young is that that generation of musicians, they cherish and respect and value the practice of just going into a room and coming up with something and jamming and making it a song," said Grohl. "There's not like seven songwriters and seven producers and digital technology or whatever. It's like people getting in a room."
From Wikipedia:
"Cut Me Some Slack" is a song by Paul McCartney, Dave Grohl, Krist Novoselic and Pat Smear from Grohl's film Sound City and its soundtrack. The song was first performed at the 12-12-12 benefit concert by the four, and was released on December 14, 2012, through Youtube. The song was a jam featuring McCartney and the surviving members of Nirvana, and it was described by McCartney as a "Nirvana reunion". The four also performed the song, along with a number of Beatles songs, at a Paul McCartney concert in Seattle (Nirvana's home town) on June 19, 2013.

The song was recorded as a jam. Various artists were assembled by Grohl to record Sound City, including McCartney.

The song was received well by critics. Allmusic called it a "tune with an immediate hook [and] melody". The song won the Grammy award for Best Rock Song in 2014.
Last updated on January 1, 2016
Lyrics
Did your mama, set me free?
Oh mama, let me be
Oh mama, watch me run
Mama, I wanna have some fun

Well mama, don't let me down
Mama, wanna go to town

If you wanna stick around you gotta cut me some slack
I'?m gonna hit the road again and not come back

Wooo, Wooo, Wooo, Woo

Mama, let me be
Oh now mother, set me free
C?mon c?mon c?mon c?mon watch me run
Oh, Mama, I just want to have some fun
Oh, set me free
Let me be
Yeah, yeah, yeah, yeah
Officially appears on
---
Official album • Released in 2013
4:38 • Studio version
Videos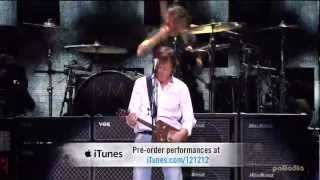 Concert • Dec 12, 2012 in New York
Live performances
"Cut Me Some Slack" has been played in 3 concerts.
Latest concerts where has been played
---
---
---