Country:

USA
City:

Cleveland
Location:

Cleveland's Public Hall
Attendance:

10000
Timeline
Concert
Apr 18, 2015
• Rock and Roll Hall of Fame 2015 Induction Ceremony
---
More from year 2015
Spread the love! If you like what you are seeing, share it on social networks and let others know about The Paul McCartney Project.
About
Paul McCartney initiated the process of getting Ringo Starr into the Rock And Roll Hall Of Fame, the last Beatles to be inducted as a solo artist:
Starting with his Beatle days, Ringo Starr has always been the mascot of rock & roll. McCartney and Lennon started writing songs for him because everyone found him so adorable. "We wrote the line 'What would you do if I sang out of tune?' for him," says McCartney. "When you think about it, how many people in rock & roll can sing? But Ringo can deliver a song."

Ringo's image as happy-go-lucky sideman first and rocker second nearly blocked him from entering the Rock and Roll Hall of Fame as a solo act. It started with a dinner between McCartney and Robbie Robertson, when the Band's guitarist noted Ringo wasn't in the Hall of Fame on his own. With Beatles manager Brian Epstein being inducted into the nonperformer wing, McCartney thought Ringo's absence was an egregious oversight.

"I said, 'Let me see what I can do,' " says McCartney. "And I talked to Bruce Springsteen and I talked to Dave Grohl, and they both thought he should be in. And I said I'd do the induction. That took care of it."

From RollingStone, April 15, 2015
Here is Paul McCartney's speech during the induction ceremony as reported by Rolling Stone:
OK. Ringo Starr was born in Liverpool at a very early age, and he had a hard childhood. Real hard childhood, but he had a beautiful mom, Elsie, and a lovely stepdad Harry. Both of them had real big hearts, beautiful people, and they loved music. So at some point during this difficult childhood, Ringo got a drum. Ringo got a drum! And that was it. He was now a drummer.

Later on he joined a group called Rory Storm and the Hurricanes. And we saw these guys when we were out in Hamburg, we were playing out there. And Ringo was like a professional musician. We were just like, slamming around and doing stuff, but he had a beard — that's professional. He had the suit. Very professional. And he would sit at the bar drinking bourbon and seven. We'd never seen anyone like this. This was like, a grown-up musician.

Anyway, we got friendly with him, and he used to come in late night when we were playing, and he requested a couple of songs, so we got to know him. And one night our drummer then, Pete Best, wasn't available, so Ringo sat in. And I remember the moment. I mean, Pete was great, and we had a good time with him. But me, John and George, God bless 'em, were on the front line singing, and now behind us we had this guy we'd never played with before, and I remember the moment when he started to play – I think it was Ray Charles, "What'd I Say," and most of the drummers couldn't nail the drum part, it's a little bit [sings a bit of it]. It was a little difficult to do, but Ringo nailed it. Yeah — Ringo nailed it! And I remember the moment, standing there and looking at John and then looking at George, and the look on our faces was like, fuck you. What is this? And that was the moment, that was the beginning, really, of the Beatles.

Anyway, then we started this great journey for these four guys from Liverpool who were . . .we just set off on their journey. We did ballrooms and clubs around England, and we got a little work in Europe, and then we eventually came to America. And here we were, we were staying in rooms together. And I wasn't a sheltered kid, but I just had my mom and dad growing up and my brother. So I was staying in a hotel room with a strange man. This really brought us together. We lived like in each other's pockets, virtually. But it was a beautiful thing, a wonderful thing. Eventually we got on The Ed Sullivan Show, and we got really famous. It was just so beautiful. As all the other drummers say, he just is something so special. When he's playing behind you, you see these other bands, they're looking around at the drummer, like, is he going to speed up, is he going to slow down? You don't have to look with Ringo.

It's a great honor for me to be able to induce him into the Rock and Roll Hall of Fame in Cleveland tonight!
It's about fucking time, man! That's what my daughter said a few years back [when McCartney was inducted in 1999]. It's great. It's the completion. Now the four of us are in as a band, and as individuals. It would have been a shame if he hadn't been in, right?

Paul McCartney – From RollingStone, April 20, 2015
From RollingStone, July 14th 2015:
Ringo Starr turned 75 on July 7th, and to celebrate, Paul McCartney has shared with Rolling Stone an exclusive, behind-the-scenes video from this year's Rock and Roll Hall of Fame ceremony in Cleveland, where he delivered his fellow Beatle's induction speech. In this four-minute video from before, during and after the April 18th ceremony, fans can follow McCartney from rehearsals to backstage to the ceremony-closing all-star jam and watch as the bassist hangs out with Stevie Wonder, Green Day's Billie Joe Armstrong, Joe Walsh and, of course, Ringo.
From CBS News, October 29, 2017:
[Miley Cirus] also found an odd power in making people uncomfortable: "I made Paul McCartney feel uncomfortable one time. I was inducting Joan Jett into the Rock & Roll Hall of Fame and I, like, went and introduced myself with nipple pasties on. And he turned bright red. Like he looked so red, and that I really liked."

"Why did you like it?"

"'Cause I just like that I freaked out Paul McCartney! 'Cause I would be so freaked out to meet Paul McCartney, that then he was freaked out to meet me! So the roles just reversed."
Last updated on April 21, 2021
Cleveland's Public Hall
This was the 1st and only concert played at Cleveland's Public Hall.
Setlist for the concert
---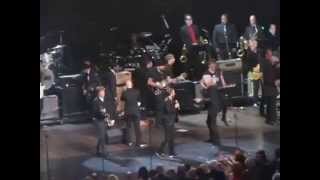 ---