Spread the love! If you like what you are seeing, share it on social networks and let others know about The Paul McCartney Project.
Song facts
With Hamish handling the soulful vocals, Paul wields the brushes, Wix plays bass and Robbie switches to piano on this recording, by no means Paul's first occupancy of a drum-stool (there's the Band On The Run album, for starters…) Author Bill Withers had the original hit with a Grammy-grabbing version that broke into the US top ten the week "Uncle Albert/Admiral Halsey" sat at number one, in September 1971. Many covers followed: the Temptations, Michael Jackson (he, not Withers, enjoyed the British hit), Isaac Hayes, the Shirelles, even jazzers Roland Kirk and Lionel Hampton.

From 1991 Unplugged album liner notes
From Wikipedia:
"Ain't No Sunshine" is a song by Bill Withers from his 1971 album Just as I Am, produced by Booker T. Jones. The record featured musicians Donald "Duck" Dunn on bass guitar, Al Jackson, Jr. on drums, Stephen Stills on guitar and Bill Withers on vocals. String arrangements were done by Booker T. Jones, and recorded in Memphis by engineer Terry Manning. The song was released as a single in September 1971, becoming a breakthrough hit for Withers, reaching number six on the U.S. R&B chart and number three on the Billboard Hot 100 chart. […]

Withers was inspired to write this song after watching the 1962 movie Days of Wine and Roses. He explained, in reference to the characters played by Lee Remick and Jack Lemmon, "They were both alcoholics who were alternately weak and strong. It's like going back for seconds on rat poison. Sometimes you miss things that weren't particularly good for you. It's just something that crossed my mind from watching that movie, and probably something else that happened in my life that I'm not aware of."

For the song's third verse, Withers had intended to write more lyrics instead of repeating the phrase "I know" 26 times, but then followed the advice of the other musicians to leave it that way: "I was this factory worker puttering around," Withers said. "So when they said to leave it like that, I left it." (Withers, then thirty-one years old, was working at a factory making toilet seats for 747s at the time.)

The song was originally released as the B-side to another song called "Harlem". Disc jockeys played "Ain't No Sunshine" as the single instead, and it became a huge hit, the first for Withers. […]
Paul McCartney and his band played "Ain't No Sunshine" during his 1991 Unplugged performance, funnily switching roles. Hamish Stuart sang the lead vocal, Paul Wix Wickens played bass, Robbie McIntosh played piano, Linda McCartney played percussion, Blair Cunningham played triangle, and Paul McCartney played the drums.
I wanted Hamish to do something, and during a break in jams we often swap around instruments – I get on drums and Hamish might start doing 'Ain't No Sunshine'. It was good fun, doing it on Unplugged. Any excuse to be loose, as I said before.

I like playing drums, I have a reasonable feel, though I'm not a good technical drummer. But as Elvis Costello told me recently, not many people have got feel. So I thought, right then, I'll play on telly!

Paul McCartney, from Club Sandwich 58, Summer 1991
"Ain't No Sunshine" was then included in the set list for part of the 1993 New World Tour.
Last updated on July 8, 2019
Lyrics
Ain't no sunshine when she's gone
Only darkness everyday
Ain't no sunshine when she's gone
And this house just ain't no home
Anytime she goes away

Wonder this time where she's gone
Is she really going to stay
Ain't no sunshine when she's gone
And she's always gone too log
Anytime she goes away

And I know, I know...

Ain't no sunshine when she's gone
Is she really going to stay
Ain't no sunshine when she's gone
And she's always gone too long
Anytime she goes away
Anytime she goes away
Anytime she goes away
Ain't no sunshine when she's gone
Officially appears on
---
Videos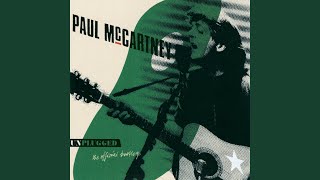 Album • Unplugged (The Official Bootleg)