Spread the love! If you like what you are seeing, share it on social networks and let others know about The Paul McCartney Project.
Song facts
"C'mon People" is a song from 1993 album "Off the Ground". It was written in 1991 while on holiday in Jamaica:
I was on holiday in Jamaica. I love the people there, it's very laid back and I feel very musical when I'm there, so I always try to get a piano or something in case I want to write. Often, in the afternoons, I sit around and see if I fancy writing a song, and one day I just started chugging on this little riff and 'C'mon People' came out. I think of it as very Sixties, a bit Beatley; I used to resist any Beatles influences in my writing, thinking that I'd done that bit in my career and that maybe I should now do something completely different, but that means denying some stuff that might be very good. I mean, I've got a reasonable claim to the Beatles' style, so there's probably nobody out there who's going to bother if I or George or Ringo do stuff in the Beatles' style. So that's the way I left 'C'mon People' – I finished it up and it became, I think, a very optimistic song. It's the same idea: that if enough people get together and tell the politicians how we want this world to progress – and I think it is beginning to happen, by the way -we can make a difference.

Paul McCartney, Club Sandwich interview
George Martin was involved in the recording of the song, by conducting an orchestral overdub at Abbey Road Studio One:
We'd recorded the track of 'C'mon People' and were quite pleased with it. It came quite naturally. Our engineer, Bob Kraushaar, was ill, he had the flu, so Julian Mendelsohn – who used to be an engineer – did both jobs that night. We thought we'd fix it when Bob got back but, as so often happens in these situations, we got a good take. Then we thought we'd like to have an arrangement done on it. It was one of the only songs on the album that felt like it could take an orchestra. The rest of them, felt right with just the band, but this one felt like it needed to go a touch bigger, to make it a bit more of an anthem. So I called George Martin and he was very sweet. He said, "Are you sure you want to use me?", because he's almost trying to retire now, and I said "Of course I want to use you! It would be brilliant. We'll work the same way we always did – sit down together and decide what to do, then you'll write and conduct it."

So we did just that, and held the session at Abbey Road. He got up on the rostrum and conducted like a young man, he put all his spirit into it. And it was lovely – halfway through the session he just leaned over to me and said "Super song, Paul". That is praise indeed. Later, Wix noticed that on the score George had written '"C'mon People', arranged by Paul McCartney and George Martin, 30 June 1962″, which he'd then crossed out and changed to "1992". It was like a Freudian slip – he went right back. I think he did a great job and really enhanced the track.

Paul McCartney, Club Sandwich interview
BLAIR CUNNINGHAM – C'mon People was an interesting track. I remember playing it on this Friday, loverly, sunny day. One of the machines broke early in the afternoon and we were just thinking, Yes! Long weekend! In our heads we were already driving down those lanes heading for home.

Paul say, Trell you what, we'll just bash through this one, tape it, come back on Monday and do it properly. One take, that's all we did. Julian, the producer, got on the intercom and said, Uh, come and have a listen to this. This track comes out, right in your face. We're all looking at one another grinning, and I'm thinking, I'll never be able to play it like that again, no way. It just didn't sound like me somehow, because my mind was somewhere else.

PAUL WIX WICKENS: The only thing that happened after that was that strings were added and that was nice because we did it at Abbey Road where The Beatles recorded, with a string arrangement by George Martin. At the end of his score he'd even written 1961 instead of 1991, then noticed and crossed it out.

From the "New World Tour" tour book
"C'mon People" was released as the 2nd single of "Off The Ground" in March 1993. In the UK, it reached #41 in the charts ; it failed to chart in the US. A video was shot to support the single, directed by ex-10cc member Kevin Godley
From Eight Arms to Hold You: The Solo Beatles Compendium, by Chip Madinger & Mark Easter:
'C'mon People' [video] was directed by Kevin Godley onto 16mm film footage over three days (December 16th through the 18th) on Stage One of Bray Film Studios, "a dingy warehouse outside of London." The featurette, The Making Of C'mon People, documented the preparation of the promo film, which included five days of effect shooting in mid-January without Paul or the band. The film featured behind the scenes footage of the video shoot, and also included a brief piano rendition of 'If I Were Not Upon The Stage', that was somewhat obscured by narration (this segment was also seen in the Movin' On documentary). The clip was described by Godley as not being "Bing Crosby on acid' or "All You Need Is Love on wheels" but more of a cross between "the Vikings and Cinderella". One must see the video to fully appreciate this description. The promotional video (which was completed on February 19th, 1993) uses the radio edit as its soundtrack, though the first chorus was revised to accommodate Paul's lip-synching. Godley would also be given the directive (along with lain McBrown) to shoot the upcoming tour's film around the same time as the 'C'mon People' shoot.
Last updated on August 2, 2023
Lyrics
Well we're going to, yeah we're going to
get it right this time.
We're going to, really going to
raise it to the sky.
People are ready to forgive a few mistakes
But let's get started, form a party
Don't you know how long it takes!

C'mon people let the fun begin.
We've got a future and it's rushing in.
Call all the minstrels from the ancient shrine.
Pass down the message that it's right this time.

Well I'm trying to, yeah I'm crying to
Lay it on the line.
We're trying to, really dying to
Get it right this time.
So many yearning for the way it's gonna be.
Believe it when you see it happening to you
You know it's real.

C'mon people let the world begin.
We've got a future and it's charging in.
We'll make the best of all we have, and more.
We'll do what never has been done before.
Oh yeah.

Well I'm going to, yeah I'm going to
Get it right this time.
I'm going to, really going to
Raise it to the sky.
I must admit I may have made a few mistakes,
But let's get started, from a party
Don't you know how long it takes!

So c'mon people let the fun begin.
We've got a future and it's rushing in.
Call all the minstrels from the ancient shrine.
Pass down the message that it's right this time.
Films
---
1993 • For Paul McCartney • Directed by Kevin Godley
Videos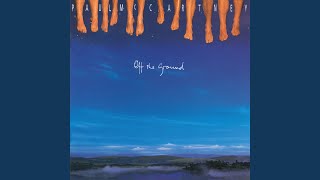 Album • Off The Ground