Spread the love! If you like what you are seeing, share it on social networks and let others know about The Paul McCartney Project.
Song facts
"Good Rockin' Tonight" is a blues song from 1947, made popular by Elvis Presley, and recorded and released by Paul McCartney on his 1991 Unplugged album.
From Wikipedia:
"Good Rocking Tonight" was originally a jump blues song released in 1947 by its writer, Roy Brown and was covered by many other recording artists. The song includes the memorable refrain, "Well I heard the news, there's good rocking tonight!" The song anticipated elements of rock and roll music.

Brown had first offered his song to Wynonie Harris, who turned it down. He then approached Cecil Gant later that night, but after hearing Brown sing, Gant made a 2:30 AM phone call to Jules Braun, the president of DeLuxe Records. After Roy Brown sang his song over the phone, Braun asked Brown to sing it a second time. He then told Gant, "Give him fifty dollars and don't let him out of your sight."

Five weeks later, Brown recorded the song for DeLuxe Records. Only after Brown's record had gained traction in New Orleans did Harris decide to cover it. Harris's version was even more energetic than Brown's original version, featuring black gospel style handclapping. This may have contributed to the composition's greater success on the national R&B chart. Brown's original recording hit #13 of the Billboard R&B chart, but Harris' record became a #1 R&B hit and remained on the chart for half a year. Brown's single would re-enter the chart in 1949, peaking at #11.

Harris had a reputation for carousing, and sometimes forgot lyrics. His "Good Rockin'" recording session largely followed Brown's original lyrics, but by the end, he replaced the last section with a series of raucous "hoy hoy hoy!" interjections, a commonly used expression in jump blues tunes of the time, going back to 1945's "The Honeydripper" by Joe Liggins.[citation needed]

The song is a primer of sorts on the popular black music of the era, making lyrical reference to Sweet Lorraine, Sioux City Sue, Sweet Georgia Brown, Caldonia, Elder Brown, and Deacon Jones. All of these characters had figured prominently in previous hit songs. The song has also been credited with being the most successful record to that point to use the word "rock" not as a euphemism for sex, but as a descriptive for the musical style, a connection which would become even clearer in 1954 when a version of "Good Rockin' Tonight" became Elvis Presley's second-ever single.

While Brown missed out on the biggest hit version of his song, its success kicked off his own career, which included two #1 R&B hits. In 1949, he released "Rockin' at Midnight", a sequel to "Good Rockin' Tonight." It reached #2 on the R&B chart, where it remained for a month. […]
This goes right back, it's one of the pre-pubescent ones. I never really learned the words to it and don't even like it when I get the words, they spoil it for me. It's a memory thing, a nostalgia trip, from the days when I wanted to sound like Elvis. I always wanted to sing like Elvis, like a million other kids, then I found my own voice .in the middle of Elvis and Little Richard. There I was, sandwiched. And 'Good Rockin' Tonight' is just a nice little rocker, the Elvis version. I always liked the line 'Meet me behind the new barn'. Now, being a farmer, it's even more amusing. You never saw a barn in Liverpool, now I've got one! It was nice to think of those country guys meeting girls behind the barn, having dances in the hay. It was part of a culture we felt was very romantic. I also liked the line 'Do you no harm' – C&W is very weird: the fact that she might be thinking that her boyfriend might do her harm, behind a barn: it's a very weird scenario. So it fired our imagination, all those things we couldn't understand.

Beatles song titles were always great. You totally remember the song by the title – they just work, they were like film titles, which is why people still use them for articles, films and TV. And John and I got it from looking at America. 'Quarter To Three' by US Bonds was the big one: we used to think, how can he get a song out of that? Chuck Berry was great like that, too, I really love his poetry. 'Motorvatin" – very hard to find an English equivalent to that. Alabama. Georgia. That's why I was able to put Georgia into 'Back In The USSR', because there are certain words that just make it. Chuck Berry was full of them – 'Brown-Eyed Handsome Man', just so clever. It comes naturally to blackwriters, like rap. It's very genuine.

Paul McCartney, from Club Sandwich 58, Summer 1991
Paul McCartney's first release of the rockabilly number which stole the A-side of Elvis Presley's second Sun single in September 1954, recorded with Scotty Moore and Bill Black at the label's legendary Memphis studio. But Presley's was not the song's first recording; author Roy Brown and also Wynonie Harris had scored R&B hits with it in 1948, and nor was it the last, with Stevie Wonder, Tina Turner, Georgie Fame and even Gary Glitter since adding it to their recorded repertoire.

From Unplugged liner notes
Last updated on July 8, 2019
Lyrics
Well, I heard the news, there's good rockin' tonight
Yeah, I heard the news everybody rockin' tonight

Well, I want you to meet me behind the barn
Don't you be worried, I'll do you no harm
I want you to bring along my rockin' shoes
Tonight I'm gonna rock away all my blues
I heard the news, there's good rockin' tonight

Well, gonna rock, gonna rock
Lets rock, yeah gonna rock
Gonna rock all our blues away

Well, I heard the news there's good rockin' tonight
Yeah, I heard the news Ev'rybody rockin' tonight

Well I want you to meet me behind the barn
Don't you be worried I'll do you no harm
I want you to bring along my rockin' shoes
Tonight I'm gonna rock away all my blues
I heard the news, there's good rockin' tonight

We're, gonna rock, we're gonna rock
Gonna rock, yeh gonna rock
Gonna rock all our blues away.
Videos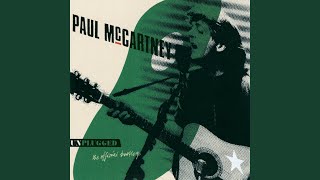 Album • Unplugged (The Official Bootleg)