Album

This song officially appears on the Unplugged (The Official Bootleg) Official live.
Timeline

This song has been written (or started being written) in 1957 (Paul McCartney was 15 years old)
Related sessions
This song has been recorded during the following studio sessions
---
Spread the love! If you like what you are seeing, share it on social networks and let others know about The Paul McCartney Project.
Song facts
"I Lost My Little Girl" is the first song written by Paul McCartney on guitar, when he was 14, in 1956 or 1957 ("Suicide" and "When I'm Sixty Four" have been composed in the same time frame, but on piano). A live performance of this song has been released on McCartney's 1991 album Unplugged (The Official Bootleg).
Historic is the word – 'I Lost My Little Girl' was the first song composition by a bright-eyed boy-scout from Allerton, Liverpool; written at 14, towards the end of 1956/early 1957, a few months before he would team up with the Quarry Men to skiffle his way around Liverpool. Not only was Unplugged Paul McCartney's first public performance of his song in more than 30 years – listen for the authentic Buddy Holly hiccup – but this is also its first commercial release.

From Unplugged liner notes
From earlybeatlessongs:
There seems to be no dispute that this was the first song McCartney wrote on guitar. (And since this one is a 'rock' song, McCartney himself thinks of it inaccurately as his first ever composition.) McCartney is usually said to have written it at age 14 and since we know it was composed in the period after his mother's death, it logically sits somewhere between November 1956 and June 1957 (when he turned 15).

Once McCartney teamed up with Lennon, the song entered the Quarry Men's set list, but no audio of a group performance is known. It is rumoured (probably falsely) that a version was taped in 1962, but the first time we actually hear it is from 1969, at the Get Back sessions. Curiously, the song was sung through by Lennon, not McCartney, on January 25, with the others gradually joining in. (This version doesn't bear much relation melodically to McCartney's subsequent recordings.)

We finally get to hear its author sing it thanks to a piano demo made in 1973, implying McCartney might have been considering recording it properly at that point. This version has an added section: "Gather round people, let me tell you the story of the very first song I wrote", which is almost certainly new at that point – more evidence that he planned to release it, although it never materialised. 

The song was finally recorded in something resembling a finished version, in a live stage performance in January 1991, for the MTV "Unplugged" series. This recording duly found its way onto CD, where it was copyrighted (correctly) to McCartney alone.

At this stage we need to pause for a moment, as the chronology needs attention. As noted above, McCartney had apparently already written "I Lost My Little Girl" in the aftermath of his mother's death. McCartney has noted the sub-text of the song's title but insists it was not a conscious reference when he devised the song. 

Confusion arises because Mark Lewisohn dates the number to late-1957, after McCartney had hooked up with Lennon. Ordinarily we would accept Lewisohn's word, but here we have to make an exception, with due respect to the author. 

It is true that McCartney wrote the song on guitar, and equally true that he did not own one of his own until July 1957 – around the time he and Lennon met. This fact alone seems to imply that "I Lost My Little Girl" was written during McCartney's Quarry Men days. However, we know that he was proficient on the instrument before the two came together, having taught himself well on Ian James's model. This is not in dispute; when McCartney eventually did meet Lennon, he amazed the latter with his ability, bursting into a rendition of "Twenty Flight Rock", which was ahead of anything Lennon was able to do at that stage. (He also corrected Lennon's guitar tuning; it had been tuned in the same way as a banjo.)

It is noticeable that in interview, McCartney does not discuss the song in the context of the Quarry Men, and always seems to link it to the period after his mother's death (almost a year before Lewisohn dates the song). Not only was it showcased to Ian James at Forthlin Road, implying that it was written on that borrowed guitar, but McCartney himself has said, "I must have played it to John when we met and we decided to get together", which is pretty conclusive. 
[…] I traded my trumpet in for an acoustic guitar, a Zenith, which I still have. It was OK as a first guitar. Being left handed, I would play it upside down. Everyone else had right-handed guitars, but I learnt some chords my way up: A, D and E – which was all you needed in those days. I started writing songs, because now I could play and sing at the same time. I wrote my first when I was fourteen. It was called 'I Lost My Little Girl' – 'I woke up this morning, my head was in a whirl, only then I realised, lost my little girl, uh, huh, huh.' It's a funny, corny little song based on three chords – G,G7 and C. I liked the way one melody line went down and the other went up, which I think is called contrary motion. It was a very innocent little song. All my first songs, including that one, were written on the Zenith; songs like 'Michelle' and 'I Saw Her Standing There'. It was on this guitar that I learnt 'Twenty Flight Rock', the song that later got me into the group The Quarry Men. […]

Paul McCartney, The Beatles Anthology
Anything that I had written on an acoustic was considered. Like 'Mother Nature's Son', which we also thought about for Unplugged but just didn't fancy in the end. And 'I Lost My Little Girl', the first song I ever wrote, at 14, was written on the guitar. After that I wrote 'When I'm Sixty-Four', but that was on piano. 'I Lost My Little Girl' is a very innocent little song – G, G7, C – but quite interesting because the chords go down as the melody goes up; it's a clear musical trick, but it's also interesting to see such ideas around in my first song.

Paul McCartney, from Club Sandwich 58, Summer 1991
Last updated on July 7, 2019
Lyrics
Well I woke up late this morning
My head was in the whirl
Only then I realized
I lost my little girl

Well her clothes were not expensive
Her hair didn't always curl
I don't know why I loved her
But I loved my little girl

Well gather round people
Let me tell you the story
The very first song I wrote

Well gather round people
Let me tell you the story
The very first song I wrote

Well I woke up late this morning
My head was in the whirl
Only then I realized
I lost my little girl
Officially appears on
---
Videos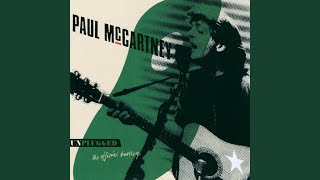 Album • Unplugged (The Official Bootleg)