Spread the love! If you like what you are seeing, share it on social networks and let others know about The Paul McCartney Project.
Song facts
From Beatles Bible:
Although Ram On's song's introduction contains a flourish of piano and electric piano, at the heart of Ram On is a simply strummed ukulele. It was the first time McCartney had played the instrument on a recording.
Ram On is a cute little thing on a ukulele, 'cause I used to carry one around with me in the back of New York taxis just to always have music with me. They thought I was freak, those taxi drivers.

Paul McCartney, Mojo, 2001
From mixing engineering Eirik Wangberg:
By the way, this other song inserted on Ram On happened to be Big Barn Bed (released later on Red Rose Speedway, in 1973). Did Paul originally intend to include a full version of the track on Ram?

I don't think so. I was supposed to stop the mix before this song starts – but I found the transition going down so cool I wanted it before the fade!

Engineer Eirik Wangberg, interviewed by Claudio Dirani, 2005
Last updated on June 5, 2020
Lyrics
Ram on, give your heart to somebody soon,
Right away, right away.

Ram on, give your heart to somebody soon,
Right away, right away.

Ram on, give your heart to somebody soon,
Right away, right away.
Videos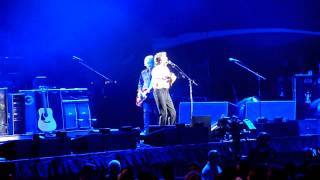 Concert • Jul 13, 2010 in Salt Lake City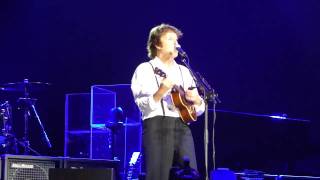 Concert • Jul 28, 2010 in Charlotte
Going further
---
Paul McCartney: Music Is Ideas. The Stories Behind the Songs (Vol. 1) 1970-1989
With 25 albums of pop music, 5 of classical – a total of around 500 songs – released over the course of more than half a century, Paul McCartney's career, on his own and with Wings, boasts an incredible catalogue that's always striving to free itself from the shadow of The Beatles. The stories behind the songs, demos and studio recordings, unreleased tracks, recording dates, musicians, live performances and tours, covers, events: Music Is Ideas Volume 1 traces McCartney's post-Beatles output from 1970 to 1989 in the form of 346 song sheets, filled with details of the recordings and stories behind the sessions. Accompanied by photos, and drawing on interviews and contemporary reviews, this reference book draws the portrait of a musical craftsman who has elevated popular song to an art-form.