Related sessions
This song has been recorded during the following studio sessions
---
---
---
---
---
Spread the love! If you like what you are seeing, share it on social networks and let others know about The Paul McCartney Project.
Song facts
From Wikipedia:
"I'm Looking Through You" is song by The Beatles written by Paul McCartney (credited to Lennon-McCartney). The song first appeared on 1965 album Rubber Soul. It was written about Jane Asher, McCartney's girlfriend for five years, "You don't look different, but you have changed," the lyrics declare, reflecting his dissatisfaction with her and their relationship. The lyrics also reference his changing emotional state, "Love has a nasty habit of disappearing overnight".

Recordings

During October and November 1965, the Beatles recorded three versions of the song. The original version recorded on 24 October was slower than the released version, had a significantly different rhythm, and lacked the "Why, tell me why…" middle eight of the final version. It was eventually released in 1996 on the Anthology 2 compilation. The final version was recorded on 10 November with overdubs on 11 November and is the version included on Rubber Soul.

The North American stereo version of the song contains two false guitar starts.

At 1:18, feedback can be heard on both the mono and stereo remastered versions.

In the mono version of this song on the 2006 box set The Capitol Albums, Volume 2 has this false guitar start, it indicates that it is from the first pressing of this set which erroneously substituted incorrect mono mixes; they were simply the channels of the stereo versions combined, rather than the original mono mixes.

The album sleeve and other sources indicate that Ringo Starr played Hammond organ on this track, an unusual instrument for the Beatle drummer. Mark Lewisohn reported that he could not hear the organ and that Hammond organ was not listed on the session tape box. Starr plays quick two-note vamps in the choruses. Also, Starr created a percussive sound by tapping a box of matches with his fingers and slapping his lap for a drum beat as he did on "I'll Follow the Sun".

Personnel

MacDonald was unsure whether Harrison or McCartney played the electric guitar part.
Paul McCartney, from Many Years From Now, Barry Miles:
I wrote quite a lot of stuff up in that room actually [in Jane Asher's family home]. I'm Looking Through You I seem to remember after an argument with Jane. There were a few of those moments. […]

As is one's wont in relationships, you will from time to time argue or not see eye to eye on things, and a couple of the songs around this period were that kind of thing. This one I remember particularly as me being disillusioned over her commitment. She went down to the Bristol Old Vic quite a lot around this time. Suffice to say that this one was probably related to that romantic episode and I was seeing through her façade. And realising that it wasn't quite all that it seemed. I would write it out in a song and then I've got rid of the emotion. I don't hold grudges so that gets rid of that little bit of emotional baggage. I remember specifically this one being about that, getting rid of some emotional baggage. 'I'm looking through you, and you're not there!'
From The Usenet Guide to Beatles Recording Variations:
[a] mono 15 Nov 1965.
UK: Parlophone PMC 1267 Rubber Soul 1965.
US: Capitol T 2442 Rubber Soul 1965.
[b] stereo 15 Nov 1965.
UK: Parlophone PCS 3075 Rubber Soul 1965.
[b1] stereo, untrimmed.
US: Capitol ST 2442 Rubber Soul 1965.
[c] stereo 1987.
CD: EMI CDP 7 46440 2 Rubber Soul 1987.

[b] fades earlier than [a]. [b1] begins with two false starts on guitar, evidently trimmed off [b].

The CD mix [c] moves Paul's vocal closer to the center. At 1:34 the second note of the third "blat blat" (organ?) suddenly is mixed center instead of to the right like all its other notes, on CD [c] only.
Last updated on March 25, 2016
Lyrics
I'm looking through you
Where did you go?
I thought I knew you
What did I know?

You don't look different
But you have changed
I'm looking through you
You're not the same

Your lips are moving
I cannot hear
Your voice is soothing
But the words aren't clear

You don't sound different
I've learned the game
I'm looking through you
You're not the same

Why, tell me why
Did you not treat me right?
Love has a nasty habit
Of disappearing overnight

You're thinking of me
The same old way
You were above me
But not today

The only difference
Is you're down there
I'm looking through you
And you're nowhere

Why, tell me why
Did you not treat me right?
Love has a nasty habit
Of disappearing overnight

I'm looking through you
Where did you go?
I thought I knew you
What did I know?

You don't look different
But you have changed
I'm looking through you
You're not the same

Yeah, oh, baby you've changed
Aah, I'm a-looking through you
Yeah, I'm looking through you
You've changed, you've changed
You've changed, you've changed
Videos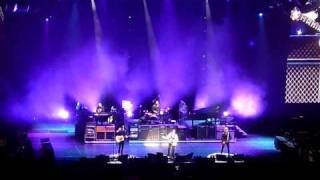 Concert • Mar 28, 2010 in Phoenix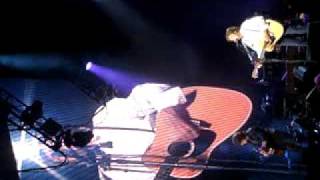 Concert • Aug 18, 2010 in Pittsburgh
Concert • Nov 22, 2010 in Sao Paulo