Timeline

More from year 1996
Location:

Liverpool Institute for Performing Arts, Liverpool, UK
Timeline
Article
Jun 07, 1996
• The Royal opening of Liverpool Institute for Performing Arts (LIPA)
---
More from year 1996
Spread the love! If you like what you are seeing, share it on social networks and let others know about The Paul McCartney Project.
About
From Club Sandwich N°78, Summer 1996:
Her Majesty performed the official opening of the Liverpool Institute for Performing Arts during a special visit to the city on Friday 7 June 1996. Paul – LIPA's lead patron – was on hand to escort the Queen around the building and introduce her to some of its supporters and students
This is a very proud day for me. It's exciting that we have saved this fine old building of my school, and that Her Majesty has taken such an interest in our new school. l'm also proud that so many people have helped in so many ways to make this dream come true, and I'm sure that the students will one day make us proud by the eventual success that I hope many of them will find. LIPA has been built to help those with talent realise their dreams. I hope that LIPA will become the finest school of its type in the world and, if it does, it'll be with thanks to all the many people – especially the people of Liverpool – who have helped us work this
out.

Paul McCartney, quoted in The Beatles Monthly N°243, July 1996
My daughter Stella accompanied me to Liverpool on the day of the Queen's visit to LIPA, and when we were on our way up there I said to her, 'You work in fashion, what colour do you think the Queen is going to be wearing? It's summer, so what will it be – pink or yellow?' And she said, 'No, light blue. Quite definitely light blue.'

So when the Queen did arrive, and stepped out of her car, instead of me thinking of the proper royal greeting, the only thing that came into my head, which I said to her, was, 'Welcome to LIPA. My daughter and I were wondering what colour dress you'd be wearing. She said it would be light blue and she was right.' To which the Queen said, 'Oh!', smiled and walked on.

Paul McCartney, from Club Sandwich N°79, Autumn 1996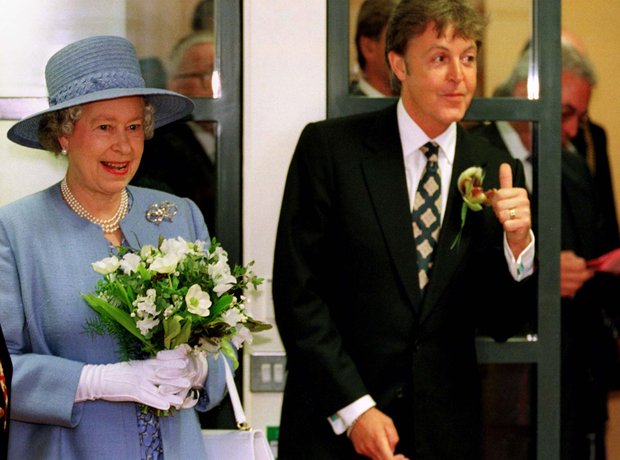 Last updated on November 11, 2020
Going further
---
The Beatles Diary Volume 2: After The Break-Up 1970-2001
"An updated edition of the best-seller. The story of what happened to the band members, their families and friends after the 1970 break-up is brought right up to date. A fascinating and meticulous piece of Beatles scholarship."
We owe a lot to Keith Badman for the creation of those pages, but you really have to buy this book to get all the details - a day to day chronology of what happened to the four Beatles after the break-up and how their stories intertwined together!
---
The Beatles - The Dream is Over: Off The Record 2
This edition of the book compiles more outrageous opinions and unrehearsed interviews from the former Beatles and the people who surrounded them. Keith Badman unearths a treasury of Beatles sound bites and points-of-view, taken from the post break up years. Includes insights from Yoko Ono, Linda McCartney, Barbara Bach and many more.