Country:

United Kingdom
City:

London
Location:

Granary Square
Some songs from this concert appear on:
---
Spread the love! If you like what you are seeing, share it on social networks and let others know about The Paul McCartney Project.
About
From The Guardian, September 9, 2012:
Sir Paul McCartney joined over 80 musicians from Africa, the UK and the US at a concert in London on Saturday night, performing two Wings songs with Africa Express.

Earlier in the day, the former Beatle had been awarded France's highest public award, the French Legion of Honour, for his services to music. He then took the Eurostar back to London, and went the few hundred yards from St Pancras to Granary Square to meet Damon Albarn.

The Blur singer has spent the week touring the UK with a collective of musicians known as the Africa Express in a specially chartered train. Following shows in Middlesborough, Glasgow, Manchester, Cardiff and Bristol, the train returned to London for a five-hour gig. The musicians on the train had only been told on Friday that "a very special guest" would be joining them for the show.

The lineup of musicians joining McCartney, 70, on stage included Albarn, drummer Tony Allen, Gruff Rhys of the Super Furry Animals, ngoni player Bassekou Kouyate, former Led Zeppelin bassist John Paul Jones, the singers Rokia Traore, Terri Walker, Fatoumata Diawara, Martina Topley-Bird, Shinghai Shoniwa and several more. The collective played two Wings songs from 1979, Coming Up and Goodnight Tonight.

"It was like a dream come true," said Diawara after the show.
From Africa Express blog, September 13, 2012:
[…] The gig feels like a three-day festival squashed into five hours, like all the stages of Glastonbury coming together to jam. Acts you could never have imagined on the same stage playing effortlessly together as if they practiced it for months. Given that it could have been totally shambolic, the freewheeling makes complete sense.

The show starts at 6pm and only finishes at 11.30, with everyone on stage to play Amadou's 'Masitéladi'. That the list of people on the stage includes Paul McCartney, Albarn, John Paul Jones, Gruff Rhys together with African stars such as Amadou, Fatoumata Diawara, Tony Allen, Rokia Traoré and more makes this feel like a really special occasion.

The warmth and camaraderie between all the performers is what makes this so extraordinary. There are no stars and the lack of egos is startlingly refreshing. It's epitomised by Paul McCartney who enters, quietly at first, joining Rokia Traoré as she plays Dounia. He later plays 'Coming Up' and 'Goodnight Tonight'. Both make sense, their funk rhythms fitting in with the rest of the night and allowing the array of musicians on stage tom add their flourishes, including a verse from Albarn. […]
From paulmccartney.com, September 9, 2012:
Last night Paul made a surprise appearance at the Africa Express show in London. The show closed the Africa Express tour which started last week.

After a morning in Paris where he was awarded with the French Legion of Honour, Paul rushed back to King's Cross to perform with the Africa Express collective.

Paul's first appearance on stage was with Rokia Traore. Later in the evening Paul returned to the stage to perform his tracks 'Coming Up' and 'Goodnight Tonight'. He was joined on stage by musicians including Damon Albarn, drummer Tony Allen, Gruff Rhys, Bassekou Kouyate, John Paul Jones, Rokia Traore, Terri Walker, Fatoumata Diawara, Martina Topley Bird, Shingai Shoniwa and Seye.

After the show Diawara told The Guardian, "It was like a dream come true."

Before the show Paul said, "I've loved African music for years. I went to Lagos in the 70s and came back friends with with Fela Kuti. I've always wanted to do an Africa Express show."

The Africa Express train left London last week and over the past seven days a collective of over 80 musicians have been touring the country playing concerts, visiting schools and performing pop-up shows wherever they go.
Last updated on October 31, 2020
Granary Square
This was the 1st and only concert played at Granary Square.
Setlist for the soundcheck
---
Jam
"Hours after being awarded the French Legion of Honour in Paris by French President Francois Hollande, Sir Paul McCartney made a surprise appearance at the closing Africa Express event in London on Sept. 8 to share the stage with an already stellar line-up. But even backstage special moments were made - as we quietly stumbled across the Beatles legend getting into an impromptu jam session with Shingai Shoniwa [of UK band the Noisettes] and emerging US violinist/singer/producer Marques Toliver."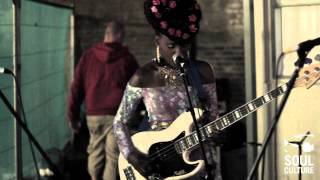 Setlist for the concert
---
---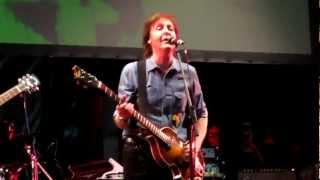 ---