Album

This song officially appears on the McCartney II Official album.
Timeline

This song has been officially released in 1980
Sessions

This song has been recorded during the following sessions
Other singles from "McCartney II"
Spread the love! If you like what you are seeing, share it on social networks and let others know about The Paul McCartney Project.
Song facts
From Wikipedia:
"Coming Up" is a song written and performed by Paul McCartney. It is the opening track on his second solo album McCartney II, which was released in 1980. Like the rest of the album, the song has a minimalist synthesised feel to it. It featured vocals sped up by using a vari-speed tape machine. McCartney played all the instruments and shared vocal harmonies with wife Linda McCartney.

The single was a major chart hit in Britain, peaking at number 2 on the singles chart. In the United States and Canada, the live version of the song performed by Paul McCartney and Wings (released as the B-side to the single) saw much greater success.

Background

In a Rolling Stone interview, McCartney explained how the song came about:

I originally cut it on my farm in Scotland. I went into the studio each day and just started with a drum track. Then I built it up bit by bit without any idea of how the song was going to turn out. After laying down the drum track, I added guitars and bass, building up the backing track. I did a little version with just me as the nutty professor, doing everything and getting into my own world like a laboratory. The absent-minded professor is what I go like when I'm doing those; you get so into yourself it's weird, crazy. But I liked it.

Then I thought, 'Well, OK, what am I going to do for the voice?' I was working with a vari-speed machine with which you can speed up your voice, or take it down a little bit. That's how the voice sound came about. It's been speeded up slightly and put through an echo machine I was playing around with. I got into all sorts of tricks, and I can't remember how I did half of them, because I was just throwing them all in and anything that sounded good, I kept. And anything I didn't like I just wiped. – Paul McCartney

Former band-mate John Lennon liked the song and credited it for driving him out of retirement to resume recording.

Somebody asked me what I thought of Paul's last album and I made some remark like I thought he was depressed and sad. But then I realized I hadn't listened to the whole damn thing. I heard one track – the hit, 'Coming Up,' which I thought was a good piece of work. Then I heard something else that sounded like he was depressed. – John Lennon, All We Are Saying, 1980

I heard a story from a guy who recorded with John in New York, and he said that John would sometimes get lazy. But then he'd hear a song of mine where he thought, 'Oh, shit, Paul's putting it in, Paul's working!' Apparently 'Coming Up' was the one song that got John recording again. I think John just thought, 'Uh oh, I had better get working, too.' I thought that was a nice story. – Paul McCartney

Live version

A live version of the song was recorded in Glasgow, Scotland, on 17 December 1979 by Wings during their tour of the UK. This version had a much fuller sound and was included as one of the two songs on the B-side of the single; the other B-side was also a Wings song, "Lunchbox/Odd Sox", that dated back to the Venus and Mars sessions. Both B-sides were credited to Paul McCartney & Wings.

Columbia Records wanted to put the live version on McCartney II but McCartney resisted the change, wanting to keep it a solo album. Instead, a one-sided 7″ white-label promotional copy of the Wings version was included with the album in North America.

"Coming Up (Live at Glasgow)" has since appeared on the US versions of the McCartney compilations All the Best! (1987) and Wingspan: Hits and History (2001), while the solo studio version is included on UK and international releases.

A different live Wings recording of "Coming Up" appears on the album Concerts for the People of Kampuchea, with an additional verse that was edited out of the Glasgow version.

Chart performance

In the UK, the single was an immediate hit, reaching number two in its third week on the chart.

In the US, Columbia Records promoted the live version, which subsequently received more airplay than the studio version. McCartney was unaware of Columbia's move, otherwise he might have pushed for the A-side, which he thought was the stronger version. An executive from Columbia Records explained the switch by stating "Americans like the sound of Paul McCartney's real voice." This single became Wings' sixth and final number one single.

I always thought the single was going to be the solo version. We did the song on tour because we wanted to do something the audience hadn't heard before. The live version on the B-side of the single was recorded on the last night of the tour in Glasgow. In America, a lot of the disc jockeys on the top 40 stations picked up on this side and so it became the A-side in the States. It's the B-side in the rest of the world. – Paul McCartney

In the US, "Coming Up" reached number one on the Billboard Hot 100 and was certified Gold by the Recording Industry Association of America for sales of over one million copies. Although the live version received more airplay and was considered to be the "hit", Billboard listed the A-side on the Hot 100 for the first 12 weeks on the chart, including three weeks at number one, before switching to the more popular B-side for the remaining nine weeks on the chart.

Music video

"Coming Up" is also well known for its music video, with Paul McCartney playing ten roles and Linda McCartney playing two. The "band" identified as "The Plastic Macs" on the drum kit (a homage to Lennon's conceptual Plastic Ono Band), features Paul and Linda's imitations of various rock musician stereotypes, as well as a few identifiable musicians. In his audio commentary on the 2007 video collection The McCartney Years, McCartney identified characters that were impersonations of specific artists: Hank Marvin (guitarist from the Shadows), Ron Mael of Sparks (keyboards), and a 'Beatlemania-era' version of himself. While others such as author Fred Bronson have suggested that there are other identifiable impersonations in the video, such as Andy MacKay, Frank Zappa, Mick Fleetwood and Neil Young, McCartney said the other roles were simply comic relief.

The video premiered in the US on Saturday Night Live on 17 May 1980, although it had already been shown on British television, on the BBC music programme Top of the Pops on 24 April 1980., having had its UK TV premiere on ITV's The Kenny Everett Video Show on 14 March 1980. […]
Last updated on November 11, 2016
Lyrics
You want a love to last forever
One that will never fade away
I want to help you with your problem
Stick around, I say

Coming up, coming up, yeah
Coming up like a flower
Coming up, I say

You want a friend you can rely on
One who will never fade away
And if you're searching for an answer
Stick around, I say

It's coming up, it's coming up
It's coming up like a flower
It's coming up, yeah

You want some peace and understanding
So everybody can be free
I know that we can get together
We can make it, stick with me

It's coming up, it's coming up
It's coming up like a flower
It's coming up for you and me

Coming up, coming up
It's coming up, it's coming up, I say
It's coming up like a flower
It's coming up
I feel it in my bones

You want a better kind of future
One that everyone can share
You're not alone, we all could use it
Stick around we're nearly there

It's coming up, it's coming up everywhere
It's coming up like a flower
It's coming up for all to share
It's coming up, yeah
It's coming up anyway
It's coming up like a flower
Coming up
Videos
Album • McCartney II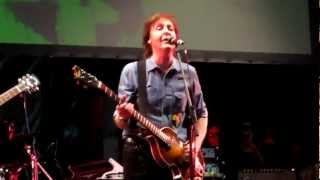 Concert • Sep 08, 2012 in London