Country:

United Kingdom
City:

London
Location:

Hammersmith Odeon
Some songs from this concert appear on:
---
---
---
---
Spread the love! If you like what you are seeing, share it on social networks and let others know about The Paul McCartney Project.
About
This was the last concert of Wings. From Wikipedia:
Concerts for the People of Kampuchea was a series of concerts featuring Queen, The Clash, The Pretenders, The Who, Elvis Costello, Wings, and many more artists which took place at the Hammersmith Odeon in London during December 1979 to raise money for the victims of war-torn Cambodia. The event was organized by Paul McCartney and Kurt Waldheim, and it involved older artists such as McCartney and The Who as well as younger, new wave acts like The Clash and the Pretenders. The last of the concerts was the last concert of Wings. An album and EP were released in 1981, and the best of the concerts were released as a film, Concert for Kampuchea.
As a direct result of personal contact last autumn between the United Nations' Secretary General, Dr. Kurt Waldheim, and Paul McCartney, four special charity concerts staged at the Hammersmith Odeon, London, from 26—29 December. The proceeds will be directed to the emergency relief work of the U.N. agencies for the civilians in Kampuchea. Wings appeared on Saturday, 29 December in a show which included Billy Connolly, Elvis Costello, Rockpile and the complete Rockestra line-up. A good time was had by all. All the concerts were filmed for television by EMI Films and will be screened early in the spring of 1980.

From Club Sandwich, N°17, 1980
From Wikipedia:
Rockestra was a Paul McCartney-led supergroup of at least thirty English rockers. The credited list appears at the bottom of the back cover of the LP. The name was first given to an assemblage of famous rock stars that were brought together by McCartney for the final Wings album, 1979's Back to the Egg. The supergroup – which consisted of Wings, John Paul Jones and John Bonham of Led Zeppelin, David Gilmour from Pink Floyd, Ronnie Lane of the Faces, Kenney Jones and Pete Townshend of The Who, and Hank Marvin of The Shadows – recorded two McCartney compositions, the instrumental "Rockestra Theme" and "So Glad to See You Here".

Then, McCartney and Kurt Waldheim re-assembled Rockestra for a series of benefit concerts for the people of Cambodia (also known as Kampuchea), suffering from the reign of Pol Pot. This time, Rockestra consisted of, among others, Wings, John Paul Jones, Bonham, Robert Plant, Rockpile, James Honeyman-Scott and Townshend. Hank Marvin was not available and Gilmour for tax reasons had to decline, as he was with the rest of Pink Floyd in Los Angeles, California, where they had just finished recording The Wall and were in the midst of rehearsing for an upcoming concert tour.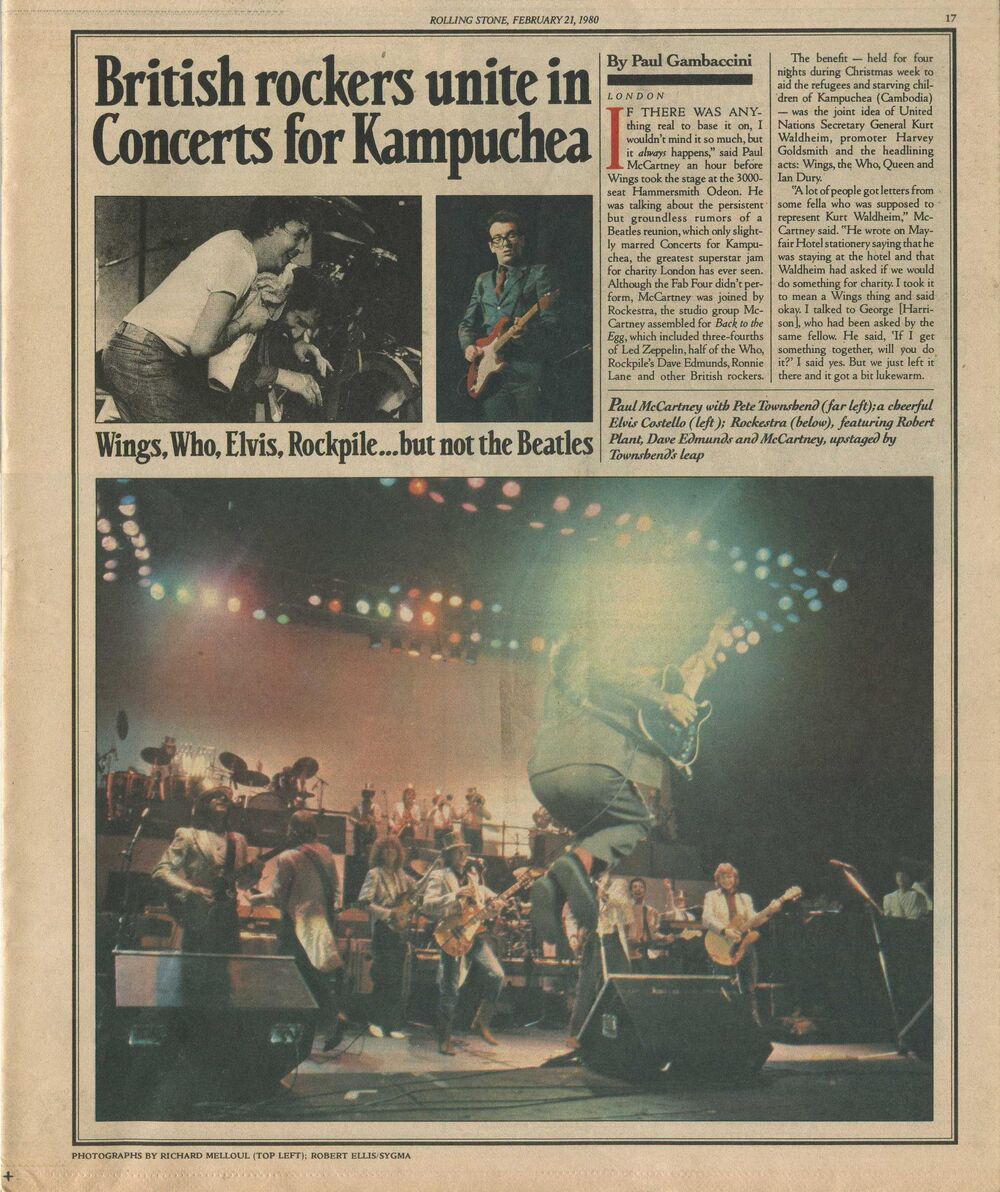 Last updated on April 26, 2020