Spread the love! If you like what you are seeing, share it on social networks and let others know about The Paul McCartney Project.
Song facts
I wrote Maybe I'm Amazed in my early days with Linda. I was sitting in London, playing my piano, and the song kind of wrote itself – reflecting my feelings towards her. It's remained a favourite of mine.

Paul McCartney, Wingspan, 2002
---
"Maybe I'm Amazed" is a track from Paul McCartney's debut solo album, "McCartney", released in April 1970. From Wikipedia:
McCartney wrote the song in 1969, just before the Beatles' break-up. He credited his wife Linda with helping him get through the difficult time. Although most of his debut solo album was recorded at his home in London, McCartney recorded "Maybe I'm Amazed" entirely in EMI's Number Two studio in Abbey Road, on the same day as he recorded "Every Night". He played all the instruments: guitars, bass, piano, organ and drums. Although McCartney declined to release the song as a single in 1970, it nonetheless received a great deal of radio airplay worldwide. A promotional film was made, comprising still photographs of McCartney, his wife Linda, stepdaughter Heather, and daughter Mary, which first aired in the UK on 19 April 1970 on ITV in its own slot, and as a part of an episode of CBS Television's The Ed Sullivan Show.

The original studio version of the song finished with a fade instead of a full ending, but McCartney later composed an ending that can be heard on the live versions of the song. He first performed this live with Wings, in Châteauvallon, France, on 9 July 1972.

Regarded as one of McCartney's finest love songs, it achieved the number 347 position in the "500 Greatest Songs of All Time" list compiled by Rolling Stone magazine in November 2004, and is the only solo McCartney song to make the list. In a late 2009 Q&A with journalists held in London to promote his live album Good Evening New York City, McCartney said "Maybe I'm Amazed" was "the song he would like to be remembered for in the future".

In a review for the McCartney album on release, Langdon Winner of Rolling Stone described "Maybe I'm Amazed", as "a very powerful song", that states "one of the main sub-themes of the record, that the terrible burden of loneliness can be dispelled by love." Winner continued to describe the track as "the only song on the album that even comes close to McCartney's best efforts of the past. It succeeds marvelously." In a retrospective review for McCartney, Record Collector has highlighted "Maybe I'm Amazed", along with "Every Night" and "Junk", as songs that "still sound absolutely effortless and demonstrate the man's natural genius with a melody". Joe Tangari of Pitchfork similarly evaluated "Maybe I'm Amazed", along with "Junk" and "Singalong Junk", as the "peaks" of McCartney.

Live version

A live recording from the 1976 album Wings over America was released as a single by McCartney's band Wings on 4 February 1977 and reached number 10 in the US on the Billboard pop charts, and number 28 in the UK. Versions of the song can be heard on several other live McCartney albums including Back in the U.S. and Back in the World. "Maybe I'm Amazed" has become a centrepiece of McCartney's concerts, along with "Band on the Run" and "Live and Let Die". Live versions of the song are available on the 2011 reissue of McCartney.
---
Written in London, at the piano, with the second verse added slightly later, as if you cared.

Recorded at EMI, No. 2 Studio. First
1 piano.
2 vocal.
3 drums.
4 bass.
5 and vocal backing.
6 and vocal backing.
7 solo guitar.
8 backing guitars.

Linda and I are the vocal backing group. Mixed at EMI. A movie was made, using Linda's slides and edited to this track.

Paul McCartney, from the press release of "McCartney", April 1970
Sometimes we're a bit daft here. We have a bit of a funky organisation, you know, which isn't that clued into picking tracks off albums. At the time we thought "Maybe I'm Amazed" was a good track and maybe we should do that as a single, which it probably should have been. But we never did.

Paul McCartney – Interview with Paul Gambaccini, 1970s
"Maybe I'm Amazed" was a big hit and a beautiful song that could likely be covered again and again over the next 50 years.

[Pensive] I wonder. It was for Linda and was about her. It was to try and get a little deeper into a love song: "Maybe I'm amazed the way you hang me on a line, pulled me out of time." The sort of stuff that you don't say to a girl except in a song. I think a lot of people relate to it. It's a quirky song, but people know what it means — it's the "maybe" I'm amazed.

A straight love song would say, "I'm amazed at the way you love me." That would be the Sinatra thing, and it would be called, "I'm Amazed." But the "maybe" is like a guy not quite wanting to admit it.

Paul McCartney – Interview with Billboard Magazine, March 16, 2001
Perhaps my favourite was 'Maybe I'm Amazed' because Paul was doing all these crazy freestyle drumming noises using his voice – basically Beat boxing years before it had been invented! There's some of this in the 'Maybe' remix on Twin Freaks and scattered throughout some of the other tracks

DJ Hellraiser – about his remix of "Maybe I'm Amazed", from the Twin Freaks album, 2005
I didn't think it was going to be an album. It was just me recording for the sake of it. Then I started trying to put a few songs in it, alongside the instrumentals. I got things like 'Every Night', and 'Maybe I'm Amazed', so it started to have validity as a collection.

Paul McCartney – From "Conversations with McCartney" by Paul du Noyer, 2016
This is supposedly Liza Minelli's favourite of my songs. I expected her to go for something a bit more ballady. But she really likes this one. It dates from the time, the end of the 1960s, when Linda and I were first living together. […] Through the song was written immediately after The Beatles' breakup, it was somehow included under the Lennon-McCartney rubric, where it doesn't belong. It was one of my first solo songs, but because of the deal, it got caught in the publishing net. That was very annoying.

Actually, Linda and I were probably already married, because I can now visualise sitting at the lovely black Steinway piano that we got after our wedding. I was playing on it one day, and this song came to me – the central idea being that there's so often a split between the inner and outer. […]

In any event, this song isn't the conventional way of presenting a relationship, or of some of the contradictions that can arise from being in love. That's maybe why Lizza Minnelli likes it so much. It shows the fragility of love.

Paul McCartney – From "THE LYRICS: 1956 to the Present", 2021
---
---
Last updated on April 14, 2022
The book "The Lyrics: 1956 to the Present", published in 2021, covers Paul McCartney's early Liverpool days, the Beatles, Wings, and solo careers, by pairing the lyrics of 154 of his songs with first-person commentaries of the circumstances in which they were written, the people and places that inspired them, and what he thinks of them now.
"Maybe I'm Amazed" is one of the 154 songs covered.
Lyrics
Baby I'm amazed at the way you love me
all the time.
and maybe I'm afraid of the way I love you
Maybe I'm amazed at the way you pulled me
out of time, and hung me on a line, and maybe
I'm amazed at the way I really need you.

Middle
Baby, I'm a man, maybe I'm a lonely man
whose in the middle of something
That he doesn't really understand
Baby I'm a man maybe you're the only woman
who could ever help me,
Baby, won't you help me to understand.

Maybe I'm amazed at the way you're with me
all the time,
and maybe I'm afraid of the way I leave you,
maybe I'm amazed at the way you help me
sing my song,
right me when I'm wrong,
and maybe I'm amazed at the way I really
need you.

Middle
Baby I'm a man, (REPEAT)…
Videos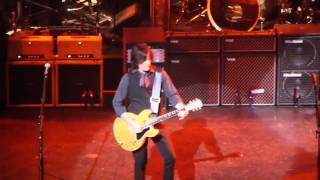 Concert • Dec 13, 2010 in New York
Going further
---
Paul McCartney: Music Is Ideas. The Stories Behind the Songs (Vol. 1) 1970-1989
With 25 albums of pop music, 5 of classical – a total of around 500 songs – released over the course of more than half a century, Paul McCartney's career, on his own and with Wings, boasts an incredible catalogue that's always striving to free itself from the shadow of The Beatles. The stories behind the songs, demos and studio recordings, unreleased tracks, recording dates, musicians, live performances and tours, covers, events: Music Is Ideas Volume 1 traces McCartney's post-Beatles output from 1970 to 1989 in the form of 346 song sheets, filled with details of the recordings and stories behind the sessions. Accompanied by photos, and drawing on interviews and contemporary reviews, this reference book draws the portrait of a musical craftsman who has elevated popular song to an art-form.
---
If we like to think, in all modesty, that the Paul McCartney Project is the best online ressource for everything Paul McCartney, The Beatles Bible is for sure the definitive online site focused on the Beatles. There are obviously some overlap in terms of content between the two sites, but also some major differences in terms of approach.