Spread the love! If you like what you are seeing, share it on social networks and let others know about The Paul McCartney Project.
Song facts
"Every Night" is a track from Paul McCartney's debut solo album, "McCartney", released in April 1970.
This came from the first two lines, which I've had for years. They were added to in 1969 in Greece (Benitses) on holiday. This was recorded at EMI with:

1. vocal and
2. acoustic guitar
3. drums
4. bass
5. lead guitar (acoustic)
6. harmony to the lead guitar
7. double-tracked vocal in parts
8. electric guitar (not used)
9. track.

Paul McCartney, from the press release of "McCartney", April 1970
Paul premiered "Every Night" during the "Get Back" sessions with The Beatles: they messed around with it on January 21 and January 24, 1969. He then completed the lyrics in May/June 1969 while on holiday in Corfu.
From Wikipedia:
[…] The lyrics of "Every Night" reflect the difficult situation McCartney was dealing with at the time the song was written, which was in light of the imminent breakup of the Beatles; the words do, however, convey some optimism for the future. According to James McGrath, the last line, "But tonight I just wanna stay in / And be with you," is the key to the song, in that it "quietly challenges the uneasy relationship between rock and domesticity." McGrath points out that Bob Dylan's song from the previous year, "Tonight I'll Be Staying Here with You," ended on a similar note.

The vocalized bridge begins with the same melody that begins McCartney's Beatles song, "You Never Give Me Your Money".

"The structure of 'Every Night' is different from many McCartney songs [as rather than] a true chorus, the vocal refrain of 'every night' occurs at the beginning of each verse. The repeated section, which could be nominally classed as [the] chorus, [comprises] 'oo' vocalisations." (from "Paul McCartney After The Beatles: a musical appreciation" by Adrian Allan, 2019)
Paul McCartney and Wings performed "Every Night" during their last UK tour in 1979, as well as at the Concert For The People of Kampuchea, a charity concert organized on December 29, 1979.
Paul also recorded a version of "Every Night" for his MTV Unplugged concert in 1991 and performed it during the short 1991 summer tour. He brought back it for his 2002 / 2003 concerts and regularly played it during soundcheck since 2010.
---
Going back to earlier songs, 'Every Night' could stand up to being remade. Other people have made good recordings of it, and I remember that when I played the McCartney album to Ringo he said that he preferred my original solo version, when I had first sung it to him.

Paul McCartney – From interview with Club Sandwich, Winter 1994
I didn't think it was going to be an album. It was just me recording for the sake of it. Then I started trying to put a few songs in it, alongside the instrumentals. I got things like 'Every Night', and 'Maybe I'm Amazed', so it started to have validity as a collection.

Paul McCartney – From "Conversations with McCartney" by Paul du Noyer
---
From PopMatters:
"Every Night" is one of Paul McCartney's greatest solo accomplishments. For the life of me, I don't understand why it (or any songs from the McCartney album) wasn't ever released as a single. It is rare to find a song that paints such a perfect view of romantic love while staying unique, personal, and cliché-free. […] A lot changed for Paul McCartney in the year 1969, and he reportedly didn't handle it well. The band that his entire life revolved around—the biggest band in the world, the Beatles—was falling apart, and the resulting tangled mess of hurt feelings and legal matters left him sorely depressed. Getting him through this difficult time was his wife, Linda, who suggested that he should start working on his own music apart from the group. "Every Night" became the resulting tribute to his inspiring spouse.

The album on which it appears has a reputation of being quickly put together, but "Every Night" started out as a possible track for the Beatles' final album, Let It Be. Though he has stated that he "had the first two lines for a few years" before its recording, Paul finished writing the song later on in 1969 while on vacation in Greece. In the final completed version, acoustic and bass guitars mix together with drums and some background vocals from Linda, who would go on to duet with Paul on many more songs.

Rumor has it that he may have recorded an electric guitar part for this song that was never used and that it may or may not appear on the first take, an alternate version that could be released in the future. […]
---
Last updated on April 13, 2022
Lyrics
Every night I just want to go out
get out of my head.
Every day I don't want to get up
get out of my bed.
Every night I want to play out
& every day I want to do…
But tonight I just want to stay in
and be with you… and be with you.

Chorus. oo…

Every day I lean on a lamppost
I'm wasting my time.
Every night I lay on a pillow
I'm resting my mind.
Every morning brings a new day
& every night that day is through
But tonight I just want to stay in
and be with you…and be with you.

Chorus. oo…
Films
---
Videos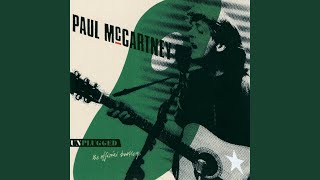 Album • Unplugged (The Official Bootleg)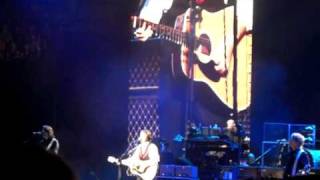 Concert • Mar 28, 2010 in Phoenix
Going further
---
Paul McCartney: Music Is Ideas. The Stories Behind the Songs (Vol. 1) 1970-1989
With 25 albums of pop music, 5 of classical – a total of around 500 songs – released over the course of more than half a century, Paul McCartney's career, on his own and with Wings, boasts an incredible catalogue that's always striving to free itself from the shadow of The Beatles. The stories behind the songs, demos and studio recordings, unreleased tracks, recording dates, musicians, live performances and tours, covers, events: Music Is Ideas Volume 1 traces McCartney's post-Beatles output from 1970 to 1989 in the form of 346 song sheets, filled with details of the recordings and stories behind the sessions. Accompanied by photos, and drawing on interviews and contemporary reviews, this reference book draws the portrait of a musical craftsman who has elevated popular song to an art-form.
---
If we like to think, in all modesty, that the Paul McCartney Project is the best online ressource for everything Paul McCartney, The Beatles Bible is for sure the definitive online site focused on the Beatles. There are obviously some overlap in terms of content between the two sites, but also some major differences in terms of approach.