Spread the love! If you like what you are seeing, share it on social networks and let others know about The Paul McCartney Project.
Song facts
From Wikipedia:
"Every Night" is a song written by Paul McCartney while he was on holiday in Greece [in 1968], and first released on his McCartney album on April 17, 1970. McCartney first performed this live, in Liverpool, on 23 November 1979.

Lyrics & Music

The lyrics of "Every Night" reflect the difficult situation McCartney was dealing with at the time the song was written in light of the imminent breakup of the Beatles, but also reflect optimism for the future. According to James McGrath, the last line of the song, "But tonight I just wanna stay in / And be with you," is the key to the song, in that it "quietly challenges the uneasy relationship between rock and domesticity." […]

Recording

McCartney premiered it during The Beatles' Get Back/Let It Be Sessions. The group messed around with the song on 21 and 24 January 1969 (a brief run through and John Lennon on slide guitar; respectively).

McCartney sings and plays acoustic guitar, bass and drums on this recording. His wife , Linda McCartney sings the "WOO WOO'S" in the chorus, with Paul ad-libbin. ("Believe me, Mama".)
From Beatles Bible:
[Every Night] was recorded properly by McCartney on 22 February 1970 at EMI Studios, Abbey Road. McCartney had booked a session to mix the songs Valentine Day and That Would Be Something, and afterwards recorded Every Night and Maybe I'm Amazed. Every Night was mixed at the end of the session, but was redone on 24 February.
From PopMatters:
"Every Night" is one of Paul McCartney's greatest solo accomplishments. For the life of me, I don't understand why it (or any songs from the McCartney album) wasn't ever released as a single. It is rare to find a song that paints such a perfect view of romantic love while staying unique, personal, and cliché-free. […] A lot changed for Paul McCartney in the year 1969, and he reportedly didn't handle it well. The band that his entire life revolved around—the biggest band in the world, the Beatles—was falling apart, and the resulting tangled mess of hurt feelings and legal matters left him sorely depressed. Getting him through this difficult time was his wife, Linda, who suggested that he should start working on his own music apart from the group. "Every Night" became the resulting tribute to his inspiring spouse.

The album on which it appears has a reputation of being quickly put together, but "Every Night" started out as a possible track for the Beatles' final album, Let It Be. Though he has stated that he "had the first two lines for a few years" before its recording, Paul finished writing the song later on in 1969 while on vacation in Greece. In the final completed version, acoustic and bass guitars mix together with drums and some background vocals from Linda, who would go on to duet with Paul on many more songs.

Rumor has it that he may have recorded an electric guitar part for this song that was never used and that it may or may not appear on the first take, an alternate version that could be released in the future. […]
Last updated on January 11, 2015
Lyrics
Every night I just want to go out
get out of my head.
Every day I don't want to get up
get out of my bed.
Every night I want to play out
& every day I want to do…
But tonight I just want to stay in
and be with you… and be with you.

Chorus. oo…

Every day I lean on a lamppost
I'm wasting my time.
Every night I lay on a pillow
I'm resting my mind.
Every morning brings a new day
& every night that day is through
But tonight I just want to stay in
and be with you…and be with you.

Chorus. oo…
Videos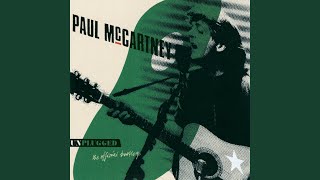 Album • Unplugged (The Official Bootleg)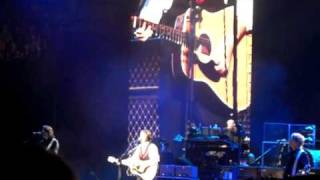 Concert • Mar 28, 2010 in Phoenix