Spread the love! If you like what you are seeing, share it on social networks and let others know about The Paul McCartney Project.
Song facts
It's very McCartney, very me.

Paul McCartney – Quoted in "Paul McCartney: Recording sessions (1969 – 2013)" by Luca Perasi
---
"That Would Be Something" is the second track of Paul McCartney's debut solo album, "McCartney", released in April 1970. It was also the second song recorded for the album. From Wikipedia:
McCartney sings and plays acoustic guitar, bass, electric guitar, tom tom and a cymbal. This song and "Valentine Day" were mixed at Abbey Road Studios on 22 February 1970. McCartney would also record "Every Night" and "Maybe I'm Amazed" the same day. In the song McCartney also performs vocal percussion to simulate a drum kit.
This song was written in Scotland in 1969 and recorded at home in London – mixed later at EMI (No. 2). I only had one mike, as the mixer and VU meters hadn't arrived (still haven't).

Paul McCartney – From the press release of "McCartney", April 1970
Despite the sentiment of betrayal that the other Beatles members felt when Paul McCartney issued the press release for the "McCartney" album (suggesting he was quitting The Beatles), George Harrison had some positive words about "That Would Be Something" and "Maybe I'm Amazed":
That Would Be Something and Maybe I'm Amazed I think are great and everything else I think is fair, you know. It's quite good, but a little disappointing, but maybe I shouldn't be disappointed, it's best not to expect anything, then everything's a bonus. I think those two tracks are very good and the others just don't do anything for me. The arrangements for 'Teddy Boy' and 'Junk', with a little bit more arrangement could have sounded better. Me, Ringo and John, not only do we see each other, but we see so many musicians and other bands, maybe Paul does too. But I just get the impression that he doesn't. That he's so isolated from it, he's out on a limb. The only person he's got to tell him if the song's good or bad is Linda. In the Beatle days, if someone came in with a song that had a corny line and some of the others got a bit embarrassed by it, we'd say it!

George Harrison, 1970 – From "The Beatles Diary Volume 2: After The Break-Up 1970-2001" by Keith Badman
Paul McCartney first performed the song live on January 25, 1991, during the recording of Unplugged (The Official Bootleg), which was released later that year. He also performed it during the small 1991 summer tour to support the release of this album.
In 2001, Paul McCartney recorded a version of "That Would Be Something" on acoustic guitar which appeared on a radio show to promote the "Wingspan" compilation and on the Wingspan TV special.
---
Last updated on April 3, 2022
Lyrics
That would be something
It really would be something
that would be something
To meet you in the falling rain, momma,
meet you in the falling rain.
Videos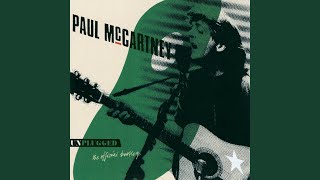 Album • Unplugged (The Official Bootleg)
Live performances
"That Would Be Something" has been played in 8 concerts.
Latest concerts where That Would Be Something has been played
---
---
---
---
---
---
Going further
---
Paul McCartney: Music Is Ideas. The Stories Behind the Songs (Vol. 1) 1970-1989
With 25 albums of pop music, 5 of classical – a total of around 500 songs – released over the course of more than half a century, Paul McCartney's career, on his own and with Wings, boasts an incredible catalogue that's always striving to free itself from the shadow of The Beatles. The stories behind the songs, demos and studio recordings, unreleased tracks, recording dates, musicians, live performances and tours, covers, events: Music Is Ideas Volume 1 traces McCartney's post-Beatles output from 1970 to 1989 in the form of 346 song sheets, filled with details of the recordings and stories behind the sessions. Accompanied by photos, and drawing on interviews and contemporary reviews, this reference book draws the portrait of a musical craftsman who has elevated popular song to an art-form.
---
If we like to think, in all modesty, that the Paul McCartney Project is the best online ressource for everything Paul McCartney, The Beatles Bible is for sure the definitive online site focused on the Beatles. There are obviously some overlap in terms of content between the two sites, but also some major differences in terms of approach.