Spread the love! If you like what you are seeing, share it on social networks and let others know about The Paul McCartney Project.
Song facts
"Junk" is a song written by Paul McCartney in 1968 while the Beatles were in India, that appears on his first solo album released in 1970. An instrumental version of the song -named "Singalong Junk" also appears on this album.
From Wikipedia:
It was originally under consideration for The Beatles (also known as the White Album). It was passed over for that LP, as it was for Abbey Road. It was eventually released on McCartney's debut solo album McCartney in 1970. The version McCartney played for the rest of the Beatles, in May 1968, was among other songs demoed at George Harrison's Kinfauns home, before the recording of The Beatles was released on Anthology 3 on 22 October 1996. The song's working title was "Jubilee", and also known as "Junk in the Yard". Take one appeared on the McCartney album as "Singalong Junk" and whereas take two was issued as "Junk".

Besides the exclusion of vocals, "Singalong Junk" features mellotron strings and the melody is played on a piano. The song also features more prominent drums. This version of the song is said to have been the original instrumental backing to which McCartney was planning on singing, but he opted for a simpler arrangement for the vocal version instead.

"Junk" was included on an EP (along with "Another Day", "Oh Woman, Oh Why" and "Valentine Day") released only in Mexico. This song has been dropped from his live setlist, but was included on McCartney's and Wings 2001 compilation Wingspan: Hits and History.
From Beatles Bible:
[…] A rough version, lasting just 16 seconds and sung in mock French, was busked on 9 January 1969 during the Get Back sessions at Twickenham Film Studios. […] Junk was first performed live as an instrumental during McCartney's appearance on MTV Unplugged on 25 January 1991, and appeared as the final track on that year's Unplugged (The Official Bootleg) album. An orchestral version opened McCartney's 1999 album Working Classical.
In the liner notes of McCartney, 1970:
"Originally written in India at Maharishi's camp and completed bit by bit in London. Recorded vocal, two acoustic guitars and bass at home and later added to (bass drum, snare with brushes, and small xylophone and harmony) at Morgan."
Linda was very helpful, because she used to say, 'I love to hear you play the guitar'. I was no longer sitting in a room on my own, like I used to be. So I'll strum along when I watch telly. 'Junk' came along that way. Handlebars, sentimental jubilee, jam jars: I like images like that. There are certain words you like. I always used to say that candlestick was my favourite word. Certain words either make colours in your head or bring up a feeling. So the song was a pot-pourri of nice words that I had to make some sense out of, so it was 'buy buy, sell sell, Junk says the sign in the yard'. To lump it all together I got the idea of 'Junk'. It was a nice way to write a song. There was also the 'Singalong' instrumental version, influenced by Phil Spector's technique of taking off the lyric for a B-side and calling it 'Singalong'.

For Unplugged, I thought it would be nice to do a little instrumental, so I reminded the guys of it. It worked nice on the show: they used it as the playout and rolled the credits over it.

Paul McCartney, from Club Sandwich 55/56, Winter 1990/91
Last updated on July 5, 2019
Lyrics
Motor cars, handle bars, bicycles for two,
Broken hearted jubilee.

Parachutes, army boots, sleeping bags for two,
Sentimental jamboree.

Chorus.
"Buy, buy ", says the sign in the shop window
"Why, why?", says the junk in the yard.

Candlesticks, building bricks, something old and new,
Memories for you and me.

Repeat Chorus
Videos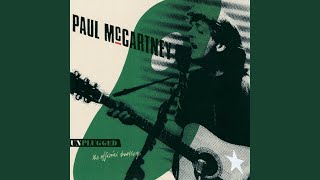 Album • Unplugged (The Official Bootleg)
Live performances
"Junk" has been played in 1 concerts and 2 soundchecks.
Latest concerts where has been played
---
Jan 25, 1991 • United Kingdom • Wembley • Limehouse Television Studios • TV show