Spread the love! If you like what you are seeing, share it on social networks and let others know about The Paul McCartney Project.
Song facts
"Junk" is a track from Paul McCartney's debut solo album, "McCartney", released in April 1970. An instrumental version of the song – named "Singalong Junk" – also appears on this album.
From Wikipedia:
[Paul McCartney] wrote the song in 1968 with the Beatles while the group were studying Transcendental Meditation in India. After the band's return from India, he recorded the song as a demo at Kinfauns, George Harrison's home, before sessions for The Beatles (also known as "the White Album") took place. It was ultimately passed over for inclusion on The Beatles and Abbey Road in 1969. After the group's break-up, McCartney recorded the song for inclusion on McCartney. The lyrics describe various items in a junkyard. A slightly longer, instrumental version of the song, titled "Singalong Junk", also appears on the album.

History

McCartney wrote "Junk", along with another McCartney track "Teddy Boy", during the Beatles' visit to India in 1968. The song was one of several the Beatles demoed at George Harrison's Kinfauns home before the recording of The Beatles in May 1968. The Esher demo was eventually released on Anthology 3 in 1996 and on the Super Deluxe edition of the "White Album" in 2018. While the song was considered for The Beatles (also known as the "White Album"), it was not included; neither did it find a place on Abbey Road. McCartney eventually recorded the song, along with "Teddy Boy", in February 1970 for his debut solo album McCartney. The song's working title was "Jubilee"; it was also known as "Junk in the Yard". Take one appeared on the McCartney album as "Singalong Junk", whereas take two was issued as "Junk".

"Junk" was included on an EP (along with "Another Day", "Oh Woman, Oh Why" and "Valentine Day") released only in Mexico. The song has been dropped from his live setlist, but was included on the compilations Wingspan: Hits and History (2001) and Pure McCartney (2016).

Composition

The lyrics of "Junk" have McCartney describe numerous contents of a junkyard, including parachutes, army boots, and sleeping bags for two. The song's chorus: "Buy, buy, says the sign in the shop window/why, why, says the junk in the yard" illustrate what it's like for these items. Beside the exclusion of vocals, "Singalong Junk" features mellotron strings and the melody is played on a piano. That version also features more prominent drums. "Singalong Junk" is said to have been the original instrumental backing over which McCartney planned to sing, but he opted for a simpler arrangement for the vocal version instead.

Reception

Since release, "Junk" has received positive reviews from music critics, with many considering it a highlight of its parent album. In a review for McCartney on initial release, Langdon Winner of Rolling Stone complimented the album's use of simplicity, saying that it "works very well." Winner praised "Junk" and "Teddy Boy", describing both as "low pressure compositions with gentle, poignant lessons to convey" that are "very tasteful and fun to listen to."

Donald A. Guarisco of AllMusic considers "Junk" one of the "finest moments" on McCartney, describing it as "a melancholy charmer of a ballad that has become a cult favorite with McCartney fans." Guarisco further praises McCartney's vocal performance, writing that it "captures [the song's] wistful mood nicely." In a retrospective review for McCartney, Record Collector has highlighted "Junk", along with "Every Night" and "Maybe I'm Amazed", as songs that "still sound absolutely effortless and demonstrate the man's natural genius with a melody". Joe Tangari of Pitchfork similarly evaluated both "Junk" and "Singalong Junk", with "Maybe I'm Amazed", as the "peaks" of McCartney. […]
"Junk" was also briefly rehearsed during the "Get Back" sessions – a 16-second-long version sung in mock French was recorded on January 9, 1969. It was first performed live as an instrumental during Paul McCartney's appearance on MTV Unplugged on January 25, 1991.
For a concert at Westcliff-on-Sea on July 19, 1991, "Junk" was used as background music for some poetry read by Adrian Mitchell:
All six surprise shows [of the Unplugged 1991 Summer Tour] followed the same pattern of two distinct 50-minute musical sets, acoustic and electric, Unplugged and Plugged, separated by a brief interlude. Further underscoring the unpretentious nature of the seaside shuffles, the Westcliff-on-Sea gig (24 July) featured a unique bonus in the shape of a poetry reading by Adrian Mitchell, a friend of Paul's since the 1960s. He had rehearsed with the band two days earlier.

The musicians kept a low-volume accompaniment while Mitchell addressed the audience with four of his poems – 'Junk' was recognisable as the backing behind love verse 'Maybe May Time', and a suitably funky arrangement was provided to augment a poem about James Brown. The sequence was so very much a departure from the norm, and so irresistibly fascinating to watch, that most audience mouths were left distinctly agape. […]

From Club Sandwich 59, Autumn 1991
"Junk" was played in some soundcheck in 1993. In 1999, a version for string quartet was released on the album "Working Classical".
---
Originally written in India at Maharishi's camp and completed bit by bit in London. Recorded vocal, two acoustic guitars and bass at home and later added to (bass drum, snare with brushes, and small xylophone and harmony) at Morgan.

Paul McCartney, from the press release of "McCartney", April 1970
Linda was very helpful, because she used to say, 'I love to hear you play the guitar'. I was no longer sitting in a room on my own, like I used to be. So I'll strum along when I watch telly. 'Junk' came along that way. Handlebars, sentimental jubilee, jam jars: I like images like that. There are certain words you like. I always used to say that candlestick was my favourite word. Certain words either make colours in your head or bring up a feeling. So the song was a pot-pourri of nice words that I had to make some sense out of, so it was 'buy buy, sell sell, Junk says the sign in the yard'. To lump it all together I got the idea of 'Junk'. It was a nice way to write a song. There was also the 'Singalong' instrumental version, influenced by Phil Spector's technique of taking off the lyric for a B-side and calling it 'Singalong'.

For Unplugged, I thought it would be nice to do a little instrumental, so I reminded the guys of it. It worked nice on the show: they used it as the playout and rolled the credits over it.

Paul McCartney, from Club Sandwich 55/56, Winter 1990/91
If I may use a fancy word, the milieu of 'Junk' was influenced by the rag-and-bone shop, or junkyard, that was the main setting of [BBC sitcom] Steptoe and Son. That junkyard was as familiar to British audiences in the 1960s and '70s as the rank in Bonanza or the mansion in The Beverly Hillbillies.

The song started, as so many do, with a chord sequence that I liked, and then the melody. I know it may sound strange, but the chord at the start of this song actually put me in mind of a scrapyard or the back of a shop. The kind of atmospheric place in which, if I were writing a novel, I'd like to set a scene. […]

But it's mostly a love song. The 'bicycles for two' merge into the 'sleeping bags for two'. Then there's the line 'Buy, buy, says the sign in the shop window', which sounds like one lover saying, 'Bye-bye,' and then the other plaintively asking, 'Why, why?' even as 'the junk in the yard' demands an explanation for the urge to acquire something, or somebody, new.

Paul McCartney – From "THE LYRICS: 1956 to the Present", 2021
---
Last updated on April 14, 2022
The book "The Lyrics: 1956 to the Present", published in 2021, covers Paul McCartney's early Liverpool days, the Beatles, Wings, and solo careers, by pairing the lyrics of 154 of his songs with first-person commentaries of the circumstances in which they were written, the people and places that inspired them, and what he thinks of them now.
"Junk" is one of the 154 songs covered.
Lyrics
Motor cars, handle bars, bicycles for two,
Broken hearted jubilee.

Parachutes, army boots, sleeping bags for two,
Sentimental jamboree.

Chorus.
"Buy, buy ", says the sign in the shop window
"Why, why?", says the junk in the yard.

Candlesticks, building bricks, something old and new,
Memories for you and me.

Repeat Chorus
Videos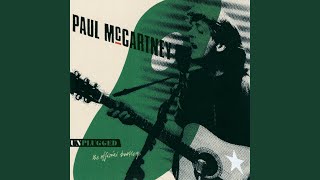 Album • Unplugged (The Official Bootleg)
Live performances
"Junk" has been played in 2 concerts and 2 soundchecks.
Latest concerts where Junk has been played
---
---
Jan 25, 1991 • United Kingdom • Wembley • Limehouse Television Studios • TV show
Going further
---
Paul McCartney: Music Is Ideas. The Stories Behind the Songs (Vol. 1) 1970-1989
With 25 albums of pop music, 5 of classical – a total of around 500 songs – released over the course of more than half a century, Paul McCartney's career, on his own and with Wings, boasts an incredible catalogue that's always striving to free itself from the shadow of The Beatles. The stories behind the songs, demos and studio recordings, unreleased tracks, recording dates, musicians, live performances and tours, covers, events: Music Is Ideas Volume 1 traces McCartney's post-Beatles output from 1970 to 1989 in the form of 346 song sheets, filled with details of the recordings and stories behind the sessions. Accompanied by photos, and drawing on interviews and contemporary reviews, this reference book draws the portrait of a musical craftsman who has elevated popular song to an art-form.