Spread the love! If you like what you are seeing, share it on social networks and let others know about The Paul McCartney Project.
Song facts
I'd been working in New York with Phil Ramone. Linda and I were having a great time, working pretty hard, and one of the songs we had that was sounding good was called 'Another Day'. It just felt like the first one that I thought 'That could be a single'. It was as simple as that, really.

Paul McCartney, from Club Sandwich N°47/48, Spring 1988
From Wikipedia:
"Another Day" is a song recorded by Paul McCartney in New York in 1970, during the sessions for his album Ram. Although it was the first single of McCartney's solo career, "Another Day" was actually written and previewed during The Beatles' Let It Be Sessions in 1969. It was officially released on 19 February 1971 in the UK, with "Oh Woman, Oh Why" as the B-side. Neither song was included on the original pressings of Ram.

History

"Another Day" is written in an observational style reminiscent of "Eleanor Rigby"; Denny Seiwell, the drummer from the Ram Sessions, called it "'Eleanor Rigby' in New York City." The lyrics describe the drudgery and sadness of an unnamed woman's life at work and at home.

Paul's wife, Linda McCartney, provided vocal harmonies on "Another Day". Describing his and Linda's distinctive harmonies, McCartney said "I wanted 'our' sound." Paul was deliberately attempting to create a unique McCartney style, a musical identity outside of The Beatles. McCartney had decided to list Linda as co-writer of more than half the songs on Ram, and this decision extended to "Another Day." Despite her lack of a musical pedigree, he insisted that Linda had been an active collaborator, making valuable suggestions about lyrics and melodies. Linda's credits as co-writer were later regarded as business manoeuvres in the post-Beatles legal matters.

Matching the lyrical sense of isolation and social alienation was the unique sound of "Another Day." Studio Assistant Engineer of the Ram sessions Dixon Van Winkle said that Paul asked him to pick the single. With McCartney's blessing, Winkle mixed the song and pressed 100 copies for radio stations. "The next day I heard it on the air, I realized…we got carried away with the bass part…it pumped like crazy. But we never remixed the song, and Paul never said anything."

McCartney has played the song live several times over the years first on his 1993 World Tour and then for the first time in 20 years on his 2013 Out There Tour.

Recording

According to drummer Denny Seiwell, the song was the first one taped during the RAM sessions in New York City at Columbia Studios. Basic track consisted of McCartney on acoustic guitar, Dave Spinozza on electric and Denny Seiwell on drums, with many overdubs added in subsequent sessions (bass, percussion, lots of other guitar parts).

Later release

Although "Another Day" and "Oh Woman, Oh Why" were not originally included on Ram, some CD re-releases of Ram have one or both songs as bonus tracks. "Another Day" has also appeared on several of McCartney's greatest hits albums, including All the Best!. It also appeared on the Wings greatest hits compilations Wings Greatest and Wingspan: Hits and History even though the song was not credited to Wings and predates the band's formation. The single was re-released as part of Record Store Day 2012. It was included on the Special and Deluxe editions of the 2012 remaster of Ram.

The song was included on an EP (along with "Oh Woman, Oh Why", "Junk" and "Valentine Day") released only in Mexico.

In popular culture

This song is referenced in John Lennon's "How Do You Sleep?" in the line "The only thing you done was Yesterday, and since you've gone you're just Another Day". It was featured prominently in a 2009 episode of The Simpsons titled "Bart Gets a 'Z'", and has also been included in several films such as 50 First Dates (2004) and The Lovely Bones (2009).
Paul McCartney in "Wingspan: Paul McCartney's Band on the Run":
I like the idea of writing songs about ordinary people and day-to-day lives, and Another Day is one of them. We all get up in the morning and do our usual stuff, yet somehow – even through it all – there are often magic moments. We recorded it in New York with the help of Phil Ramone and it was a hit which, at that time, was especially pleasing.
We were sitting in Studio A2 one day listening to the takes and Paul asked me to pick the single. I had definite feelings about the record and was in love with 'Another Day.' Paul said, 'Okay. "Another Day" it is.' I mixed the track and David Crawford cut about 100 copies of it in a back room at A&R for the radio stations. The next day when I heard it on the air, I realized it was a disaster! We got carried away with the bass part, and when it hit the radio station's compressor, it pumped like crazy! I learned that lesson real quick! But we never remixed the song, and Paul never said anything about it.

Dixon Van Winkle, from MixOnline, August 1, 2004
Last updated on May 30, 2020
The book "The Lyrics: 1956 to the Present", published in 2021, covers Paul McCartney's early Liverpool days, the Beatles, Wings, and solo careers, by pairing the lyrics of 154 of his songs with first-person commentaries of the circumstances in which they were written, the people and places that inspired them, and what he thinks of them now.
"Another Day" is one of the 154 songs covered.
Lyrics
Ev'ry day she takes a morning bath she wets her hair,
Wraps a towel around her as she's heading for the bedroom chair
It's just another day

Slipping into stockings, stepping into shoes
Dipping in the pocket of her raincoat
It's just another day

At the office where the papers grow she takes a break
Drinks another coffee and she finds it hard to stay awake
It's just another day

Du du du du du du, it's just another day
Du du du du du du, it's just another day

CHORUS
So sad, so sad,
Sometimes she feels so sad
Alone in her apartment she'd dwell
Till the man of her dreams comes to break the spell
Ah, stay, don't stand her up
And he comes and he stays
but he leaves the next day, so sad
Sometimes she feels so sad

As she posts another letter to the sound of five,
People gather 'round her and she finds it hard to stay alive.
It's just another day

Du du du du du du, it's just another day
Du du du du du du, it's just another day

CHORUS

Ev'ry day she takes a morning bath she wets her hair,
Wraps a towel around her as she's heading for the bedroom chair
It's just another day

Slipping into stockings, stepping into shoes
Dipping in the pockets of her raincoat
Ah, it's just another day

Du du du du du du, it's just another day
Du du du du du du, it's just another day
Videos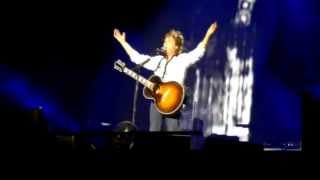 Concert • May 09, 2013 in Fortaleza