Spread the love! If you like what you are seeing, share it on social networks and let others know about The Paul McCartney Project.
Song facts
From Wikipedia:
"My Love" is a song by the British–American band Paul McCartney and Wings that was first released as the lead single from their 1973 album Red Rose Speedway. It was written by Paul McCartney as a love song to his wife and Wings bandmate Linda. The single marked the first time that McCartney's name appeared in the artist credit for a Wings record, after their previous releases had been credited to Wings alone. Released on 23 March 1973, the song topped the Billboard Hot 100 chart in the US for four weeks and peaked at number 9 on the UK Singles Chart. The single was viewed as Wings' first significant success in the US and helped Red Rose Speedway achieve commercial success.

Wings recorded "My Love" at Abbey Road Studios in London in January 1973. The song is a piano ballad and features an orchestral arrangement by Richard Hewson that was recorded live with the main track. The recording also includes a guitar solo by Henry McCullough that some commentators view as a highlight of the track. In his improvised playing, McCullough imposed his own style on a Wings song for the first time, countering the more regimented approach favoured by McCartney.

Despite its commercial success, "My Love" was given an unfavourable reception by many music critics, some of whom considered it overly sentimental and lyrically inconsequential. A live version of the song was included on Wings' 1976 album Wings over America, and McCartney has continued to perform it in concert as a tribute to Linda following her death in 1998. He included the song in the musical programme for Linda's memorial services in London and New York City, where it was performed by a string quartet. Tony Bennett, Nancy Wilson, Brenda Lee, Andy Williams and Harry Connick Jr are among the many artists who have covered the song.

Background and composition

Paul McCartney began writing "My Love" on piano as a love song to his wife Linda. He said he wrote it early on in their relationship; McCartney biographer Luca Perasi dates the composition to 1969 or 1970. The song is a piano ballad in the style of McCartney's Beatles song "The Long and Winding Road".

After forming the band Wings with Linda in the summer of 1971, McCartney included "My Love" in the set lists for the group's two concert tours in 1972. When they performed it at Nottingham University on 9 February for Wings' public debut, the song included Linda singing lines in response to McCartney's lead vocal. According to Perasi, the performance was otherwise "almost identical" to the version that the band subsequently recorded for official release.

The song is in the key of F major. It opens with an extended ambient note before the vocal enters. The composition has an AABAA structure followed by an outro, with the A sections comprising verse-choruses and the B section containing a bridge. According to musicologist Vincent Benitez, the verses establish a "sense of instability" through lyrics such as "And when I go away" and "And when the cupboard's bare", implying distance and material emptiness, respectively, and this mood is supported by the inclusion of chords such as B♭maj7 and D9 that suggest a departure from the home key. He says the choruses and the bridge then convey the emotional security provided by the singer's lover – lyrically, and through the incorporation of a plagal progression (in the chorus) and other chords that correspond with F major. The outro consists of the first part of the bridge; McCartney sings "Only my love does it good to" before pausing and then returning with a prolonged vocalisation of the word "me".

Recording

McCartney invited Richard Hewson, with whom he had worked before while with the Beatles, to arrange the orchestral accompaniment for "My Love". The song was recorded live at Abbey Road Studios in London with a 50-piece orchestra accompanying the band. The session took place in January 1973, late in the recording for Wings' second album, Red Rose Speedway. McCartney played Fender Rhodes electric piano on the track, while Denny Laine substituted for McCartney on bass guitar. The idea to tape the basic track and the orchestral arrangement simultaneously went against music industry convention, since the session musicians were paid by the hour. Hewson recalled that he recruited "the best jazz musicians I knew … They had this particular warm sound" and that the reason for the live recording was because McCartney wanted to capture "a certain feeling". In music journalist Tom Breihan's description, although the song appears to lack a formal structure, "It chugs and twinkles with the slow confidence of an old torch song, while the orchestra … swells and contracts."

According to Hewson, around 20 takes were performed over three hours, leaving the musicians tired and having to assure McCartney that their playing could not be improved on. The song contains a guitar solo by Northern Irish guitarist Henry McCullough, who took the opportunity to express himself in his playing and depart from what he saw as McCartney's regimented approach to recording. McCullough later said, "it had got to the point where I achingly wanted to be the guitar player in the band", rather than a sideman playing lines dictated by McCartney. McCartney recalled in a 2010 interview:

"I'd sort of written the solo, as I often did write our solos. And he walked up to me right before the take and said, "Hey, would it be alright if I try something else?" And I said, "Er … yeah." It was like, "Do I believe in this guy?" And he played the solo on "My Love", which came right out of the blue. And I just thought, Fucking great. And so there were plenty of moments like that where somebody's skill or feeling would overtake my wishes."

According to McCullough, it was the first time that anyone in Wings had challenged McCartney, and it was an approach that others in the band encouraged, in an effort to make Wings a genuine band and improve McCartney's image. He described the end result on "My Love" as "a stroke of luck, a gift from God really, and you get that in music".

Release

Apple Records issued "My Love" as a single on 23 March 1973, with the US release following on 9 April. The B-side was "The Mess", recorded live at the Netherlands Congresgebouw in The Hague on 21 August 1972. For the first time in the group's career, the release was credited to "Paul McCartney & Wings", rather than Wings alone. The name change was made in the belief that the disappointing sales of Wings' 1971 debut, Wild Life, were due to the public being unaware of McCartney's involvement. Red Rose Speedway was released on 30 April 1973 and was similarly credited to Paul McCartney & Wings. "My Love" was sequenced as the album's second track, between "Big Barn Bed" and "Get on the Right Thing".

The single's release marked the start of a highly active period for Wings. The band filmed a promotional clip for the song, which used an alternate McCartney lead vocal. They also promoted the single on the James Paul McCartney TV special. McCartney had agreed to do the special in return for Lew Grade, whose company ATV owned the Northern Songs publishing catalogue, dropping his legal objections to Linda being credited as a co-writer on many of his songs since 1971. The band filmed a performance of "My Love" for Top of the Pops, which was shown on the 4 and 11 April editions of the show. Immediately after completing this performance, McCullough vomited on the stage; drunk beforehand, he had become nauseated by the studio smoke effects. The incident had an adverse effect on his already fractious relationship with McCartney. Wings played "My Love" throughout their 1973 UK tour. These live performances were the source of frustration for McCullough, who was denied the freedom to improvise when playing the solo. Adhering to a populist approach over McCullough's blues sensibilities, McCartney insisted that he reproduce the solo exactly as heard on the studio recording.

The single topped the US Billboard Hot 100 for four weeks and peaked at number nine on the UK Singles Chart. The song also went to number one on Billboard's Easy Listening chart for three weeks. On the Billboard Hot 100, it was demoted by George Harrison's "Give Me Love (Give Me Peace on Earth)" in late June, marking the first time since 25 April 1964 that the Beatles had occupied the top two positions on the chart, and the only occasion that any of its former members have done so as solo artists. The popularity of "My Love" also contributed to the commercial success of Red Rose Speedway, which became the first of five consecutive Wings albums to top the Billboard LPs chart; according to author Bruce Spizer, it was "the song that sold the album". The single was certified Gold by the Recording Industry Association of America on 9 July, for sales of over one million copies. Billboard ranked "My Love" at number five on its Year-End Hot 100 singles of 1973 chart.

The song was subsequently included on the 1978 Wings compilation album Wings Greatest. It has also appeared on the McCartney compilations All the Best! (1987), Wingspan: Hits and History (2001) and Pure McCartney (2016). A live version from Wings' 1976 US tour, with McCullough's replacement, Jimmy McCulloch, on lead guitar, was released on the Wings over America triple album. McCartney has since included live performances of the song on his albums Paul Is Live (1993), Back in the World (2002) and Good Evening New York City (2009).

Critical reception – Contemporary reviews

Cash Box's single reviewer described "My Love as a "fine ballad" and said that, although it was lacking in melody, McCartney's "added sentiment & crooning will soon make this a classic". Chris Welch of Melody Maker wrote: "A grand ballad from Paul, rather in the tradition of songs that turned on the troops in the days of the Cyprus Crisis and other manifestations of the '50s. In a way its appeal is timeless, and it certainly rates among his seemingly unstoppable flow of classics." Welch highlighted the "splendid gutty guitar solo" and predicted: "Much fluttering of wings and handkerchiefs as this sails up the charts."

Other critics ridiculed the song. To writers in the countercultural press, it furthered McCartney's standing as an artist of little consequence, a perception that was increased by his decision to supply the theme song for the 1973 James Bond film Live and Let Die. According to Beatles biographer Nicholas Schaffner, the inclusion of lyrics such as "Wo wo wo wo, only my love does it good" in the packaging for Red Rose Speedway "didn't help McCartney's dissolving reputation" as a lyricist. Schaffner said that the James Paul McCartney special was even more damaging to McCartney's image and that, among the show's worst moments, "Paul tried to make passionate faces while crooning 'My Love,' looking instead as if he'd just sucked a lemon."

In his "Consumer Guide" review for The Village Voice, Robert Christgau wrote that "[McCartney's] new love ballad meanders hopelessly where 'Yesterday' shifted enticingly" and he described Red Rose Speedway as "Quite possibly the worst album ever made by a rock and roller of the first rank". Five years later, in his review of Wings Greatest, Christgau wished for "a stylus-width scratch across 'My Love'". NME critics Roy Carr and Tony Tyler said the song was among the "dreamy weepies" that were a signature of McCartney's songwriting and, with all the former Beatles' artist royalties frozen due to ongoing litigation over Apple, an important source of income as material for other artists to cover. They described the song as "positively oozing Manciniesque strings and the kind of sentimentality that one finds either cloying or soothing".

Critical reception – Retrospective assessments

Writing in the 2004 edition of The Rolling Stone Album Guide, Greg Kot described "My Love" as McCartney's "soggiest hit" and "over-orchestrated". Former Mojo editor Mat Snow calls it a "slow-dance single" that, although commercially successful, suffered unfavourable comparison with the Beatles' 1962–1966 and 1967–1970 compilation albums, which were released around the same time in 1973 and "reminded everyone of just how good Paul's old band was". Writing in 2017, Rolling Stone critic Rob Sheffield dismissed it as "the worst song any of the Beatles had anything to do with". In Sheffield's opinion, McCartney was seeking to emulate the Beatles' 1969 ballad "Something", written by Harrison, but he missed the aesthetic significance of the six-note guitar "hook" that precedes the verse of Harrison's composition, instead inserting the "Wo-wo-wo-wo" refrain that sinks "My Love". Sheffield says the ending provides a "whopper of unintentional comedy", as McCartney dramatically draws out the word "me" to become "Meeeeeee-wo-wo-wo-wo-wo-ho, wo-ho, whooooa!" In his song review for Stereogum, Tom Breihan gives the track a score of five out of ten and concludes: "So 'My Love,' like a lot of McCartney songs, is a pretty and fluffy and sincere and meaningless thing – a song that would probably work as a prom ballad if it had the discipline to hit the big prom-ballad moments. It's nice enough, and I'll never understand, beyond simple name recognition, how it was as big as it was."

Biographer Philip Norman pairs the song with "Maybe I'm Amazed" as "ode[s] to Linda" that, in the context of McCartney's songwriting in 1973, were "so far beyond his usual Wingspan that the dream-voices which had whispered 'Yesterday' and 'Let It Be' into his ear might have returned". In his book on McCartney for the Praeger Singer-Songwriter Series, Vincent Benitez describes "My Love" as "an outstanding song highlighted by equally outstanding ensemble playing", particularly the "sublime solo" contributed by McCullough. Robert Rodriguez, writing in his book on the Beatles' first decade as solo artists, says that McCullough's playing redeemed a "potentially mawkish McCartney valentine" and he considers the track to be the highlight of a mediocre album. Former Record Collector editor Peter Doggett calls the song "sickly" and says that even after EMI had persuaded McCartney not to release Red Rose Speedway as a double LP, it remained an unimpressive collection of songs.

Cover versions

By the late 1970s, "My Love" was the second most-covered song written and released by a former Beatle since the band's break-up, after Harrison's "My Sweet Lord". Tony Bennett, Nancy Wilson and Cass Elliot are among the many singers who recorded the song. Others include Johnny Gill, Cher, Brenda Lee, Margie Joseph, Salena Jones, Mina, Shinehead, Andy Williams, Juice Newton, Warren Hill and Dottie West. There have also been three jazz instrumental versions, by Ivan "Boogaloo Joe" Jones, Pieces of a Dream (from their 1996 album The Best of Pieces of a Dream), and Michael Lington (from the 2004 album Stay with Me).

An instrumental of the song can be heard during Monica and Chandler's wedding in the American sitcom Friends. Corinne Bailey Rae released a cover of the song on The Love EP (2011). Harry Connick Jr covered "My Love" on the 2014 album The Art of McCartney, a tribute album to McCartney.

Legacy

Rodriguez describes "My Love" as McCartney's "first post-Beatles evergreen" and a standard, due to its instant popularity among other recording artists. In 1976, Linda reflected that Red Rose Speedway was "such a non-confident record" made during a "terribly unsure period", yet it still contained "beautiful songs" such as "My Love". In 1986, McCartney selected it as his favourite track from the Wings era and recalled the time as "a romantic period, folks!" McCullough, whose post-Wings career included playing with Joe Cocker and Donovan, and recording albums under his own name, considered the guitar solo on "My Love" to be the best of his career.

Following Linda's death in 1998, "My Love" was among the songs McCartney chose for the musical program at the two memorial services held in her memory, in London and New York City. McCartney was highly public in his expression of grief and organised the services with what biographer Howard Sounes describes as "the same professionalism he brought to his concert performances". Arranged for strings, the song was the closing piece performed by the Brodsky Quartet at St Martin-in-the-Fields church in London's Trafalgar Square on 8 June. At the New York service, held at Riverside Church in Upper Manhattan on 22 June, it was performed by the Loma Mar Quartet. Both events were given heavy coverage by news media. McCartney also included the song among the Linda-inspired compositions recorded for his 1999 classical music album Working Classical, where it was again performed by the Loma Mar Quartet.

McCartney included "My Love" in the set list for his Driving World Tour in 2002, when, bolstered by the support of his second wife, Heather Mills, he returned to touring for the first time since 1993. McCartney performed the song in Linda's memory, as his renditions of "Something" and "Here Today" were tributes to his former Beatles bandmates Harrison and John Lennon, respectively. Following his acrimonious divorce from Mills in 2008, he again performed the song in concert as a tribute to Linda. According to Sounes, whereas the live renditions of "My Love" had "seemingly irritated" Mills on the 2002 tour, McCartney's performances in 2008 were accompanied by pictures of Linda projected onto "huge screens" with "all images of Heather excised". […]
"My Love" was my definitive one for Linda, written in the early days of our relationship, and that came easily.

Paul McCartney – Billboard interview, 2001
When "My Love" came out, John Lennon actually said, "If only everything was as simple and unaffected as McCartney's new single, then maybe Dean Martin and Jerry Lewis would reunite with the Marx Brothers." We were going through a slagging off period with each other … He called me Engelbert, and Engelbert Humperdinck started getting annoyed with me.

Paul McCartney
'My Love' was the first song I ever owned. Someone else had always owned everything else I had written. 'My Love' was my definitive one for Linda, written in the early days of our relationship, and that came easily. We had an interesting moment on the session where we were going to cut it live at Abbey Road Studios, and the guitar player (Henry McCullough) came over to me right before the take. We knew what we were going to do as a band, and the orchestra was arranged and he said, 'Do you mind if I try something different on the solo?' It was one of those moments where I could have said, 'I'd rather you didn't, just stick to the script,' but I thought he sounded like he's got an idea, and I said, 'Sure.' He then came out with the really good guitar solo on the record. It's one of the best things he ever played. So that was like, 'Wow!' It was one of the best solos I had ever heard.

Paul McCartney – From "The Beatles: Off The Record 2 – The Dream is Over: Dream Is Over Vol 2" by Keith Badman
Paul McCartney in "Wingspan: Paul McCartney's Band on the Run":
My Love was inspired by Linda. We'd been together a while and were having a great time, and as I sat down at a piano to follow the muse I was thinking about Linda and the song came. It was nice to be able to say, 'Here, I've written this one for you'.

We had an interesting moment on the My Love session. Instead of piecing it together and overdubbing I wanted to record it live with an orchestra. Everyone was ready in Abbey Road studio two, we knew exactly what we would be doing, and then just before the take Henry came over and whispered in my ear 'Do you mind if I try something different on the solo?' I had to make one of those decisions – to stick with what we'd rehearsed or to run with his new idea. At the risk of messing the thing up I went with his idea and he pulled a great new solo out of left field. He really rose to the occasion.

My Love crossed over into the black audience, which I liked because I've always admired black music so much.

My Love was always a very popular song in the live act. I'd see couples putting their arms around each other, which I always thought was a nice romantic moment.
From songfacts.com, interview with Henry McCullough, August 23, 2011:
[…] When it came down to the "My Love" thing, I just felt meself that it was time. I didn't want to play with somebody else if I didn't think it was good enough. And I can't remember what it was I was asked to play, but whatever it was I refused and said that I was going to change the solo. So Paul says, "Well, what are you going to play?" I said, "I don't know." Well, that put the fear of God in him, I think. Because there I am, just me and a 50-piece orchestra in the studio and there's George Martin in the control room and Paul. I knew it was going to be a turning point in some shape or form regardless of what I came up with. I don't use pedals or anything, so I just plugged into the amp and that was it – it was all over and done with very quickly. I went in and they ran the track and I did it once and went back into the control room and there was silence. And I thought I was going to have to do it again or something. But it was not the case.

This was a turning point for me, because I was able to, in later life, look back on it and say, "That's what I did for Paul McCartney. I gave him that solo." But it came from somewhere else and through me to Paul, and this is what flabbergasted him. And not having worked like that before, it was a little new to him. I came out of the studio that day and I was a very happy man, because I had confronted this thing I knew was there, that hadn't quite shown its head. And that was where I left me mark, you know.

Paul said to me last Christmastime in Dublin, the first time we met for 35 years or something, he says, "Henry, I've got to tell you, I cannot go anywhere, or regardless of where I go or what company I'm in, I cannot help but bring up your attitude to 'My Love.'" Which was really nice of him to say. […]
From Something Else!, August 25, 2011:
It was like playing a hand of cards, and having a royal flush. Paul had this particular thing that he wanted me to play. That was the point of no return. I said: 'I'm sorry, I can't do this. I have to be left as the guitar player in the band. I want to have my own input, too.' He says: 'What are you going to do?' I didn't know. I simply said: 'I'm going to change things.' I was half terrified, half excited. I just started playing, and that's how it turned out — just as you hear it. That flabbergasted Paul, and there was just silence for a while. I thought: 'Uh oh, I have to do it again.' Paul came over and said: 'Have you been rehearsing?' (Laughs.) I liked to have that freedom. I wanted to put my cards on the table. He asked me in the band, but I didn't want him to tell me what to play.

Henry McCullough
[about sarky comment by John Lennon] Obviously it was a put-down: 'Paul is the crooner, doing the ballads' – and a lot of that has stuck… I also know from Yoko that John had sat down in other moments and cried when listening to that stuff.

Paul McCartney, from Club Sandwich N°47/48, Spring 1988
Is the band any looser in that McCartney isn't keeping such a tight grip on all aspects of the music?

I see what you mean because he does keep such control over everything and that's how it's always been. But for musicians of my type, I have to have a bit of freedom, too. Like, on the solo of "My Love" Paul kind of said to me 'make it proud' and I just said well leave it to me and I'll make it as proud as you like. You know, I knew what he meant but I just wanted time. I've never liked anybody humming note in my ears to explain what they wanted and so I did the solo in me own time and Paul dug it.

Henry McCullough – From interview for Sounds, April 14, 1973
Last updated on August 1, 2022
The book "The Lyrics: 1956 to the Present", published in 2021, covers Paul McCartney's early Liverpool days, the Beatles, Wings, and solo careers, by pairing the lyrics of 154 of his songs with first-person commentaries of the circumstances in which they were written, the people and places that inspired them, and what he thinks of them now.
"My Love" is one of the 154 songs covered.
Lyrics
And when I go away
I know my heart can stay with my love
It's understood
It's in the hands of my love
And my love does it good
Wo-wo-wo-wo-wo-wo
My love does it good

And when the cupboard's bare
I'll still find something there with my love
It's understood
It's everywhere with my love
It's understood
It's everywhere with my love
And my love does it good
Wo-wo-wo-wo-wo-wo
My love does it good

I love oh wo… My love
Only my love holds the other key to me
Oh… my love oh… my love
Only my love does it good to… me
Wo-wo-wo-wo-wo-wo
My love does it good

Don't ever ask me why
I never say goodbye to my love
It's understood
It's everywhere with my love
And my love does it good
Wo-wo-wo-wo-wo-wo
My love does it good

My love oh wo… My love
Only my love does it good to… me wo…
Films
---
1973 • Directed by Mick Rock
---
1973 • Directed by Mick Rock
Videos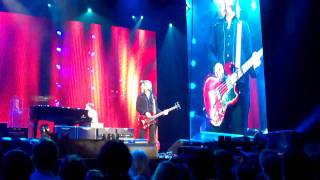 Concert • Dec 03, 2009 in Berlin
Going further
---
Paul McCartney: Music Is Ideas. The Stories Behind the Songs (Vol. 1) 1970-1989
With 25 albums of pop music, 5 of classical – a total of around 500 songs – released over the course of more than half a century, Paul McCartney's career, on his own and with Wings, boasts an incredible catalogue that's always striving to free itself from the shadow of The Beatles. The stories behind the songs, demos and studio recordings, unreleased tracks, recording dates, musicians, live performances and tours, covers, events: Music Is Ideas Volume 1 traces McCartney's post-Beatles output from 1970 to 1989 in the form of 346 song sheets, filled with details of the recordings and stories behind the sessions. Accompanied by photos, and drawing on interviews and contemporary reviews, this reference book draws the portrait of a musical craftsman who has elevated popular song to an art-form.