Spread the love! If you like what you are seeing, share it on social networks and let others know about The Paul McCartney Project.
Song facts
From Wikipedia:
"My Love" is a love song by Paul McCartney and Wings; it was written by Paul McCartney to his first wife Linda. Released on 23 March 1973, the ballad was a number one single, spending four weeks atop the US Billboard Hot 100 chart, and was the most successful track from the Paul McCartney and Wings album Red Rose Speedway (1973).

Recording

The song was recorded live with an orchestra at Abbey Road Studios with Richard Hewson conducting. According to Hewson's recollections, a large number of takes were performed, as the guitar solo was different every time. It contains a guitar solo by the Northern Irish guitarist Henry McCullough, then part of the Wings line-up. McCartney said in 2010 about the solo:

I'd sort of written the solo, as I often did write our solos. And he walked up to me right before the take and said, 'Hey, would it be alright if I try something else?' And I said, 'Er… yeah.' It was like, 'Do I believe in this guy?' And he played the solo on My Love, which came right out of the blue. And I just thought, Fucking great. And so there were plenty of moments like that where somebody's skill or feeling would overtake my wishes.

Chart performance

"My Love" was also released as a single in March 1973, reaching number one on the US Billboard Hot 100 and number nine on the UK Singles Chart. The song also went to number one on the Easy Listening chart, remaining in this position for three weeks. "My Love" was ranked at number five on the Billboard Year-End Hot 100 singles of 1973 chart. The single was certified Gold by the RIAA for sales of over one million copies.

Music video

A promo for the song was shot with the band surrounded by smog in a den with a ceiling window. This promo used an alternate McCartney lead vocal, not heard on any other release of the song. Recent remasters of this promo use the standard album version.

Cover versions

"My Love" has been covered by several vocal artists, including Nancy Wilson, Johnny Gill, Cher, Brenda Lee, Cass Elliott, Margie Joseph, Salena Jones, Mina, Shinehead, Andy Williams, Warren Hill, and Dottie West. There have also been three jazz instrumental cover versions, by Ivan "Boogaloo Joe" Jones, Pieces of a Dream (from 1996 album The Best Of Pieces of a Dream), and Michael Lington (from 2004 album Stay With Me).

Harry Connick Jr. covered the song for his album The Art of McCartney (2014), a tribute album to McCartney.

Corinne Bailey Rae released a cover of the song on The Love E.P. (2011).

In 1974 Lincoln Mayorga included an instrumental version on his LP Lincoln Mayorga & Distinguished Colleagues – Volume III, on the esoteric audiophile label Sheffield Lab, naming the track "The Perfect Song".

An instrumental of the song can be heard during Monica and Chandler's wedding in the American sitcom Friends.
"My Love" was my definitive one for Linda, written in the early days of our relationship, and that came easily.

Paul McCartney – Billboard interview, 2001
Paul McCartney in "Wingspan: Paul McCartney's Band on the Run":
My Love was inspired by Linda. We'd been together a while and were having a great time, and as I sat down at a piano to follow the muse I was thinking about Linda and the song came. It was nice to be able to say, 'Here, I've written this one for you'.

We had an interesting moment on the My Love session. Instead of piecing it together and overdubbing I wanted to record it live with an orchestra. Everyone was ready in Abbey Road studio two, we knew exactly what we would be doing, and then just before the take Henry came over and whispered in my ear 'Do you mind if I try something different on the solo?' I had to make one of those decisions – to stick with what we'd rehearsed or to run with his new idea. At the risk of messing the thing up I went with his idea and he pulled a great new solo out of left field. He really rose to the occasion.

My Love crossed over into the black audience, which I liked because I've always admired black music so much.

My Love was always a very popular song in the live act. I'd see couples putting their arms around each other, which I always thought was a nice romantic moment.
From songfacts.com, interview with Henry McCullough, August 23, 2011:
[…] When it came down to the "My Love" thing, I just felt meself that it was time. I didn't want to play with somebody else if I didn't think it was good enough. And I can't remember what it was I was asked to play, but whatever it was I refused and said that I was going to change the solo. So Paul says, "Well, what are you going to play?" I said, "I don't know." Well, that put the fear of God in him, I think. Because there I am, just me and a 50-piece orchestra in the studio and there's George Martin in the control room and Paul. I knew it was going to be a turning point in some shape or form regardless of what I came up with. I don't use pedals or anything, so I just plugged into the amp and that was it – it was all over and done with very quickly. I went in and they ran the track and I did it once and went back into the control room and there was silence. And I thought I was going to have to do it again or something. But it was not the case.

This was a turning point for me, because I was able to, in later life, look back on it and say, "That's what I did for Paul McCartney. I gave him that solo." But it came from somewhere else and through me to Paul, and this is what flabbergasted him. And not having worked like that before, it was a little new to him. I came out of the studio that day and I was a very happy man, because I had confronted this thing I knew was there, that hadn't quite shown its head. And that was where I left me mark, you know.

Paul said to me last Christmastime in Dublin, the first time we met for 35 years or something, he says, "Henry, I've got to tell you, I cannot go anywhere, or regardless of where I go or what company I'm in, I cannot help but bring up your attitude to 'My Love.'" Which was really nice of him to say. […]
From Something Else!, August 25, 2011:
It was like playing a hand of cards, and having a royal flush. Paul had this particular thing that he wanted me to play. That was the point of no return. I said: 'I'm sorry, I can't do this. I have to be left as the guitar player in the band. I want to have my own input, too.' He says: 'What are you going to do?' I didn't know. I simply said: 'I'm going to change things.' I was half terrified, half excited. I just started playing, and that's how it turned out — just as you hear it. That flabbergasted Paul, and there was just silence for a while. I thought: 'Uh oh, I have to do it again.' Paul came over and said: 'Have you been rehearsing?' (Laughs.) I liked to have that freedom. I wanted to put my cards on the table. He asked me in the band, but I didn't want him to tell me what to play.

Henry McCullough
[about sarky comment by John Lennon] Obviously it was a put-down: 'Paul is the crooner, doing the ballads' – and a lot of that has stuck… I also know from Yoko that John had sat down in other moments and cried when listening to that stuff.

Paul McCartney, from Club Sandwich N°47/48, Spring 1988
Last updated on March 26, 2020
Lyrics
And when I go away
I know my heart can stay with my love
It's understood
It's in the hands of my love
And my love does it good
Wo-wo-wo-wo-wo-wo
My love does it good

And when the cupboard's bare
I'll still find something there with my love
It's understood
It's everywhere with my love
It's understood
It's everywhere with my love
And my love does it good
Wo-wo-wo-wo-wo-wo
My love does it good

I love oh wo… My love
Only my love holds the other key to me
Oh… my love oh… my love
Only my love does it good to… me
Wo-wo-wo-wo-wo-wo
My love does it good

Don't ever ask me why
I never say goodbye to my love
It's understood
It's everywhere with my love
And my love does it good
Wo-wo-wo-wo-wo-wo
My love does it good

My love oh wo… My love
Only my love does it good to… me wo…
Films
---
1973 • • Directed by Mick Rock
---
1973 • • Directed by Mick Rock
Videos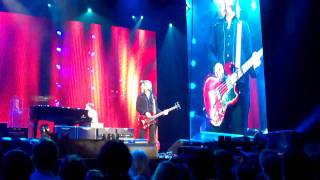 Concert • Dec 03, 2009 in Berlin