Spread the love! If you like what you are seeing, share it on social networks and let others know about The Paul McCartney Project.
Song facts
From Wikipedia:
"Temporary Secretary" is a song by Paul McCartney, featured on his 1980 album McCartney II. In 2013, Rolling Stone Magazine ranked it the #36 all-time McCartney post-Beatles song, calling it a "cult favorite" and an "oddly catchy electro-pop nugget, about a slightly creepy-sounding guy looking to hire a temp." In 2014, "Temporary Secretary" was ranked the 167th greatest song of all time by critics of NME magazine. They described it as "wonky electro-pop that didn't sound so much ahead of its time as out of it altogether."

Background

"It's like a disposable secretary, and it struck me as being funny. The song is written from the point of view of a fellow who just wants a disposable secretary, and he's writing to a bureau to try and get one. I just like the idea. I just thought it was funny, you know, asking for a temporary secretary rather than a secretary. … That sound on the track, which is like a space typewriter, is a sequence machine. I used that to give me a tempo and, again, I just made the song up as I went along. It was a little influenced by Ian Dury." – Paul McCartney

McCartney later claimed that he did, at some points, have temporary secretaries. He also noted that there was, in fact, a Mr. Marks.

"I did have temporary secretaries. After I left Apple I still had business stuff coming up, so in trying to figure out how I could cope with that there were a couple of times I just grabbed someone to just put my letters in order and help. But that track isn't about a specific person. What it's about is, there was a guy called Alfred Marks, he had the Alfred Marks Bureau – he had the same name as a comedian on the radio when I was growing up. So it was just the funny paradox of seeing adverts for the Alfred Marks Bureau, the idea of some comedian having a bureau was just funny. It said 'Temporary Secretary', and I thought, that's a kind of funky thought. Then there was the secretary thing: take a letter Miss Smith, sit on my lap… all that kind of stuff." – Paul McCartney, The Quietus, 2011

Release

"Temporary Secretary" was released as a third single from the album only in a form of 12″ single, along with the ten-minute "Secret Friend" as its b-side, limited to 25000 copies and therefore failed to chart. A 7″ single exists only as a demo for radio stations. It exemplifies both the whimsical nature of the album and McCartney's use of synthesizers and other electronics in the creation of the album. McCartney claims that he viewed the song as an "experiment." It was never performed live until more than thirty years later at the O2 Arena in London on May 23, 2015.

Reception

Music website Allmusic.com said of the album, McCartney II:

"In retrospect, the record is muddled and confused, nowhere more so than on the frazzled sequencing of "Temporary Secretary," where McCartney spits out ridiculous lyrics with a self-consciously atonal melody over gurgling synths. Things rarely get worse than that…."

In contrast, music website popmatters.com said, in reviewing the 2011 reissue of McCartney II:

" "Temporary Secretary" is a manic, futuristic laser blast with an actual melody simmering underneath. It would be pointless to compare it to anything McCartney had ever done before, and would be equally so to compare it to anyone else as it couldn't possibly be anyone else. More than any other song on either eponymous album, "Temporary Secretary" illustrates the complex nature of Paul McCartney's musical output…"

Beatles biographers Roy Carr and Tony Tyler describe the song as being built from an initial, repetitive synthesizer theme, with more substantial instrumental portions added over time, and finally an insubstantial vocal. They complain that the song was done without commitment and that it "grows irritating towards the end."
From paulmccartney.com, June 29, 2016:
'Temporary Secretary' has been met with critical acclaim from DJs on the circuit, who have praised Paul for the track's futuristic and ahead-of-its-time synthy sound. Our question this month comes from David in the USA who wants to know whether this was intentional…

David asks: "How did you conceive of and create that great, rapid arpeggiated keyboard loop on 'Temporary Secretary'? Were you intentionally trying to create a certain 'mood / atmosphere' for the song?"

We managed to grab Paul in between his hectic touring schedule to ask him. He replied: "Thanks for your question, David. The truth is I was messing around with a device known as a sequencer, which – as its title implies – allows you to create a sequence of notes, which will then repeat. Whilst experimenting I came up with the notes which form the introduction of 'Temporary Secretary' and it seemed to me to be a good basis for the song."
'Temporary Secretary' just got picked up a couple of years ago by a DJ in Brighton, so that became like a club sensation, going mad in all the clubs, so I love that and that's the sequencer aspect.

Paul McCartney, from McCartney II Archive Collection, 2011
Also worth noting:
A rough mix [A1] is available, in a slightly sped-up version (3:05 instead of 3:13 for the official version on "McCartney II")
In December 2003, to promote New Religion presents A Secret History, a collection of electronic music recorded in the eighties and featuring Temporary Secretary, Paul McCartney authorized DJ Radio Slave to create an extended dance mix released on a promotional-only 12-inch single (limited to 500 copies).
In June 2004, Uncut Magazine issued a compilation titled Something For The Weekend – Paul McCartney's Glastonbury Groove, containing a shorter edit of the Radio Slave mix.
Last updated on May 21, 2020
The book "The Lyrics: 1956 to the Present", published in 2021, covers Paul McCartney's early Liverpool days, the Beatles, Wings, and solo careers, by pairing the lyrics of 154 of his songs with first-person commentaries of the circumstances in which they were written, the people and places that inspired them, and what he thinks of them now.
"Temporary Secretary" is one of the 154 songs covered.
Lyrics
Mister Marks can you find for me
Someone strong and sweet fitting on my knee
She can keep her job if she gets it wrong
Ah, but Mister Marks I won't need her long
All I need is help for a little while
We can take dictation and learn to smile
And a temporary secretary is what I need for to do the job

I need a
Temporary secretary, temporary secretaire
Temporary secretary, temporary secretary

Mister Marks could you send her quick
'Cause my regular has been getting sick

I need a
Temporary secretary, temporary secretary

Mister Marks I can pay her well
If she comes along and can stay a spell
I will promise now that I'll treat her right
And will rarely keep her 'til late at night

I need a…

She can be a belly dancer
I don't need a true romancer
She can be a diplomat
But I don't need a girl like that
She can be a neurosurgeon
If she's doin' nothin' urgent,
What I need's a temporary, temporary secretary

I need a, I need a
Temporary secretary, temporary secretary
Temporary secretary, temporary secretary
Temporary secretary, temporary secretaire

Now Mister Marks when I send her back
Will you please make sure she stays on the right track

SPOKEN:
Well, I know how hard it is for young girls these days
in the face of everything to stay on the right track

What I need's a temporary, temporary secretary
Temporary secretary
I need a
Temporary secretaire, temporary secretary,
Temporary secretary
I need a
Temporary secretary, temporary secretary,
Temporary secretary
Videos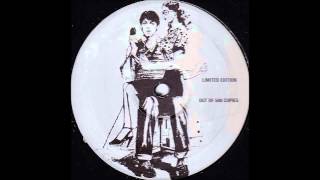 Album • Temporary Secretary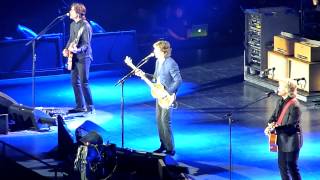 Concert • May 23, 2015 in London
Live performances
"Temporary Secretary" has been played in 70 concerts and 3 soundchecks.
Latest concerts where Temporary Secretary has been played
---
---
---
---
---
---
Going further
---
Paul McCartney: Music Is Ideas. The Stories Behind the Songs (Vol. 1) 1970-1989
With 25 albums of pop music, 5 of classical – a total of around 500 songs – released over the course of more than half a century, Paul McCartney's career, on his own and with Wings, boasts an incredible catalogue that's always striving to free itself from the shadow of The Beatles. The stories behind the songs, demos and studio recordings, unreleased tracks, recording dates, musicians, live performances and tours, covers, events: Music Is Ideas Volume 1 traces McCartney's post-Beatles output from 1970 to 1989 in the form of 346 song sheets, filled with details of the recordings and stories behind the sessions. Accompanied by photos, and drawing on interviews and contemporary reviews, this reference book draws the portrait of a musical craftsman who has elevated popular song to an art-form.