Spread the love! If you like what you are seeing, share it on social networks and let others know about The Paul McCartney Project.
Song facts
From End The Silence, December 2017:
'Be-Bop-A-Lula' was the very first record I bought. I saved up all my pocket money and I went down to the city centre in Liverpool, there was a little shop called 'Currys' and it was really an electrical goods store but in the back, there was a little record booth and I knew I could get the record there. So that was it and I took it home and played it to death. I can't imagine growing up without listening to music, because I was so lucky, you know. To imagine not having music is terrifying.

Paul McCartney
From Wikipedia:
"Be-Bop-A-Lula" is a rockabilly song first recorded in 1956 by Gene Vincent and His Blue Caps.

The writing of the song is credited to Gene Vincent and his manager, Bill "Sheriff Tex" Davis. There is evidence that the song was started in 1955, when Vincent was recuperating from a motorcycle accident at the US Navy hospital in Norfolk, Virginia. There, he met Donald Graves, who supposedly wrote the words to the song while Vincent wrote the tune. (Cf. "Money Honey" by the Drifters, 1953). The song came to the attention of Davis, who allegedly bought out Graves' rights to the song for some $50 (sources vary as to the exact amount), and had himself credited as the lyric writer. Davis claimed that he wrote the song with Gene Vincent after listening to the song "Don't Bring Lulu", and Vincent himself sometimes claimed that he wrote the words inspired by a comic strip, "Little Lulu". "Be-Bop-A-Lula" is #103 in the list of the 500 greatest songs of all time. […]

The Beatles played the song regularly during their early years, and a raucous live version (complete with guest vocals) can be heard on Live! at the Star-Club in Hamburg, Germany; 1962. John Lennon later recorded the song for his 1975 album Rock 'n' Roll, and it was used as the B-side for the Apple single release of "Ya Ya" in Germany later that year. Paul McCartney performed an acoustic version on the 1991 live album Unplugged (The Official Bootleg).
I had a friend at the Liverpool Institute called Cass, and he was in a group called Cass and the Cassanovas. He was one of the first guys I knew who got into it semi-professionally. The rest of us played around in our houses, and learnt songs, but he was on a Jim Dale Skiffle Contest at the Liverpool Empire, and me and some other guys from the school went to support him. They came second or third. He was the first rock idol to come from our midst! And at school one day he said, 'There's this great record by Gene Vincent, called "Be-Bop-A-Lula"', so I wrote it down and went to Currys record shop after school and ordered it. That record is purple in my mind, the whole song is purple, because of the purple Capitol label. It was a 78. We threw that into Unplugged at the last minute: I started doing it at rehearsals and Wix really liked the idea."

Paul McCartney, from Club Sandwich 58, Summer 1991
Though covered by the Everly Brothers, Jerry Lee Lewis, John Lennon and now – for the first time – Paul McCartney, these musicians and the many others who have recorded 'Be Bop-A-Lula' willingly tug their forelocks to the inimitable original, taped in Nashville on 4th May 1956 by it's co-composer Gene Vincent, backed by his Blue Caps. One of the hardiest of all rock and roll perennials, it remains a classic period piece. This was also the first record that Paul ever bought.

From Unplugged liner notes
The first song I ever bought was Gene Vincent's 'Be-Bop-A-Lula'. Those are the kind of things that justs sent tingles up your spine. To me [rock 'n' roll] seemed like a whole new direction of music… All these people in crazy clothes with guitars and slicked-back hair!

Paul McCartney, in Desert Island Discs, 1982
You must feel so fucking blessed to have had the life you've had.

I'd be mad not to feel blessed, wouldn't I? I've been a lucky bugger and so many things that happened to me were pure chance. So much of it was an amazing accident. If I'd never gone to that fete behind the church and met John in 1957. If I hadn't known the chords to "Twenty Flight Rock" and "Be Bop A Lula" which got me into the band, I might have got the elbow and ended up playing in some little pub band. And so might John, George and Ringo.

That's the miracle of it right there. The chances of those four people coming together as they did. I'm lucky, very fucking lucky, just to still be vibing and loving life and holding onto my enthusiasm for things.

Paul McCartney – From interview with UNCUT, July 2004
Last updated on September 3, 2023
Lyrics
Well
Be-bop-a-lula she's my baby
Be-bop-a-lula don't mean maybe
Be-bop-a-lula she's my baby
Be-bop-a-lula don't mean maybe
Be-bop-a-lula she's my baby doll
My baby doll my baby doll

Well
She's the one in the red blue jeans
She's the queen of all the team
She's the woman walkin' that I know
She's the woman that loves me so

Well
Be-bop-a-lula she's my baby
Be-bop-a-lula don't mean maybe
Be-bop-a-lula she's my baby
Be-bop-a-lula don't mean maybe
Be-bop-a-lula she's my baby doll
My baby doll my baby doll

Well
Be-bop-a-lula she's my baby
Be-bop-a-lula don't mean maybe
Be-bop-a-lula she's my baby
Be-bop-a-lula don't mean maybe
Be-bop-a-lula she's my baby doll
My baby doll my baby doll

Well
She's the woman who's got that beat
She's the woman with the flying feet
She's the woman walk around the store
She's the woman gives me more more more

Be-bop-a-lula she's my baby
Be-bop-a-lula don't mean maybe
Be-bop-a-lula she's my baby
Be-bop-a-lula don't mean maybe
Be-bop-a-lula she's my baby doll
My baby doll my baby doll
Officially appears on
---
Videos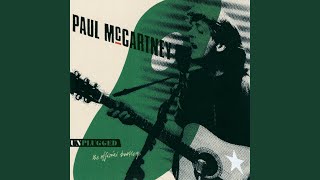 Album • Unplugged (The Official Bootleg)