Related sessions
This song has been recorded during the following studio sessions
---
---
---
---
---
---
---
Spread the love! If you like what you are seeing, share it on social networks and let others know about The Paul McCartney Project.
Song facts
From Wikipedia:
"Your Mother Should Know" is a song by the Beatles from their 1967 record Magical Mystery Tour, released in the US as an LP on 27 November 1967 and in the UK as a double-EP on 8 December 1967. It was written by Paul McCartney (credited to Lennon–McCartney) based on a line from the screenplay for A Taste of Honey.

In the Magical Mystery Tour film

McCartney said he wrote it as a production number for the movie Magical Mystery Tour, supporting an old-fashioned dance segment that starts with the Beatles coming down a grand staircase in white tuxedoes. After they descend, Boy Scouts, RAF cadets and other groups march through. John Lennon, George Harrison, and Ringo Starr are wearing red carnations, while McCartney's is black. The carnation difference contributed to the "Paul is dead" urban legend. […]

Recording

The song was recorded in four sessions on 22 and 23 August, and on 16 and 29 September 1967. The remake from 16 September was left unused, and overdubs layered on the best take from 22 August. 22 and 23 August sessions took place overnight at Chappell Recording Studios because EMI Studios was unavailable, but all the remaining sessions were at Abbey Road. Mixing took place on 29 & 30 September, and 7 November 1967. It was during the latter Chappell Studio session that the group's manager Brian Epstein made his last visit to a Beatles recording session before his death on 27 August 1967.

Live performances

Paul McCartney performed the song live for the first time by any Beatle on 4 May 2013 at the Estádio Mineirão, Belo Horizonte, Brazil and during the Spring and Summer parts of his 2013 Out There! Tour, up to and including the show on 14 August 2013 at Mosaic Stadium, Regina, Canada, and dropped it from the set list afterwards.
Paul McCartney in "Many Years From Now", by Barry Miles:
I wrote it in Cavendish Avenue on the harmonium I have in the dining room there. My Aunty Jin and Uncle Harry and a couple of relatives were staying and they were in the living room just across the hall, so I just went to the dining room and spent a few hours with the door open with them listening. And I suppose because of the family atmosphere Your Mother Should Know came in. It's a very music-hall kind of thing, probably influenced by the fact that my Aunty Jin was in the house.
From The Usenet Guide to Beatles Recording Variations:
[a] mono 2 Oct 1967.
UK: Parlophone MMT 1 (EP) Magical Mystery Tour 1967.
US: Capitol MAL 2835 Magical Mystery Tour 1967.
CD: EMI EP box set 1991.
[b] stereo 6 Nov 1967.
UK: Parlophone SMMT 1 (EP) Magical Mystery Tour 1967.
US: Capitol SMAL 2835 Magical Mystery Tour 1967.
CD: EMI CDP 7 48062 2 Magical Mystery Tour 1987, EMI EP box set 1991.

Mono [a] has "phasing" in the last verse, not in stereo [b]. The right and left channels of stereo in [b] switch twice as a special effect; the 1988 stereo mix made for the Magical Mystery Tour home video does not do so.
Last updated on December 1, 2016
Lyrics
Let's all get up and dance to a song
That was a hit before your mother was born
Though she was born a long, long time ago
Your mother should know
Your mother should know

Sing it again
Let's all get up and dance to a song
That was a hit before your mother was born
Though she was born a long, long time ago
Your mother should know
Your mother should know

Lift up your hearts and sing me a song
That was a hit before your mother was born
Though she was born a long, long time ago
Your mother should know
Your mother should know
Your mother should know
Your mother should know

Sing it again
Da da da da da da da da da da da
Da da da da da da da da
Though she was born a long, long time ago
Your mother should know
Your mother should know
Videos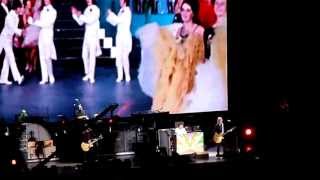 Concert • May 06, 2013 in Goiania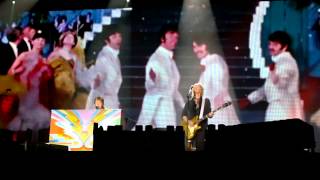 Concert • May 09, 2013 in Fortaleza