Related sessions
This song has been recorded during the following studio sessions
---
---
---
---
Spread the love! If you like what you are seeing, share it on social networks and let others know about The Paul McCartney Project.
Song facts
From Wikipedia:
"All Together Now" is a song by the Beatles written primarily by Paul McCartney and credited to Lennon–McCartney. The song was recorded during the band's Magical Mystery Tour period, but remained unreleased until it was included on the Yellow Submarine soundtrack. It was released as a single in 1972 in European countries such as France and Germany, backed by "Hey Bulldog".

McCartney described the song as a children's sing-along with the title phrase inspired by the music hall tradition of asking the audience to join in. He also described a "subcurrent" in the song, a dual-meaning where "we are all together now." According to music critic Tom Maginnis of AllMusic, McCartney created the song "to match the same light-hearted spirit" of "Yellow Submarine".

"All Together Now" appears in an animated sequence in the film Yellow Submarine, and is also introduced by the Beatles themselves in a final live-action scene of the film. During the latter scene, translations of "All Together Now" into various languages appear written on-screen.

Recording

The track was recorded on 12 May 1967 at Abbey Road Studios and mixed the same day, but was not released until 13 January 1969, when it appeared on the soundtrack album. George Martin was absent from this session, leaving recording engineer Geoff Emerick in charge of the control room. The song took less than six hours to record and was recorded in nine takes, the last of which was selected for overdubs

Personnel

Mark Lewisohn reported that the "party-style" backing vocals were provided by "whoever happened to be around".

Live performances

Paul McCartney performed the song live for the first time by any Beatle on 4 May 2013 at the Estádio Mineirão, Belo Horizonte, Brazil. He subsequently played it throughout his 2013–15 Out There tour.
Paul McCartney in "Many Years From Now", by Barry Miles:
It's really a children's song. I had a few young relatives and I would sing songs for them. I used to do a song for kids called Jumping Round The Room, very similar to All Together Now, and then it would be 'lying on your backs', all the kids would have to lie down, then it would be 'skipping round the room', 'jumping in the air'. It's a play away command song for children. It would be in G, very very simple chords, only a couple of chords, so that's what this is. There's a little subcurrent to it but it's just a singalong really. A bit of a throwaway.
From The Usenet Guide to Beatles Recording Variations:
[a] stereo 29 Oct 1968.
UK: Apple PCS 7070 Yellow Submarine 1969.
US: Apple SW 153 Yellow Submarine 1969.
CD: EMI CDP 7 46445 2 Yellow Submarine 1987.
[a1] mono made from [a] 1968.
UK: Apple PMC 7070 Yellow Submarine 1969.

A mono mix made 12 May 1967 was used only in the original Yellow Submarine film print.
Last updated on November 30, 2016
Lyrics
One two three four
Can I have a little more
Five six seven eight nine ten
I love you

A B C D
Can I bring my friend to tea
E F G H I J
I love you

Bom bom bom bompa bom
Sail the ship Bompa bom
Chop the tree bompa bom
Skip the rope bompa bom
Look at me

All together now
All together now
All together now
All together now
All together now
All together now
All together now
All together now

Black white green red
Can I take my friend to bed
Pink brown yellow orange and blue
I love you

All together now
All together now
All together now
All together now
All together now
All together now
All together now
All together now
All together now
All together now
All together now
All together now
All together now
All together now
All together now
All together now
Bom bom bom bompa bom
Sail the ship Bompa bom
Chop the tree bompa bom
Skip the rope bompa bom
Look at me

All together now
All together now
All together now
All together now
All together now
All together now
All together now
All together now
All together now
All together now
All together now
All together now
All together now
All together now
All together now
All together now
Videos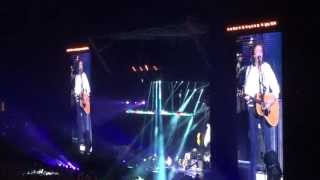 Concert • May 04, 2013 in Belo Horizonte