Spread the love! If you like what you are seeing, share it on social networks and let others know about The Paul McCartney Project.
Song facts
From Wikipedia:
"Hi, Hi, Hi" is a song written by Paul and Linda McCartney and performed by Wings. It was released as a double A-side single with "C Moon" in 1972. The song was recorded around the same time as "C Moon", in November 1972.

The single peaked at number five in the United Kingdom and at number 10 in the United States in January 1973. The song became a staple of Wings' live shows in the 1970s.

In the UK, the song was banned by the BBC for its sexually suggestive lyrics. The BBC also assumed that the title phrase, "We're gonna get hi, hi, hi" was a drug reference. The specific lyrics objected to is the apparent phrase "get you ready for my body gun"; McCartney has said that the correct lyrics are "get you ready for my polygon", an abstract image, and later said, "The BBC got some of the words wrong. But I suppose it is a bit of a dirty song if sex is dirty and naughty. I was in a sensuous mood in Spain when I wrote it."
From Ultimate Classic Rock:
While controversy seemed to follow John Lennon on a daily basis in the early-70s, it was not a foreign concept to his former Beatles band mate Paul McCartney either. In early 1972, McCartney and his band Wings, released the defiantly political single, 'Give Ireland Back To The Irish.' Dipping into controversial waters out of character for McCartney, and though the single was strong and hard-rocking, the BBC thought it was too much, and promptly banned it.

A few months later, McCartney slapped back and released a new single, a cover of the children's song 'Mary Had A Little Lamb,' practically daring the powers that be to find something controversial with that. By year's end, Paul was back for another round. The rollicking single, 'Hi Hi Hi' was, in title alone, almost taunting the BBC. It was not only the seemingly obvious drug references that got them all worked up this time, but also the suggestive sexual content that got this single banned in December 1972.

The unforgettable line 'get you ready for my body gun' was too much for the U.K. airwaves. In later years, McCartney claimed the line was actually 'polygon' not 'body gun.' And if you believe that, good luck to you! Despite, or perhaps due to the controversy, the record hit the U.K. and U.S. Top 10. Over the years the song seemed all but forgotten, but as recently as this year, McCartney has been performing 'Hi Hi Hi' in concert.
From Rolling Stone, interview January 31, 1974:
"Hi Hi Hi" was the one that brought you back to the Top Ten, after "Give Ireland Back to the Irish" and "Mary Had a Little Lamb," although in Britain they played "C Moon" because "Hi Hi Hi" was banned by the BBC.

I thought the "Hi Hi Hi" thing could easily be taken as a natural high, could be taken as booze high and everything. It doesn't have to be drugs, you know, so I'd kind of get away with it. Well, the first thing they saw was drugs, so I didn't get away with that, and then I just had some line "Lie on the bed and get ready for my polygon."

The daft thing about all of that was our publishing company, Northern Songs, owned by Lew Grade, got the lyrics wrong and sent them round to the radio station and it said, "Get ready for my body gun," which is far more suggestive than anything I put. "Get ready for my polygon," watch out baby, I mean it was suggestive, but abstract suggestive, which I thought I'd get away with. Bloody company goes round and makes it much more specific by putting "body gun." Better words, almost.

It made it anyway in the States.

Yeah, well, the great laugh is when we go live, it makes a great announcement. You can say "This one was banned!" and everyone goes "Hooray!" The audience love it, you know. "This next one was banned," and then you get raving, because everyone likes to. Everyone's a bit anti-all-that-banning, all that censorship. Our crew, our generation, really doesn't dig that stuff, as I'm sure you know.

Paul McCartney
Paul McCartney in "Wingspan: Paul McCartney's Band on the Run":
Hi Hi Hi was a song of the times. As anyone knows about that period, drugs were fairly widespread. Looking back on it now I have a completely different perspective, but at the time it seemed to us that everyone was doing it. To me, Hi Hi Hi was a perfectly harmless little rock and roll song – 'we're gonna get high-high-high'. In my mind, if someone gets drunk then they're getting high. But because of the times it was equated with pot, and so, again, the bbc banned it. They played the other side, C Moon. That was a safer track, a nice track, but Hi Hi Hi used to go down better at concerts.

The drug scene was less harmful than it was going to get. Shortly after this period people were doing much harder drugs, and you were seeing casualties. Looking back on it, I realise we were lucky to get through it.

Quite a few bands around at that time were into drinking, and though it's not really my thing. Wings got shares into that for a while in the beginning. With the Beatles I've never drunk before going on stage – anything like that was done afterwards. But there was a little period in the 1970s where it seemed like a cool thing to do and we did it. It was Iike growing up, but I know we didn't play so well if we were drunk.
Last updated on October 29, 2018
Lyrics
Well! When I met you at the station
You were standing with a bootleg in your hand
I took you back to my little place for a taste
Of a multi-coloured band.

We're gonna get hi hi hi, the night is young
She'll be my funky little mama
Gonna rock it and we've only just begun.

We're gonna get hi hi hi with the music on.
Won't say bye-bye bye-bye, bye-bye, bye-bye, bye-bye
'Til the night has gone
I'm gonna do it to you, gonna do it sweet banana
You'll never give up.
We're going to get hi, hi, hi, in the midday sun.

Well, we'll take off your face,
Recover from the trip you've been on
I want you to lie on the bed,
Get you ready for my polygon.

I'm gonna do it to you, gonna do it sweet banana,
You'll never give up
Yes! Go like a rabbit, gonna grab it,
Gonna do it 'til the night is done.

We're gonna get hi hi, hi, with the music on.
Won't say bye-bye, bye-bye, bye-bye
'Til the night has gone
I'm gonna do it to you, gonna do it, sweet banana
You'll never give up

We're gonna get, we're gonna get hi hi hi,
We're gonna get hi, hi, hi,
We're gonna get hi, hi, hi
In the midday sun
Films
---
1972 • • Directed by Steven Turner
---
Videos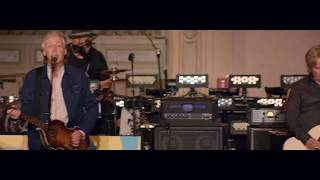 Concert • Sep 07, 2018 in New York