Spread the love! If you like what you are seeing, share it on social networks and let others know about The Paul McCartney Project.
Song facts
"Lord Of The Reedy River" is a song written by Donovan, and recorded by Mary Hopkin for her debut album "Post Card" released in 1969. Paul McCartney produced the whole album and played acoustic guitar on this track.
'Lord Of The Reedy River' is a tranquil ballad, based on the classical myth of Leda and the Swan, which Paul selected to be the first track on the original Post Card vinyl. It was a bold opener and far from obvious: a slow burner on which Mary exudes an alluring, dusky grace.

From the liner notes of the 2010 reissue of "Post Card"
Oh, this is a beautiful song. When I was recording it, I felt as if I was in a dream floating along. It gives you that kind of feeling. Paul and Don sat there on guitar and I sang it as softly as I could.

Mary Hopkin – From New Musical Express, February 22, 1969
On that first album, you sang Donovan's acoustic ballad "Lord Of The Reedy River."

I loved that. The three of us just sat there, it was all done live, and I sang direct from Donovan's lyric book, where he had just printed the words out. It was lovely, and that's the way I would've liked to work. I don't think there were any of their songs on Post Card, but as soon as I met Benny Gallagher and Graham Lyle, we clicked. We were obviously on the same wavelength.

Mary Hopkin – Interview with Goldmine Magazine, 1992
The three songs by Donovan are among the favourites on the LP… I like Donovan's songs very much. One is 'Happiness Runs.' It's just about happiness — a lighthearted song with orchestral accompaniment. But I also play guitar all the way through. 'Voyage Of The Moon' is a typical lovely Donovan song. This features two guitars behind the vocal. They're played by Paul McCartney and Donovan. I don't play here. I just sing. Donovan does a bit of singing from time to time. If you listen hard you can hear him. And Paul also plays a little bit on other tracks. The third Donovan song is called 'Lord Of The Reedy River', again accompanied by Donovan and Paul. This is a very soft and dreamy thing.

From Melody Maker – December 28, 1968
Last updated on September 25, 2021
Lyrics
She fell in love with a swan
Her eyes were filled with feathers
He filled her with song
In the reedy river
In the reedy river

She in her boat long hours
He in his royal plumage
She threw him some flowers
In the reedy river
In the reedy river

Black was the night and starry
She loosened off her garments
And let fall her hair
In the reedy river
In the reedy river

Sadly they mourn inside
Wast in evening twilight
Two swans glide and fly
O'er the reedy river
O'er the reedy river

She fell in love with a swan
Videos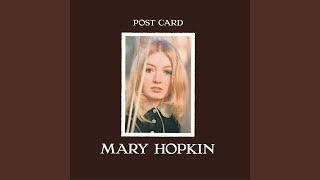 Album • Post Card (2010 remaster)
Live performances
Paul McCartney has never played this song in concert.