Spread the love! If you like what you are seeing, share it on social networks and let others know about The Paul McCartney Project.
Song facts
"The Game" is a track composed by George Martin, and recorded by Mary Hopkin for her debut album, "Post Card", produced by Paul McCartney.
The most enigmatic selection on Post Card is 'The Game'. It is an evocative work, with deceptively simple words and music, both written by George Martin. He recalled the song for his book Playback but disclosed little: "I'd written a tune, and when I played it to Paul he said he liked it and wanted to use it for Mary. I then went away and concocted a lyric — which was rather rare for me — and she recorded it as 'The Game'. I played piano on the track too." Mary adds: "George arranged it as well. He is lovely, it's a beautiful song, and it was a privilege to work with him."

From the liner notes of the 2010 reissue of "Post Card"
I nearly cried when I did this song, because I got so annoyed with myself. It's a beautiful, beautiful song, and it deserves to be sung well or not at all. I tried it so many times, and I was so upset about it. I knew I could do it – but I didn't do it, and I now think I'll never do it the way I would like to. I was probably all-keyed up and too involved in it, so it didn't come out naturally.

Mary Hopkin – From New Musical Express, February 22, 1969
Last updated on September 26, 2021
Lyrics
I wondered why
All the good things happened to pass me by
Life was the game we?played
Mm-mm

You?came along
And you?touched my heart with your lonely?song
This was the game we played
Mm-mm
Mm-mm

So afraid
Frightened that one day your love would slip away from me

But then you'd gone
And the good things happened to turn out wrong
Life was the game you played your way
Mm-mm

Losing my heart I know
I let you go
Videos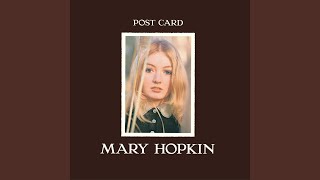 Album • Post Card (UK version - Stereo)
Live performances
Paul McCartney has never played this song in concert.