Spread the love! If you like what you are seeing, share it on social networks and let others know about The Paul McCartney Project.
Song facts
From Wikipedia:
"Lullaby of the Leaves" is a musical composition by composer Bernice Petkere and lyricist Joe Young. It is a Tin Pan Alley song first performed in 1932 and is considered a jazz standard. It was a big hit for George Olsen and his Music in 1932 and it has since been recorded numerous times in its lyrical version and as an instrumental. […]
Mary Hopkin covered "Lullaby Of The Leaves" on her 1969 album "Post Card" produced by Paul McCartney.
This is another song I hadn't really tried before I enjoyed doing it, but now, of course, I have to sit back and worry. It was Paul's idea to do it. Do you think it succeeds? I wasn't really too keen at first, because I can't think of myself as this type of singer.

The thing is I don't think my voice is old enough for this kind of song, or I'm old enough. Maybe it doesn't come off because of that. But I know I can feel a song like this.

It's terrible knowing what you want to do, and not being able to do it. I want people to like what I sing, but most af all I want to satisfy myself. I want to try so many things, but I get scared in case I cant and I make a fool of myself.

Mary Hopkin – From New Musical Express, February 22, 1969
Last updated on September 24, 2021
Lyrics
Cradle me where southern skies
Can watch me with a million eyes
Oh, sing me to sleep
Lullaby?of?the leaves

Cover me?with Heaven's blue
And let me dream?a dream or two
Oh, sing me to sleep
Lullaby of the leaves

Ooh-ooh
Ooh-ooh
Ooh, ooh-ooh, ooh-ooh, ooh, ooh
Ooh-ooh, ooh-ooh, ooh-ooh, ooh-ooh
Ooh-ooh, ooh, ooh, ooh-ooh

Don't I feel it in my soul
And don't I know I've reached my goal
Oh, sing me to sleep
Lullaby of the leaves

Ooh-ooh
Ooh-ooh
Ooh
Ooh
Videos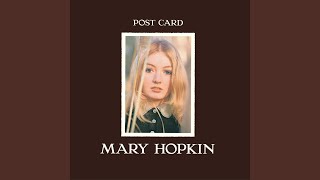 Album • Post Card (UK version - Stereo)
Live performances
Paul McCartney has never played this song in concert.