Spread the love! If you like what you are seeing, share it on social networks and let others know about The Paul McCartney Project.
Song facts
A Beatlesque pop confection with tasty production by modernist Mark Ronson

RollingStone, September 2013
"New" is a song and the first single from McCartney's 2013 eponym album, produced by Mark Ronson. The song was written at McCartney's home in London:
It was a late night, and I was at home in London and I got my dad's old piano that used to be at our house in Liverpool. It's a great sound and obviously the whole vibe, because it was my dad's. I played it as a kid, and he played it, it's a nice instrument to play. So I just came up with that. And pretty much just wrote what you hear in the song, except for the third verses and the middle 8 and things, but it kind of wrote itself. When you do that, that's going to be you. That one didn't feel like it needed much. And I brought it to Mark [Ronson] and we kind of got on with it. Tried a lot of stuff. I had a very specific piano and harpsichord mix trying to get like a hybrid sound. So we followed that. He is very receptive to ideas. And I don't think it hurts that he was a Beatles fan.

Paul McCartney, interviewed by Zane Lowe
"New" is a love song, written Nancy Shevell, Paul's third wife, in mind:
You know there are so many ways to talk about meeting someone and falling for someone. It just occurred to me, when I was writing this song, that I could say 'then we were new'. There we were, going along and then we were new. It was just another way that I thought was kind of, hopefully, original to say 'then we were in love'. I'm really writing it about Nancy. But I do love that thing about songs. When you release them, they become people's property. They're not mine anymore. So if someone puts a meaning on one of my songs that suits them, then that's great.

Paul McCartney, interviewed by Zane Lowe
We wanted to put it out as the first track from the album, because it's a summer, drive along song. I can imagine driving the motorway while this one is blasting from the car speakers. (…) When I play to people the (new) album and this one comes along, they go "Oh this is you!" (…) So yeah, people do point out that it's very me. And I must say, when I wrote it, I thought that. I thought "Okay, this is me, writing songs that I'm known for".

Paul McCartney
Mark Ronson is one of four producers with whom McCartney has been working on his new album. The two have known each other on a friendly basis and Ronson also acted as a DJ at the wedding of Paul and Nancy.
Mark's work with Amy Winehouse was sensational, so I knew he'd be good. He knows his music, he knows what he likes and the two of us together took the song and tried to put the maximum vibe into it. We had a lot of fun. He brought expertise, energy, enthusiasm and the odd laugh or two. (…) I said 'I think we can do this one well together. You've got a good pop sensibility', although I don't like the word 'pop'. And he loved the song and then we kind of put the brass on it which is a little bit of his trademarks. So suddenly there it was, it all came together you know. We had the track.

Paul McCartney about working with Mark Ronson on the song "New"
It was just such an instant classic. I said, 'I would love to work on that song with you', and that's how it started. It was a masterclass in learning how to put together a fucking incredible song – just watching his mind work. I was definitely surprised by how inspired he still is. It would be so easy for someone at this point in his career to go in, mess around, not necessarily phone it in, but it's so inspiring how brimming with ideas he is the entire time he is in the studio. (…) There's a certain kind of rhythm on, say, Penny Lane and Got To Get You Into My Life which is also on New. But it's really hard to get it right, to get the right feel, because it's Paul's own personal groove. In the end we had to get his live band in to play on the track, because it's so difficult to follow. Once he picks up that bass, his rhythmic sensibilities also kick in. Watching him in the studio was a masterclass in harmony and arrangement.

Mark Ronson
From Wikipedia:
The song appears in both the opening and the end credits of the 2013 animated film Cloudy with a Chance of Meatballs 2. […]

"New" was greeted positively by critics and the musical press. As well as being selected as BBC Radio 2's Record of the Week and placed on their A-list, the track was greeted as the "Track of the Day" by Mojo which praised its "doe-eyed optimism, irresistible melody" and "orchestrated pop arrangements". Rolling Stone's Will Hermes, praised its "bouncy harpsichord-laden melody", giving it a four-star rating and drawing comparisons to the Beatles' "Got to Get You into My Life", a view shared by The Daily Telegraph which described it as a "jaunty, Beatles-esque stomp".
From RollingStone, September 13th 2013:
Paul McCartney offers a glimpse of what it's like to be Paul McCartney in a lyric video for "New," his latest single (and the title of his forthcoming album). The lyrics flash on the screen over scenes of McCartney onstage performing and soaking in applause, traveling to gigs with police escorts and greeting fans, along with a quick look at him driving a golf cart backstage and leaving a guitar pick on Elvis Presley's grave at Graceland.
From The Examiner, September 14th 2013:
"It was totally impromptu. We hadn't sung it since we recorded it together months earlier," [Brian Ray] says. "We simply joined in as we normally do before taking the stage with Paul, this time singing 'New' without practicing it beforehand."

McCartney added the video to YouTube earlier this week. It features Ray, Abe Laboriel Jr., Paul "Wix" Wickens, Rusty Anderson and McCartney singing the song. Anderson also strums acoustic guitar during the impromptu performance, which was taped just prior to the band's Regina, Canada, performance on the just concluded segment of their Out There! tour.
Last updated on May 29, 2019
Lyrics
Don't look at me
It's way too soon to see
What's gonna be, don't look at me
All my life
I never knew what I could be
What I could do
Then we were new
oo-oo-oo-oo

You came along
And made my life a song
One lucky day you came along
Just in time
While I was searching for a rhyme
You came along
Then we were new
oo-oo-oo-oo

We can do what we want
We can live as we choose
You see there's no guarantee
We've got nothing to lose

Don't look at me
I can't deny the truth
It's plain to see, don't look at me
All my life
I never knew what I could be
What I could do
Then we were new
oo-oo-oo-oo

We can do what we want
We can live as we choose
You see there's no guarantee
We've got nothing to lose

Don't look at me
It's way too soon to see
What's gonna be, don't look at me
All my life
I never knew what I could be
What I could do
Then we were new
oo-oo-oo-oo

Then we were new
oo-oo-oo-oo
Now we are new
oo-oo-oo-oo
Films
---
2013 • For Paul McCartney
Videos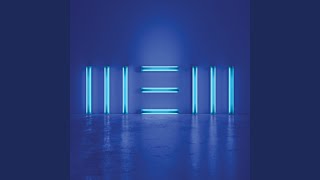 Album • New (Collector's Edition)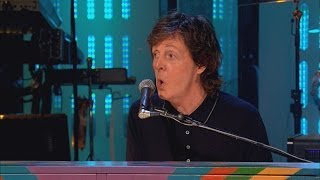 Concert • Oct 22, 2013 in