Album

This song officially appears on the Venus and Mars Official album.
Related sessions
This song has been recorded during the following studio sessions
---
---
---
---
---
Spread the love! If you like what you are seeing, share it on social networks and let others know about The Paul McCartney Project.
Song facts
From Wikipedia:
"Listen to What the Man Said" is a hit single from Wings' 1975 album Venus and Mars. The song featured new member Joe English on drums, with guest musicians Dave Mason on guitar and Tom Scott on soprano saxophone. It was a number 1 single on the Billboard Hot 100 chart in the US; as well, it reached number 1 in Canada on the RPM National Top Singles Chart. It also reached number 6 in the UK, and reached the top ten in Norway and New Zealand and the top twenty in the Netherlands. The single was certified Gold by the Recording Industry Association of America for sales of over one million copies.

Recording

"Listen to What the Man Said" was recorded in early 1975 by Wings during their New Orleans sessions for Venus and Mars. It was a song which McCartney had high hopes for, but early recordings did not live up to the song's potential. McCartney said in 1975 of his initial opinion of the song, "It was one of the songs we'd gone in with high hopes for. Whenever I would play it on the piano, people would say 'Oh, I like that one.' But when we did the backing track, we thought we didn't really get it together at all." After Mason added guitar overdubs, the band was still dissatisfied. However, once Scott recorded the sax solo, the band was satisfied. Although several takes of the solo were recorded, the very first take was the one that was used. McCartney said of Tom Scott's impact on the track, "Someone said [famous jazz musician] 'Tom Scott lives near here.' We said, yeah, give him a ring, see if he turns up, and he turned up within half an hour! There he was, with his sax, and he sat down in the studio playing through. The engineer was recording it. We kept all the notes he was playing casually. He came in and I said 'I think that's it.' He said 'Did you record that?' I said yes, and we listened to it back. No one could believe it, so he went out and tried a few more, but they weren't as good. He'd had all the feel on this early take, the first take." The effect of a kiss smack heard on the track was recorded by engineer Alan O'Duffy, who taped Linda doing it.

The end of the song also features a small link used to transition into the next song on Venus and Mars, "Treat Her Gently/Lonely Old People".

You either have to leave it and slop 'Listen to What the Man Said' dead or you spill over into the next little link piece. I just like that link myself, and thought no one's going to mind that little extra on the record. – Paul McCartney, Paul McCartney: In His Own Words

Lyrics

The song is an optimistic love song. Even though love may be blind or may cause separated lovers to suffer, the singer believes that love will prevail. This is in accordance with what "the man" said. "The man" is not explicitly identified, but might be God. Author Vincent Benitez believes that, "McCartney is advising everyone to stick with the basics of life, which for him means focusing on love." The song is in the key of G major.

Reception

Allmusic critic Stephen Thomas Erlewine called "Listen to What the Man Said" "a typically sweet and lovely melody". Paul Nelson of Rolling Stone called it "deliciously catchy" and "as fine an example of slick, professional entertainment and carefully crafted 'product' as has ever hit the airwaves". Author John Blaney described the song as "a slice of radio-friendly pop" and "a joyous celebration of love and life, buoyed by Linda's equally exuberant backing vocals…". Benitez described the song as "another great example of McCartney-style pop, a buoyant and optimistic song about love where words and music are wedded together. Authors Roy Carr and Tony Tyler note about the song that "artful and sensitive production elevate what was originally a piece of inconsequential whimsy into what can only be described as High Pop", also describing the song as "likeable" and "hummable". Author Chris Ingham described the song as "superior pop".

The song was also included on the numerous greatest hits compilations, including 1987's All the Best! and 2001's Wingspan: Hits and History. However, it was not included on the first Wings compilation, Wings Greatest. […]
My stuff is never 'a comment from within'. Basically I'm saying: 'Listen to the basic rules, don't goof off too much'. But if you say 'The Man', it can mean God, it can mean 'Women, listen to your man', it can mean so many things. Later I did a song with Michael Jackson called 'The Man' and again, it's quite nice leaving things ambiguous: I'm sure for Michael, probably 'The Man' meant God.

Paul McCartney, from Club Sandwich N°47/48, Spring 1988
From paulmccartney.com, August 30, 2016:
[…] This month's question comes from Luiz Antonio in Brazil who asks: "'Listen To What The Man Said' is a wonderful song. Who is the man someone should listen to?"

To find out Paul's answer we spoke with him before he went back out on the road for his recent 'One On One' North American leg. He answered: "Thank you for your question, Luiz. There are many answers to 'Who is the man?' In one way, you could say the man would be as the expression – 'You're the man!' Another way to look at it is that every religion has a leader who they consider to be 'the man'. And his teachings are generally very positive. I like the idea that I leave it to the people to decide who, in their minds, is the man…" […]
Last updated on March 26, 2020
Lyrics
Any time, any day,
You can hear the people say,
That love is blind
Well I don't know but I say love is kind

Soldier boy kisses girl
Leaves behind a tragic world
But he won't mind
He's in love and he says love is fine

Oh–yes, indeed we know
That people will find a way to go
No matter what the man said
And love is fine for all we know
For all we know, our love will grow
–that's what the man said
So won't you listen to what the man said

He said…

Oh–yes, indeed we know
That people will find a way to go
No matter what the man said
And love is fine for all we know
For all we know, our love will grow
–that's what the man said
So won't you listen to what the man said

He said…

Oh–yes, indeed we know
That people will find a way to go
No matter what the man said
And love is fine for all we know
For all we know, our love will grow
–that's what the man said
So won't you listen to what the man said

The wonder of it all baby……
The wonder of it all baby……
The wonder of it all baby……
Films
---
1979 • • Directed by Jack Prestty
Videos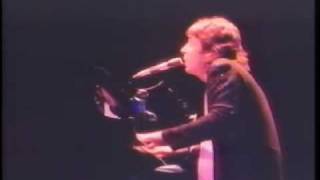 Concert • Jun 10, 1976 in Seattle