Spread the love! If you like what you are seeing, share it on social networks and let others know about The Paul McCartney Project.
Song facts
"Back In Brazil" is a track from 2018 album "Egypt Station". From "Words Between The Tracks" YouTube series:
So I was in Brazil on tour… This is one of those nice free days where there was nothing planned and I had a piano in the room of the hotel room, so I got this little riff and got this idea of "Back in Brazil". There was this girl who dreams of a future far far better world, she meets a man and he fits him with a plan. You know, so it's a story about a couple and trials and tribulations… Things are going well and she plans a date but he can't come cuz they got him working late… And so it was just an imaginary story of two young brazilian people and it's kind of dancey so I wanted to put Brazilian rhythms and get the flavor.

Paul McCartney
The song was written in October 2017, during the Brazilian leg of his One On One tour:
I was in Sao Paulo and I had a day off. And I was just in the hotel room on my own. And I just got this feeling "it would be great to write a song". I'm in Brazil, I'm feeling the spirit, looking out at Sao Paulo, high above the city, thinking about all the resilient people who are out there. And the way the Brazilians love music. So I just got this little vibe going, put the chords to it. And then the song came, you know, this little story about a girl "back in Brazil". It almost wrote itself.

Paul McCartney – From Paul McCartney – Back In Brazil (Behind The Scenes) – YouTube
McCartney was quick to mention to the press that he was working on a Brazil-related song, and was considering putting it on his new album:
Between one show and another, I'm making the new album. And it's interesting because there's a special track for Brazil, but that's all I can tell you right now. I think you'll like this.

Paul McCartney – Interview with Brazilian newspapers, October 2017
Paul mentioned this song again in March 2018, for a Q&A on its official website. From paulmccartney.com, March 29, 2018:
"You're known to experiment with musical genres. Have you ever thought of exploring some of the Latin American genres like son, rumba, salsa, merengue, tango, samba, etc.?"

Paul replied, "Thanks for your question, Yvonne. And yeah, once or twice! You know I've done something along those lines. My new album actually has something which is decidedly Latin. But I don't know if it will make the cut. You never know with these things, but I think it will and people will understand what I'm talking about when they hear it. But I love Latin rhythms and have often experimented with them, but not a definitive thing like a tango or a salsa. It's more the general rhythms of the country that I love."
Here is what producer Greg Kurstin had to say about "Back in Brazil", when interviewed for Rolling Stone on July 3, 2018:
What's the Brazilian song you were talking about?

That's called "Back in Brazil." That was one of the first songs that we recorded and we probably did four or five different versions until we got the version that we ended up with. It was one of the trickier ones to get the feel of, to get the drum groove and all that stuff. It started out as something very different than what it became. But I'm really happy with it. It has the clarinets playing the electric-piano part. It started out with electric piano and drums and the whole band, and then we stripped it all down and built it all up with orchestra instruments. When it really came to life for me was when we brought in [composer] Alan Broadbent and he helped with the arrangement. He did the strings and the clarinets and the flute and stuff like that. I like the arrangements he did on that.

Greg Kurstin
Paul McCartney interviewed for Sodajerker podcast, 2018:
[Back In Brazil] was always a hard one to crack because I'd written it on a day off in Brazil, when I just happened to be on my own. Nancy had gone to New York for something, so I happened to be just there on my own. I'd done everything I wanted to, I'd had a breakfast, I'd been to the gym, so now I was just lounging around and there was a little piano in the, little Wurlitzer in the suite I was staying in, so I started playing with that and so I knew the basic thing, so I wrote the song there in Sao Paulo. Then we came to record it and we couldn't kind of get it right, we tried quite a few things on the rhythms to get the feel and in the end, we got the one that's on the record and we were pleased with it. Greg put that sort of, [makes beeping sound], little sort of thing and we put some percussion on it and suddenly it just fell into place.

Paul McCartney
When reading the lyrics, one may wonder why Paul chose to use a Japanese word in a song dedicated to Brazil. Paul gave the following explanation – from paulmccartney.com, September 28, 2018:
Well, I originally blocked in that little phrase with 'hechibam, hechibam' thinking that later – when I went to Brazil – someone would say 'Oh, that's very similar to * a proper Brazilian word * ' I was getting a massage in Brazil – and it happened to be by a Japanese lady – and somehow the word 'Ichiban' came up in conversation. I said, 'That's Japanese, isn't it?' and she said,'Yeah it is! It means great, fabulous, number one!'

I thought,'Oh wow, that's it! That's the word! And the rationale for it was that the largest population of Japanese people – outside Japan – is in Brazil. So I said to her, 'Have you got a group of mates that could sing, who could help? I'd like to just record that word 'Ichiban'!' She said, 'Yeah, I could probably …' So I asked,'Do you think they could come to a studio tomorrow?' as I was about leave the country. She said,'Sure, I think I can get some people together!' So I said, 'About 6 o'clock or something?' as I was due to leave at around 8 o'clock. She said,'No, no, they'll still be working.' So I asked '7 o'clock?' and she said, 'Yeah!' So I organised a little studio on the way out to the airport, and managed to arrange for her friends to come! So, I came in and told them what I wanted to do, and we had a lot of fun! It only took about half an hour or so, and I got them to shout 'Ichiban! Ichiban!' and we had to try and get it in time, and accurate. But that's what happened – crazy story! But that is how the Japanese word 'Ichiban' happens to be in 'Back In Brazil'!

Paul McCartney
On September 16, 2018, a music video for "Back In Brazil" was released on Youtube.
Last updated on March 26, 2021
Lyrics
Back in Brazil
There lives a girl
Dreams of the future
And a far far better world

Back in Brazil
She meets a man
He's tall and handsome
And he fits in with her plan

Bright lights ahead
Music and fun
Nights are for dancing
And the days are for the sun
All kinds of weather
Will surely come and go
But they're together
And together they will steal the show

Ichiban, ichiban, ichiban
Ichiban, ichiban, ichiban
Ichiban, ban ban ban ban ban

Back in Brazil
She makes a date
He has to cancel
'cos they've got him working late

Back in Brazil
She feels afraid
Hope starts to crumble
And her dreams begin to fade

Her lights are out
She's gone to bed
Nights are for sleeping
If a girl's to get ahead
Even the weather
Has started changing too
But they'll be together
And together they will make it through

Ichiban, ichiban, ichiban
Ichiban, ichiban, ichiban
Ichiban

So we raise a family
As the clouds roll by
Making pictures of us in the sky
The kids are happy
And they don't ask why
Ba ba ba ba ba ba, you and I
Films
---
2018 • For Paul McCartney • Directed by Charlie Lightening
Videos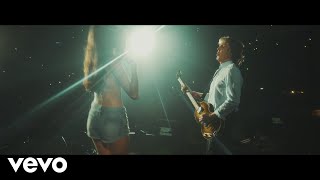 Album • Egypt Station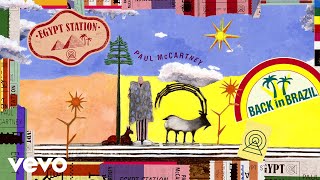 Album • Egypt Station (Deluxe edition)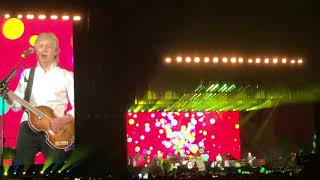 Concert • Mar 26, 2019 in Sao Paulo
Live performances
"Back In Brazil" has been played in 3 concerts and 1 soundchecks.
Latest concerts where Back In Brazil has been played
---
---
---