Spread the love! If you like what you are seeing, share it on social networks and let others know about The Paul McCartney Project.
Song facts
From Wikipedia:
"Golden Slumbers" is a song by the Beatles, part of the climactic medley on their 1969 album Abbey Road. The song begins the progression that leads to the end of the album and is followed by "Carry That Weight". The two songs were recorded together as a single piece, and both were written by Paul McCartney (credited to Lennon–McCartney), strings and brass arranged and scored by producer George Martin.

Sources

"Golden Slumbers" is based on the poem "Cradle Song", a lullaby by the dramatist Thomas Dekker. The poem appears in Dekker's 1603 comedy Patient Grissel. McCartney saw sheet music for Dekker's lullaby at his father's home in Liverpool, left on a piano by his stepsister Ruth. Unable to read music, he created his own music. McCartney uses the first stanza of the original poem, with minor word changes, adding to it a single lyric line repeated with minor variation. Abbey Road does not credit Dekker with the stanza or with the title. Thomas Dekker's poem was set to music by Peter Warlock in 1918, also by Charles Villiers Stanford and Alfredo Casella.

Recording

McCartney was the lead vocalist. He begins the song in a soft tone appropriate for a lullaby, with piano, bass guitar, and string section accompaniment. Beginning with the line "Golden slumbers fill your eyes", the drums come in and McCartney switches to a stronger tone, both of which emphasise the switch to the refrain. McCartney said, "I remember trying to get a very strong vocal on it, because it was such a gentle theme, so I worked on the strength of the vocal on it, and ended up quite pleased with it."

The main recording session for "Golden Slumbers"/"Carry That Weight" was on 2 July 1969. John Lennon was not present. He was injured in a motor vehicle accident in Scotland on 1 July, and was hospitalised there until 6 July.

Drums, timpani, and additional vocals were added in an overdub session on 31 July, the same day the first trial edit of the side two medley was created. Lennon did participate in this session. On 15 August, orchestral overdubs were made to "Golden Slumbers" and five other songs on Abbey Road.
Paul McCartney, in "
Anthology
":
I was playing the piano in Liverpool in my dad's house, and my stepsister Ruth's piano book was up on the stand. I was flicking through it and I came to Golden Slumbers. I can't read music and I couldn't remember the old tune, so I just started playing my own tune to it. I liked the words so I kept them, and it fitted with another bit of song I had.
From The Usenet Guide to Beatles Recording Variations:
[a] stereo 18 Aug 1969. crossfaded 19 Aug 1969.
UK: Apple PCS 7088 Abbey Road 1969.
US: Apple SO-383 Abbey Road 1969.
CD: EMI CDP 7 46446 2 Abbey Road 1987.

The 2d generation was an edit of two takes.

The crossfade joins this to the following song, The End; the join is in the guitar work after the last "carry that weight a long time".
Last updated on November 28, 2016
Lyrics
Once there was a way to get back homeward
Once there was a way to get back home
Sleep pretty darling do not cry
And I will sing a lullaby

Golden slumbers fill your eyes
Smiles awake you when you rise
Sleep pretty darling do not cry
And I will sing a lullaby

Once there was a way to get back homeward
Once there was a way to get back home
Sleep pretty darling do not cry
And I will sing a lullaby
Videos
Concert • Jul 15, 2011 in New York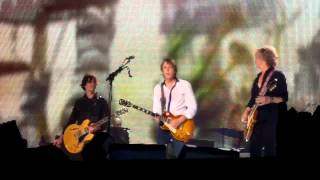 Concert • May 09, 2013 in Fortaleza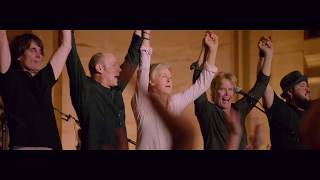 Concert • Sep 07, 2018 in New York