Spread the love! If you like what you are seeing, share it on social networks and let others know about The Paul McCartney Project.
Song facts
From Wikipedia:
"Being for the Benefit of Mr. Kite!" is a song from the 1967 album by the Beatles, Sgt. Pepper's Lonely Hearts Club Band. It was primarily written and composed by John Lennon, although Paul McCartney claims that he also contributed to it. The song is credited to Lennon–McCartney.

Inspiration

The inspiration to write the song was a 19th-century circus poster for Pablo Fanque's Circus Royal appearance at Rochdale, that Lennon purchased in an antique shop on 31 January 1967, while filming the promotional videos for "Penny Lane" and "Strawberry Fields Forever" in Sevenoaks, Kent. Lennon claimed years later to still have the poster in his home. "Everything from the song is from that poster," he explained, "except the horse wasn't called Henry." (The poster identifies the horse as "Zanthus.")

The song is credited to Lennon–McCartney, but Lennon claimed to have written it entirely himself. McCartney disagrees; in a 2013 Rolling Stone interview states: "I read, occasionally, people say, 'Oh, John wrote that one.' I say, 'Wait a minute, what was that afternoon I spent with him, then, looking at this poster?' He happened to have a poster in his living room at home. I was out at his house, and we just got this idea, because the poster said 'Being for the Benefit of Mr. Kite' – and then we put in, you know, 'there will be a show tonight,' and then it was like, 'of course,'…The song just wrote itself. So, yeah, I was happy to kind of reclaim it as partially mine.'"

Mr. Kite is believed to be William Kite, who worked for Pablo Fanque from 1843 to 1845. […]

"Mr. J. Henderson" was John Henderson, a wire-walker, equestrian, trampoline artist, and clown. While the poster made no mention of "Hendersons" plural, as Lennon sings, John Henderson did perform with his wife Agnes, the daughter of circus owner Henry Hengler. The Hendersons performed throughout Europe and Russia during the 1840s and 1850s. A hogshead is a large wooden cask.

Recording

One of the most musically complex songs on Sgt. Pepper, it was recorded by the Beatles on 17 February 1967 with overdubs on 20 February (organ sound effects), 28 March (harmonica, organ, guitar), 29 March (more organ sound effects), and 31 March. Lennon wanted the track to have a "carnival atmosphere", and told producer George Martin that he wanted "to smell the sawdust on the floor." In the middle eight bars, multiple recordings of fairground organs and calliope music were spliced together to attempt to produce this request. In a 1968 interview, Martin recalled that he achieved "this by playing the Hammond organ myself and speeding it up." After a great deal of unsuccessful experimentation, Martin instructed recording engineer Geoff Emerick to chop the tape into pieces with scissors, throw them up in the air, and re-assemble them at random.

Before the start of the first take, Lennon sings the words "For the benefit of Mr. Kite!" in a joke accent, then Emerick announces, "For the Benefit of Mr. Kite! This is take 1." Lennon immediately responds, "Being for the Benefit of Mr. Kite!", reinforcing his title preference from a phrase lifted intact from the original Pablo Fanque poster. The exchange is recorded in The Beatles Recording Sessions (slightly misquoted) and audible on track 8 of disc 2 of Anthology 2. The original recording can also be heard during the loading screen for the song if it is downloaded in the video game The Beatles: Rock Band.

Although Lennon once said of the song that he "wasn't proud of that" and "I was just going through the motions," in 1980 he described it as "pure, like a painting, a pure watercolour."

It was one of three songs from the Sgt. Pepper album that was banned from playing on the BBC, supposedly because the phrase "Henry the Horse" combined two words that were individually known as slang for heroin. Lennon denied that the song had anything to do with heroin.

Live performances

Paul McCartney performed the song live for the first time by any Beatle on 4 May 2013 at the Estádio Mineirão, Belo Horizonte, Brazil and throughout his 2013–2015 Out There! Tour. Additionally, McCartney performed the song live on the Colbert Report on June 12, 2013 as well as during his One on One tour in 2016.
From The Usenet Guide to Beatles Recording Variations:
[a] mono 31 Mar 1967.
UK: Parlophone PMC 7026 Sgt Pepper 1967.
US: Capitol MAS 2653 Sgt Pepper 1967.

[b] stereo 7 Apr 1967.
UK: Parlophone PCS 7026 Sgt Pepper 1967.
US: Capitol SMAS 2653 Sgt Pepper 1967.
CD: EMI CDP 7 46442 2 Sgt Pepper 1987.

[d] stereo 1995. edited.
CD: Apple CDP 8 34448 2 Anthology 2 1996.

Mono [a] has more of the organ tape loops in the break after "Henry the horse dances the waltz", perhaps a track not faded up in the mix of [b]?

The Anthology mix [d] is deliberately different. First it shows take 7 without the organ and calliope effects, including some John scat vocal during the instrumental break that was mixed out of [a][b], and then it crossfades into the organ and calliope overdub tracks to a fadeout.
I remember we walked into an antique shop in Sevenoaks, Kent, and we were looking at what they had there and John pulled out this thing that we found, which said, 'Being for the benefit of Mr Kite' and it was virtually all the lyrics to the song. I think he (John) was just advanced in his awareness of putting everything in a song.

George Harrison – From "The Beatles: Off the Record" by Keith Badman, 2008
'Mr Kite' was a poster that John had in his house in Weybridge. I arrived there for a session one day and he had it up on the wall in his living room. It was all there, the trampoline, the somersets, the hoops, the garters, the horse. It was Pablo Fanque's fair, and it said, 'Being for the benefit of Mr Kite', almost the whole song was written right off this poster. We just sat down and wrote it. We pretty much took it down, word for word and then just made up some other little bits and pieces to glue it together.

Paul McCartney – From "The Beatles: Off the Record" by Keith Badman, 2008
Everything in the song is from that poster, except the horse wasn't called Henry. Now, there were all kinds of stories about Henry the horse being heroin. I had never seen heroin in that period. It's all just from that poster. I wrote that as a pure poetic job. I had to write it because it was time to write and I had to write it quick because otherwise I wouldn't have been on the album. So, I had to knock off a few songs, so I knocked of 'A Day In The Life' and 'Mr Kite.'

John Lennon – From "The Beatles: Off the Record" by Keith Badman, 2008
John wanted to hear the sawdust in the ring. That was the brief he gave me, and it gave me a nice problem. 'What you really want', I told him, 'is a calliope!' He said, 'A what?' I told him, 'A steam organ, you know, one of those tooty things,' and I thought that it might be possible to get hold of a steam organ and actually use that. But, that was a bit of a wild idea and too cumbersome and it would have taken much too long for it to be done. So, with not being able to get a steam organ in the studio, I got as many different recordings of steam organs I could find and we transferred them to tape and I told the engineer, Geoff Emerick, to chop them all up into one-foot lengths and throw them all up into the air and pick them up and put them all back together again. But, it wasn't quite as effective as I thought, because some of the bits came together too well! They had joined up in the way that they had started. So, I told Geoff, 'That's no good, and turn that one back to front.' Eventually, we made a background tape that was just chaos. It was just nothing at all, but, undeniably, it was the sound of a steam organ. It was just a whirly-gig sound. When Henry the Horse takes over, I got John to play the tune on one organ, while I played swirling runs on another Hammond organ, played at half speed. The Beatles' road managers Mal Evans and Neil Aspinall played mouth organs and I played a variety of electronic effects.

George Martin – From "The Beatles: Off the Record" by Keith Badman, 2008
Last updated on February 13, 2023
Lyrics
For the benefit of Mr. Kite
There will be a show tonight on trampoline
The Hendersons will all be there
Late of Pablo Fanques' fair, what a scene

Over men and horses hoops and garters
Lastly through a hogshead of real fire
In this way Mr. K will challenge the world

The celebrated Mr. K
Performs his feats on Saturday at Bishopsgate
The Hendersons will dance and sing
As Mr. Kite flies through the ring, don't be late

Messrs K. and H. assure the public
Their production will be second to none
And of course Henry the Horse dances the waltz

The band begins at ten to six
When Mr. K performs his tricks without a sound
And Mr. H will demonstrate
Ten somersets he'll undertake on solid ground

Having been some days in preparation
A splendid time is guaranteed for all
And tonight Mr. Kite is topping the bill
Videos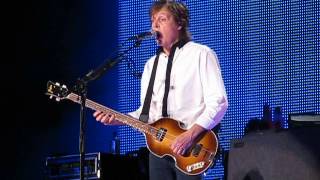 Concert • May 06, 2013 in Goiania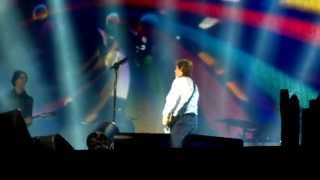 Concert • May 09, 2013 in Fortaleza
Live performances
"Being For The Benefit of Mr. Kite!" has been played in 229 concerts and 7 soundchecks.
Latest concerts where Being For The Benefit of Mr. Kite! has been played
---
---
---
---
---
---