Spread the love! If you like what you are seeing, share it on social networks and let others know about The Paul McCartney Project.
Song facts
From Wikipedia:
"Michelle" is a love ballad by the Beatles, composed principally by Paul McCartney, with the middle eight co-written with John Lennon. It is featured on their Rubber Soul album, released in December 1965. The song is unique among Beatles recordings in that some of its lyrics are in French. "Michelle" won the Grammy Award for Song of the Year in 1967 and has since become one of the best known and often recorded of all Beatles songs.

Composition

The instrumental music of "Michelle" originated separately from the lyrical concept:

"…'Michelle' was a tune that I'd written in Chet Atkins' finger-picking style. There is a song he did called 'Trambone' with a repetitive top line, and he played a bass line while playing a melody. This was an innovation for us; even though classical guitarists had played it, no rock'n'roll guitarists had played it. The first person we knew to use finger-picking style was Chet Atkins. .. I never learned it. But based on Atkins' "Trambone", I wanted to write something with a melody and a bass line in it, so I did. I just had it as an instrumental in C." – Paul McCartney

The words and style of "Michelle" have their origins in the popularity of French Left Bank culture during McCartney's Liverpool days. McCartney had gone to a party of art students where a student with a goatee and a striped T-shirt was singing a French song. He soon wrote a farcical imitation to entertain his friends that involved French-sounding groaning instead of real words. The song remained a party piece until 1965, when John Lennon suggested he rework it into a proper song for inclusion on Rubber Soul.

"…we'd tag along to these parties, and it was at the time of people like Juliette Greco, the French bohemian thing… So I used to pretend to be French, and I had this song that turned out later to be 'Michelle'. It was just an instrumental, but years later John said: 'You remember that thing you wrote about the French?' I said: 'Yeah.' He said: 'That wasn't a bad song, that. You should do that, y'know.'" – Paul McCartney.

McCartney asked Jan Vaughan, a French teacher and the wife of his old friend Ivan Vaughan, to come up with a French name and a phrase that rhymed with it. "It was because I'd always thought that the song sounded French that I stuck with it. I can't speak French properly so that's why I needed help in sorting out the actual words", McCartney said.

Vaughan came up with "Michelle, ma belle", and a few days later McCartney asked for a translation of "these are words that go together well" — sont des mots qui vont très bien ensemble. When McCartney played the song for Lennon, Lennon suggested the "I love you" bridge. Lennon was inspired by a song he heard the previous evening, Nina Simone's version of "I Put a Spell on You", which used the same phrase but with the emphasis on the last word, "I love you".

Each version of this song has a different length. The UK mono is 2:33 but the stereo version is 2:40 due to an extra guitar solo. The US mono was the longest of all, at 2:43, until The Beatles: Rock Band version was released, running at 2:50.

Musical structure

The song initially was composed in C, but was played in F on Rubber Soul (with a capo on the fifth fret). The verse opens with an F major chord ("Michelle"- melody note C) then the second chord (on "ma-belle"- melody note D♭) is a B♭m7 (on the original demo in C, the second chord is a F7#9). McCartney called this second chord a "great ham-fisted jazz chord" that was taught to them by Jim Gretty who worked at Hessey's music shop in Whitechapel, central Liverpool and which George Harrison uses (as a G♭7#9) (see Dominant seventh sharp ninth chord) as the penultimate chord of his solo on "Till There Was You". After the E♭6 (of "these are words"-) there follows an ascent involving different inversions of the D dim chord. These progress from A♭dim on "go"- melody note F, bass note D; to B(C♭)dim on "to"- melody note A♭, bass note D; to Ddim on "ge…"- melody note B(C♭) bass note B; to Bdim on …'ther…"- melody note A♭ bass note B, till the dominant (V) chord (C major) is reached on "well"- melody note G bass note C.

Personnel

MacDonald wrote that "Michelle" was made in nine hours and seems to have been played mostly, if not entirely, by McCartney using overdubs. He speculated that McCartney might even have sung the backing vocals and played the drums.

Awards and recognition

"Michelle" won the Grammy Award for Song of the Year in 1967. The song's win over "Born Free", "The Impossible Dream", "Somewhere My Love" and "Strangers in the Night" was seen as something of a triumph for The Beatles, who had in 1966 been nominated, but were unsuccessful, in nine categories. In 1999, BMI named "Michelle" as the 42nd most performed song of the 20th century. […]

Live performance history

"Michelle" was performed by McCartney throughout his 1993 world tour. He has rarely performed the song since, but did include it in a 2009 performance in Washington, DC, in honour of Michelle Obama, the American First Lady, and he would play it on most (if not all) of his performances in France or other francophone countries.

On 2 June 2010, after being awarded the Gershwin Prize for Popular Song by President Barack Obama in a ceremony at the White House, McCartney performed the song for Michelle Obama, who sang along from her seat. McCartney quipped, "I could be the first guy ever to be punched out by a president." Michelle Obama reportedly later told others that she could never have imagined, after growing up an African-American girl on the South Side of Chicago, that someday a Beatle would sing "Michelle" to her as First Lady of the United States.
From The Usenet Guide to Beatles Recording Variations:
[a] mono 9 Nov 1965.
US: Capitol T 2442 Rubber Soul 1965.
[b] stereo 9 Nov 1965.
UK: Parlophone PCS 3075 Rubber Soul 1965, Parlophone PCS 7016 Collection of Oldies 1966, Apple PCSP 717 The Beatles 1962-1966 1973.
US: Capitol ST 2442 Rubber Soul 1965, Apple SKBO-3403 The Beatles 1962-1966 1973.
[c] mono 15 Nov 1965.
UK: Parlophone PMC 1267 Rubber Soul 1965, Parlophone PMC 7016 Collection of Oldies 1966.
CD: EP Box set 1991.
[d] stereo 1987.
CD: EMI CDP 7 46440 2 Rubber Soul 1987, EMI CDP 7 97036 2 The Beatles 1962-1966 1993.

[a] has louder percussion than [b], and fades a little longer.
Last updated on December 7, 2022
The book "The Lyrics: 1956 to the Present", published in 2021, covers Paul McCartney's early Liverpool days, the Beatles, Wings, and solo careers, by pairing the lyrics of 154 of his songs with first-person commentaries of the circumstances in which they were written, the people and places that inspired them, and what he thinks of them now.
"Michelle" is one of the 154 songs covered.
Lyrics
Michelle, ma belle
These are words that go together well
My Michelle

Michelle, ma belle
Sont des mots qui vont tres bien ensemble
Tres bien ensemble

I love you, I love you, I love you
That's all I want to say
Until I find a way
I will say the only words I know that you'll understand

Michelle, ma belle
Sont des mots qui vont tres bien ensemble
Tres bien ensemble

I need to, I need to, I need to
I need to make you see
Oh, what you mean to me
Until I do I'm hoping you will know what I mean
I love you

I want you, I want you, I want you
I think you know by now
I'll get to you somehow
Until I do I'm telling you so you'll understand

Michelle, ma belle
Sont des mots qui vont tres bien ensemble
Tres bien ensemble
And I will say the only words I know that you'll understand
My Michelle
Videos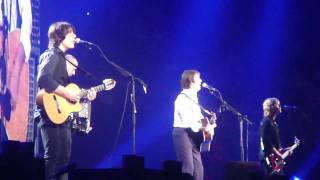 Concert • Dec 10, 2009 in Paris