Spread the love! If you like what you are seeing, share it on social networks and let others know about The Paul McCartney Project.
Song facts
From Wikipedia:
"Come Together" is a song by the Beatles written by John Lennon but credited to Lennon–McCartney. The song is the opening track on the album Abbey Road and was released as a double A-sided single with "Something", their 21st single in the United Kingdom and 26th in the United States. The song reached the top of the charts in the US and peaked at number four in the UK.

Origin and meaning

The song's history began when Lennon was inspired by Timothy Leary's campaign for governor of California against Ronald Reagan, which promptly ended when Leary was sent to prison for possession of marijuana:

The thing was created in the studio. It's gobbledygook; Come Together was an expression that Leary had come up with for his attempt at being president or whatever he wanted to be, and he asked me to write a campaign song. I tried and tried, but I couldn't come up with one. But I came up with this, Come Together, which would've been no good to him – you couldn't have a campaign song like that, right?

It has been speculated that each verse refers cryptically to one of the Beatles. It has also been suggested that the song has only a single "pariah-like protagonist" and Lennon was "painting another sardonic self-portrait".

Recording

Lennon played rhythm guitar and sang the vocal, McCartney played bass, Harrison played lead guitar, and Starr played drums. It was produced by George Martin and recorded at the end of July 1969 at Abbey Road Studios. In the intro, Lennon says: "shoot me", which is accompanied by his handclaps and McCartney's heavy bass riff. The famous Beatles' "walrus" from "I Am the Walrus" and "Glass Onion" returns in the line "he got walrus gumboot", followed by "he got Ono sideboard". Bluesman Muddy Waters is also mentioned in the song.

Music critic Ian MacDonald reports that McCartney sang a backing vocal, but recording engineer Geoff Emerick said that Lennon did all the vocals himself, and when a frustrated McCartney asked Lennon, "What do you want me to do on this track, John?", Lennon replied, "Don't worry, I'll do the overdubs on this."

In a 1970 interview in the Evening Standard, McCartney said he was disappointed about not singing live with Lennon; instead, he overdubbed his vocals later:

Even on Abbey Road we don't do harmonies like we used to. I think it's sad. On "Come Together" I would have liked to sing harmony with John, and I think he would have liked me to, but I was too embarrassed to ask him, and I don't work to the best of my abilities in that situation.

Release and acclaim

"Come Together" was released as a double A-side with "Something" and as the opening track of Abbey Road. The single was released on 6 October 1969 in the US, was on the charts for 18 weeks, and reached number 1. The single had less success when it was released on 31 October 1969 in the UK, only reaching number 4, possibly due to the BBC banning the song because they considered the lyric "He shoot Coca-Cola" to be product placement.

Rolling Stone ranked "Come Together" at #202 on their list of "The 500 Greatest Songs of All Time" and #9 on their list of the Beatles' 100 Greatest Songs.

Along with "Something", "Come Together" became The Beatles' 18th number one hit on the US charts, surpassing Elvis Presley's record of seventeen.

On the compilation album Love, "Come Together" is the 19th track. Instrumentals and some backing vocals from "Dear Prudence" fade in followed by the "Can you take me back" section of "Cry Baby Cry" as a transition.

Song analysis

"Come Together" is a blues rock song, which consists of a repeating verse/refrain structure, broken up by a guitar solo acting as a bridge. For the first eight bars, the tonic note D is repeated, eventually moving to the V chord and then to the IV chord. It then moves to the VI minor chord. The refrain in actuality is three bars long, because the melody keeps going after the last A5 chord and comes to rest on the D5 chord after that. F# is introduced in the melody with a B minor triad. The tonic is held for four bars between each verse and is the same as the contents of the introduction.

Within the verse there are four one-bar structures; each one a non-sequitur. The lyrics end each time on the abrupt beat four of each measure, giving the verse an AAAA phrasing structure. The phrasing structure in the second half of the verse is two bars of BB. The C phrasing structure of the refrain has three measures becoming one long phrase and ending on the word "me" which ties everything together. There is an eleven-bar verse/refrain from a ten bar form. The melody of the verse stays within the range of a perfect fourth. Using mostly three notes (D, F, C) the tonic, flat three and flat seven, it moves away later only for contrast when it hits the II (E) and stays on that note for two bars. The refrain stands out as the highest notes in the piece (A). […]

Personnel

According to Geoff Emerick, McCartney composed the electric piano part, but Lennon looked over his shoulder to learn it so he could perform it himself on the recording.

The availability of separate tracks from the original Beatles multi-tracks (due to release of Rock Band) have made fresh investigation of the Beatles personnel data possible. One of the discoveries is that on the verses of "Come Together", the backing vocals are sung by McCartney. In an interview with Music Radar, Geoff Emerick correctly stated that McCartney did not sing on the choruses: "Initially, Paul played the electric piano part, but John kind of looked over his shoulder and studied what he was playing. When it came time to record it, John played the electric piano instead of Paul. Paul might have been miffed, but I think he was more upset about not singing on the choruses — John did his own backing vocals."

Covers

The Smokin' Mojo Filters

Paul McCartney was also part of a different version of the song with Noel Gallagher and Paul Weller on an updated version of the classic for the 1995 HELP charity record, under the name the Smokin' Mojo Filters. Weller performed the lead vocal duties, with McCartney & Gallagher providing backing vocals, harmonies and bass and guitar. This version made it to number 19 on the British charts in December 1995. In 2005 Weller recorded a new version of the song as part of a double A-sided single.
Paul McCartney in "Many Years From Now", by Barry Miles:
He originally brought it over as a very perky little song, and I pointed out to him that it was very similar to Chuck Berry's You Can't Catch Me. John acknowledged it was rather close to it so I said, 'Well, anything you can do to get away from that.' I suggested that we tried it swampy – 'swampy' was the word I used – so we did, we took it right down. I laid that bass line down which very much makes the mood. It's actually a bass line that people now use very often in rap records. If it's not a sample, they use that riff. But that was my contribution to that.
From The Usenet Guide to Beatles Recording Variations:
[a] stereo 7 Aug 1969.
UK: Apple R5814 single 1969, Apple PCS 7088 Abbey Road 1969, Apple PCSP 718 The Beatles 1967-1970 1973.
US: Apple 2654 single 1969, Apple SO-383 Abbey Road 1969, Apple SKBO-3404 The Beatles 1967-1970 1973.
CD: EMI CDP 7 46446 2 Abbey Road 1987, EMI single 1989, EMI CDP 7 97039 2 The Beatles 1967-1970 1993.
Last updated on November 28, 2016
Lyrics
Here come old flat top
He come groovin' up slowly
He got joo joo eyeballs
He one holy rollers
He got hair down to his knee
Got to be a joker
He just do what he please

He wear no shoeshine
He got toe jam football
He got monkey finger
He shoot Coca Cola
He say I know you, you know me
One thing I can tell you is
You got to be free
Come together, right now
Over me

He bad production
He got walrus gumboot
He got Ono sideboard
He one spinal cracker
He got feet down below his knees
Hold you in his armchair
You can feel his disease
Come together, right now
Over me

He roller coaster
He got early warning
He got muddy water
He one Mojo filter
He say one and one and one is three
Got to be good looking
Cause he's so hard to see
Come together right now
Over me
Videos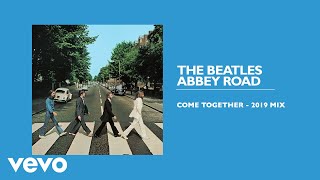 Album • Abbey Road (2019)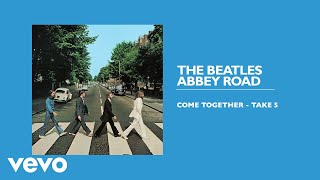 Album • Abbey Road (2019)
Album • The HELP Album
Live performances
Paul McCartney has never played this song in concert.