Spread the love! If you like what you are seeing, share it on social networks and let others know about The Paul McCartney Project.
Song facts
From Wikipedia:
"Lovely Rita" is a song by the Beatles performed on the album Sgt. Pepper's Lonely Hearts Club Band, written and sung by Paul McCartney, although as with all McCartney or Lennon-written Beatles' songs, it is credited to Lennon–McCartney. It is about a female traffic warden and the narrator's affection for her.

Inspiration

The term "meter-maid", largely unknown in the UK prior to the song's release, is American slang for a female traffic warden. According to some sources, the song originates from when a female traffic warden named Meta Davies issued a parking citation to McCartney outside Abbey Road Studios. Instead of becoming angry, he accepted it with good grace and expressed his feelings in song. When asked why he had called her "Rita," McCartney replied, "Well, she looked like a Rita to me".

Recording

Recording began on 23 February 1967. Using a four-track recorder, this first performance featured Harrison's guitar on track 1, Lennon's guitar on track 2, Ringo's drums on track 3, and McCartney's piano set on track 4. Once those tracks were "bounced," the band later added lead vocal, bass, and a three-part backing vocal section featuring George, John, and American session musician Shawn Phillips. Engineer Geoff Emerick noted McCartney's vocal arrangements were directly inspired by Brian Wilson's work for the Beach Boys. A second piano, played by George Martin and processed electromechanically to wobble in and out of tune was added for the distinctive solo. By 21 March, the final mono mix was completed and a month later, the stereo mix was done.

The unusual noises during the song after the lines "and the bag across her shoulder/ made her look a little like a military man" were John Lennon, Paul McCartney, and George Harrison playing comb and paper.

Pink Floyd watched the Beatles recording "Lovely Rita". Later, Pink Floyd took the effects of "Lovely Rita" for recording their instrumental compostition, "Pow R. Toc H." from their debut album, The Piper at the Gates of Dawn.

Personnel

According to some sources George Harrison played slide guitar on the recording. However, this has not been confirmed by either MacDonald nor Lewisohn.

Live performances

Paul McCartney performed the song live for the first time by any Beatle on 4 May 2013 at the Estádio Mineirão, Belo Horizonte, Brazil and throughout his 2013–2015 Out There! Tour. […]
Paul McCartney, in "
The Beatles Anthology
":
There was a story in the paper about 'Lovely Rita', the meter maid. She's just retired as a traffic warden. The phrase 'meter maid' was so American that it appealed, and to me a 'maid' was always a little sexy thing: 'Meter maid. Hey, come and check my meter, baby.' I saw a bit of that, and then I saw that she looked like a 'military man'.
Paul McCartney in "Many Years From Now", by Barry Miles:
I remember one night just going for a walk and working on the words as I walked… It wasn't based on a real person but, as often happened, it was claimed by a girl called Rita [sic] who was a traffic warden who apparently did give me a ticket, so that made the newspapers. I think it was more a question of coincidence: anyone called Rita who gave me a ticket would naturally think, 'It's me!' I didn't think, Wow, that woman gave me a ticket, I'll write a song about her – never happened like that.
Geoff Emerick, from ABC News, May 25, 2017:
They were stuck for the solo. And in fact I suggested the piano solo, believe it or not, because they were really in a tizwaz about what solo to put on it. So then Paul shouted up because I was at the top of the stairs and Paul said, 'oh, you play it'. So I'm so nervous, you know, in those days. So I said no I can't do it. I wanted a shimmer behind the piano, because to get a sound of a piano that no one had heard again. So what I did, I used an echo, the echo chamber on it which was at the back of (studio) number two, and we could send the signal of the piano via a tape machine into the echo chamber, which would give some sort of delay. I stuck sticky tape on all the guide rollers of the tape machine. So when the tape went through it was wobbling all over the place, right? Again if the manager had come in, I probably would have got fired or got into terrible trouble. So I wobbled the tape going through the heads right, of the tape machine, and wobbled the echo, or the piano into the sound into the chamber. And that was like the sound behind the piano, but now you can actually get that sound as a plug in, cos most plug-ins now are based on the things we used to do.

Geoff Emerick
From The Usenet Guide to Beatles Recording Variations:
[a] mono 21 Mar 1967.
UK: Parlophone PMC 7026 Sgt Pepper 1967.
US: Capitol MAS 2653 Sgt Pepper 1967.

[b] stereo 17 Apr 1967.
UK: Parlophone PCS 7026 Sgt Pepper 1967.
US: Capitol SMAS 2653 Sgt Pepper 1967.
CD: EMI CDP 7 46442 2 Sgt Pepper 1987.

Talk just before the end is audible, the last syllables "leave it" (or "believe it"?) being quite distinct in mono [a].
Last updated on May 1, 2021
The book "The Lyrics: 1956 to the Present", published in 2021, covers Paul McCartney's early Liverpool days, the Beatles, Wings, and solo careers, by pairing the lyrics of 154 of his songs with first-person commentaries of the circumstances in which they were written, the people and places that inspired them, and what he thinks of them now.
"Lovely Rita" is one of the 154 songs covered.
Lyrics
Lovely Rita meter maid
Lovely Rita meter maid
Lovely Rita meter maid
Nothing can come between us
When it gets dark I tow your heart away

Standing by a parking meter
When I caught a glimpse of Rita
Filling in the ticket in her little white book
In a cap she looked much older
And the bag across her shoulder
Made her look a little like a military man

Lovely Rita meter maid
May I inquire discreetly
When are you free to take some tea with me?
(Rita)

Took her out and tried to win her
Had a laugh and over dinner
Told her I would really like to see her again
Got the bill and Rita paid it
Took her home and nearly made it
Sitting on a sofa with a sister or two

Oh, lovely Rita meter maid
Where would I be without you?
Give us a wink and make me think of you

(Lovely Rita meter maid)
Lovely meter maid
(Lovely Rita meter maid)
Rita meter maid
(Lovely Rita meter maid)
Oh, lovely Rita meter, meter maid
Lovely Rita meter maid
Videos
Concert • May 04, 2013 in Belo Horizonte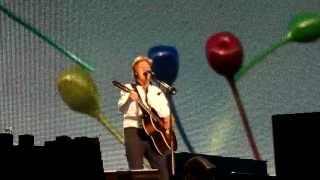 Concert • May 06, 2013 in Goiania