Country:

Peru
City:

Lima
Location:

Estadio Nacional
Spread the love! If you like what you are seeing, share it on social networks and let others know about The Paul McCartney Project.
About
From Paul McCartney official website:
El Comercio
"Paul McCartney gave a magical performance at The National – he played for nearly three hours before an audience that fully surrendered to him. Perhaps this scene best describes the effect that Paul McCartney has on people; at one point during the show, his four super musicians leave the stage and it is just Paul and almost 40,000 people on their own; he takes his acoustic guitar and effortlessly starts up 'Blackbird,' and the whole stadium sings along drowning out Paul's voice. Each and every member of the audience is on his or her own journey, reliving special memories thanks to this amazing song. Men, women, young children, teenagers and young adults are all seduced by the legend of Sir James Paul McCartney, probably the best musician to ever grace Peruvian soil."

Although One Direction were in town the same week arriving at the same time as Paul, I was absolutely delighted as a competitive publicist that Paul was the main cover of the largest daily newspaper El Comercio and was getting all the air time on the TV news, as he rightly should be! Paul was here for his second visit and the excitement from the moment we got to Peru was almost tangible. I couldn't sleep the night before the show with the noise the fans were making outside the hotel.

The National Stadium was massive and the Friday night audience were up for a big night of rock 'n' roll, which is exactly what they got!

As in Uruguay and Chile – the following days papers were full of praise for the special evening:

Andina
"Paul McCartney's Peru gig delights a 40,000 strong crowd. The musical legend Paul McCartney performed his long awaited second show in Peru to the delight of tens of thousands of Peruvians. The fans enjoyed McCartney's huge talent as he gave yet another landmark concert. Some concert goers were so excited for the Beatle's second appearance in the Andean nation that they had been camping outside the stadium in the days before the show."
Peru – you rocked! What a night. pic.twitter.com/AcdCk2nNRA

— Paul McCartney (@PaulMcCartney) April 26, 2014
Last updated on May 17, 2014
Estadio Nacional
This was the 1st and only concert played at Estadio Nacional.
Setlist for the soundcheck
---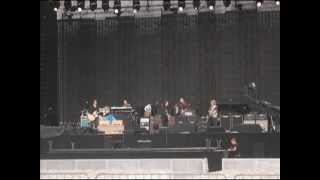 ---